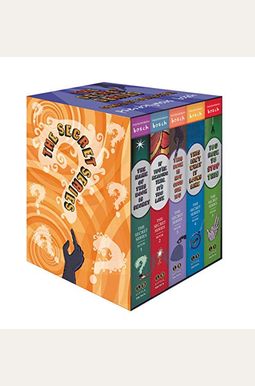 
 
The Secret Series Complete Collection: The Name of This Book Is Secret/If You're Reading This, It's Too Late/This Book Is Not Good for You/This Isn't
Book Overview
Not only is the name of this series a secret, but the story is, too. For it concerns a secret - a big secret - that has been tormenting people like you for over. oh no Did I just mention the secret? Then it's too late. I'm afraid nothing will stop you now. Read this series if you must. But please, tell no one.
Catch up on the adventures of Cass and Max-Ernest with The Secret Series Collection. This boxed set includes all five paperback novels in the
New York Times
bestselling Secret Series:
The Name of this Book Is Secret
;
If You're Reading This, It's Too Late
;
This Book Is Not Good for You
;
This Isn't What It Looks Like
; and
You Have to Stop This
.
Frequently bought together
Frequently Asked Questions About The Secret Series Complete Collection: The Name of This Book Is Secret/If You're Reading This, It's Too Late/This Book Is Not Good for You/This Isn't
Book Reviews
(15)
Did you read The Secret Series Complete Collection: The Name of This Book Is Secret/If You're Reading This, It's Too Late/This Book Is Not Good for You/This Isn't? Please provide your feedback and rating to help other readers.
Not a boxed set!!!! Total misrepresentation!!!! Don't buy!!!

Derived From Web

, May 18, 2022

These books arrived merely wrapped in cellophane and not in a boxed set, as shown in the photo. Had I known, I would have purchased this simply and instead the books would have been purchased individually.
Pretty Good - Read More to see why 4 stars was my final rating

Derived From Web

, May 18, 2022

Okay, so I read this series before. I just bought this collection because I have the first book in the series and my copy was slightly worn out. So I bought these. Obviously, I expected nothing less. The set looked wonderful and very pristine from the outside. On the inside, I expected the same. When the books were ripped from the clear protective case, they still looked splendid. I read the first book and was scared by what I saw. A small rip on the book's paintcover art on the back, lower right-hand corner. I was designed by. It was not too bad, but it was still upsetting. I looked at the other books and the only ones that had any sort of tearing were numbers 1 and 4. The tear on # 4 was slightly larger and more noticable. But it happens. The books are pretty good anyways, the printing is good, but the slight tears on 1 and 4 have made me rethink this rating as 5 stars. This helps me so much! Liss is a Danish film that plays in the ''.
Purchased for my 9 year old

Derived From Web

, May 18, 2022

My son loves this series, he can 't put it down. He is not a very avid reader, so it was great to find not just one, but a whole series that he is interested in reading.
Entertaining in the extreme!

Derived From Web

, May 18, 2022

Age does not matter with these - they are incredibly funny and incredibly cleverly written. Your children and you learn many interesting historical and literary facts while not being able to put them down.
Incredible series.

Derived From Web

, May 18, 2022

I bought my first 2 year old daughter the 10th and she was hooked. We bought the 3rd and 4th and is waiting for the 5th book to be placed in her hot little hands. She says that this is her favorite series ever. She is an avid reader and we struggle with finding mature material that isn't for her too advanced. The Secret series has a special place on the shelf. You won 't regret it.
Kids didn't enjoy them

Derived From Web

, Aug 13, 2021

After all the excellent reviews, I was excited for these, but neither my children liked them. Such a bummer, they said it was annoying and kind of repetitive.
A fun read for kids and adults

Derived From Web

, Jun 26, 2020

After much research, I bought this series for my 10 year old, and he read the whole thing in less than a week. I read it myself and I have to say that it is a fun, easy read for anyone 10years and up. It is part of the mystery, comedy and kid logic that adults will find nostalgic and not irritating.
Clever, entertaining

Derived From Web

, Feb 26, 2020

I read this series to my 8-year-old son, he is hooked on every word. I like this author's style ; it's clever and unexpected ''.
Amazing collection

Derived From Web

, Apr 3, 2019

She needed a book for a reading project at school and ended up reading every book within a week. This author does an amazing job of keeping his audience entertained and capturing their imagination. The titles of the books are the first thing that draws them in, then he sprinkles other tidbits of secrecy and intrigue throughout the books to keep them on their toes.
Brings back memories

Derived From Web

, Mar 29, 2019

Well, anyways, I'm now an adult. Wasn 't writing the search words. Well, I found it and just HAD to get my Habds on it. It is just as good as I remembered it to be. If you're older, there is no harm in reading stories like these. It has been 10 years since then.