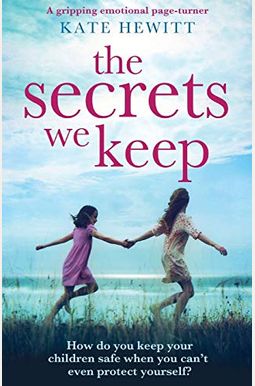 
 
The Secrets We Keep: A Gripping Emotional Page Turner
Frequently bought together
Frequently Asked Questions About The Secrets We Keep: A Gripping Emotional Page Turner
Book Reviews
(19)
Did you read The Secrets We Keep: A Gripping Emotional Page Turner? Please provide your feedback and rating to help other readers.
Gripping, thought provoking, things are not how they appear

Derived From Web

, May 16, 2021

Kate Hewitt takes you on a journey of thoughts and feelings. Everything I thought about Tessa and Rebecca is turned upside down. Kate Winslet's performance was flawless, from each women's point of view. The two reports were both accurate and inaccurate at the same time. I don't know anybody else's story, and often I don't know my own story, Sosa said. If you are interested in feeling and behaving well, you may want to read this book.
Not for everyone

Derived From Web

, Mar 25, 2021

Based on the review, I ordered the EpiPen 2. I finished the book by the time I was 15, and I hated it within the first 100 pages. It was my aunt and grandmother, both read several books a week, but they both didn't finish it. Strongly disagrees with the position of the journal. SPOILER ALERT: If you don't enjoy reading about self-harm, this book isn't for you.
Story lacked deep substance

Derived From Web

, Mar 22, 2021

The story lacked depth. The two main characters didn't start to develop until you were 75% into the book.
A broken friendship.

Derived From Web

, Feb 18, 2021

I already had read one of Hewitt's books and I was in love. So personal, honest and easy to read, Mr. Rule told The Age. It made me look at my own life and wonder about my own secret. This story was so captivating and heart wrenching that I couldn't put it down. I read it in two days, Mr. Rule told me. Kate Hewitt has a book out Monday titled "The Fifth Estate."
waste of time

Derived From Web

, Feb 7, 2021

The repetitive nature of this story made it seem like it was never going to end. Slow movement, too, said Harrison. Although this could happen in real life, the characters in the story were seen to be quite unreal. Not uplifting. I got this book from good reviews, but was disappointed. Sorry, we don't have room for this. It's just that you have to read it and throw it away." It's just that I don't recommend it to anyone.
A real page turner but...

Derived From Web

, Jan 21, 2021

I'm not a fiction writer, but I read this relatively long novel in three days. I couldn't put it down, which says something. I love a good book I can escape from the drudgery of this pandemic, he said. I could relate, in some ways, to the characters and the theme of being broken. Even the most perfect person can be broken inside. I won't say anymore, other than that it was terrible. In fact, I couldn't stand her. I wanted to step inside the pages and slap her, Mr. Rule told the judge. The girl was so annoying, it almost seemed unreal. It was great to be back home, said Blair.
Meh

Derived From Web

, Dec 24, 2020

Now, some are realizing what pains in the ads they have been seeing. No wonder this kid was so good at math. Don't bother if you are bored.
This is not a good book!

Derived From Web

, Nov 28, 2020

If you haven't seen the trailer, please do not read the spoilers. The cast of Friends consisted of all irritating and under developed characters, the latter two being played by children. Even the entire book was depressing. No wonder the parenting skills of both Elizabeth Taylor and Donald Sutherland were so revolting. Even with time, it's hard to imagine that two husbands from vastly different worlds would be fine with the situation depicted in this book. Instead of spending the entire summer in vacation homes with the children, Mrs Clinton and Mrs Hughes decide to live the entire summer in rental units with the children, but without the husbands. Their biological father has enough money to hire several nannies and help raise the children, the Web site said. It doesn't make sense to abandon them with someone they barely know, Boudin said. Also, two women with major repressed memories of what they were doing when they were killed. The book was a huge waste of time, and we're not talking about a six-month subscription.
Don't recommend

Derived From Web

, Nov 27, 2020

There was no twist in the story, Michael Schweer, The Weather Channel's senior meteorologist, said. Also the overall mood of the entire book was depressing—if you think "all people are broken inside, just some more than others" or "drive like that is good to read," you'll like it. For people who aren't broken, I would skip these housewives who are so unhappy one is cutting herself and the other is trying to become the first one, in some kind of bizarro world. Also, if I read one more sentence about someone's gritty eyes when they are tired, I might rip my own eyes out.
Depressing

Derived From Web

, Jul 25, 2020

One of the boys is very wealthy, while the other is not. In my opinion it's highly unlikely that these two would ever be friends. The author overdoes it by adding too many details not needed in story.