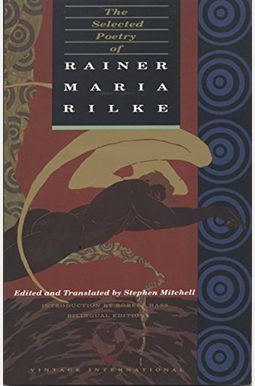  
The Selected Poetry Of Rainer Maria Rilke: Bilingual Edition
Frequently Asked Questions About The Selected Poetry Of Rainer Maria Rilke: Bilingual Edition
Book Reviews
(8)
Did you read The Selected Poetry Of Rainer Maria Rilke: Bilingual Edition? Please provide your feedback and rating to help other readers.
translations don't capture RIlke's language

Derived From Web

, May 23, 2022

When I read the glowing descriptions of Mitchell's translations in the first few reviews on this website, I expected translations that captured the meanings and pace of the poems, and Rilke's actual meanings. These translations certainly don 't do the latter and often don 't even do the former. I studied in German at college, so that I am somewhat familiar with the language, but I wanted to know the English translations as aids, where I did not know the vocabulary. These translations are only a little irritating, however.
Splendor in the English translation of one of the Greats

Derived From Web

, May 23, 2022

If you are on the precipice of purchasing this translation, you are probably moved by the excellent reviews along this path. I can not add more than to say that I am so grateful to have had the chance to read the poetry of Rilke in poetic English, which I am sure is as close as one could imagine to what Rilke would have written in our language. To read him in this book of his poetry is enchanting and I find something new each time.
Nice Collection of Rilke's Poetry

Derived From Web

, Jul 21, 2021

Have they ever read a book before? I was looking for this particular edition because I lost my previous. It is a bilingual issue, which I wanted because I write and speak German, but I wanted to include this particular edition by Stephen Mitchell, because it is formatted with Rilke's poetry on the left and the English translation on the right, and sometimes I like to reference the English translation. A reviewer complained about Mitchell's translation. As a linguist, I have to point out that there is no possible way for a translator to translate poetry beautifully and accurately. One cannot capture the nuances, alliteration, cadence, rhythms, rhyme scheme, exact meaning of words, etc. It is only a reference. I would say that this is a metaphysical presentation of one of the most beautiful poets. Anyone who likes Rilke will find this a beautiful book and well worth the money.
I love you, Rilke

Derived From Web

, Dec 14, 2020

I believe that this method was used. I won't praised Rilke's work because many have flattered and reviewed him as he deserves. I speak only of this's seller and the condition of this book. I have often wondered about this seller, but then bought many times over from him.
Awesome book for people who like Rilke

Derived From Web

, Jul 16, 2020

This book contains a lot of poetry and notes by Rilke. If you already love Rilke's works, this is almost in my opinion an encyclopedia of his life and work. For someone not familiar with Rilke or someone who does not want to dive into his work too deeply, this book might be a little too much. But for people like me, having this book in my personal library is just good for me, I know it will be there when I need it. I love to read but due to some health issues, it is hard for me to read very much. But little by little, I am reading more, so having great books that lift my spirit and connect me to my humanity makes reading very nice indeed. And lastly, Stephen Mitchell is extraordinary at translating and understanding poetry. I can not say enough about how wonderful his work is.
A unique read

Derived From Web

, Jan 2, 2019

German children learn German and French children learn French. They live across the street from each other and then grow up and go to war. This poet is worthy of this time and his work is from his time.
"But because truly being here is so much..."

Derived From Web

, Oct 10, 2018

These are not feel-good poems in any lighthearted sense. They feel good because they remind us that we are not alone in our weight, our mortality, our transience. In fact, we are lucky to feel all these things.
This collection is a dear friend of mine.

Derived From Web

, Feb 8, 2017

I have read other translated versions of Rilke's poems, but I keep coming back to Stephen Mitchell's interpretations.