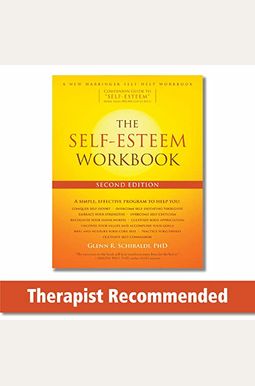 
 
Book Overview
People of all ages, backgrounds, and circumstances struggle with low self-esteem. This long-awaited, fully revised second edition of the best-selling The Self-Esteem Workbook includes up-to-date information on brain plasticity, and new chapters on forgiveness, mindfulness, and cultivating lovingkindness and compassion.
If your self-esteem is based solely on performance if you view yourself as someone who s worthy only when you re performing well or acknowledged as doing a good job the way you feel about yourself will always depend on external factors. Your self-esteem affects everything you do, so if you feel unworthy or your confidence is shaped by others, it can be a huge problem.
With this second edition of The Self-Esteem Workbook, you ll learn to see yourself through loving eyes by realizing that you are inherently worthy, and that comparison-based self-criticism is not a true measure of your value. In addition to new chapters on cultivating compassion, forgiveness, and unconditional love for yourself and others all of which improve self-esteem you ll find cutting-edge information on brain plasticity and how sleep, exercise, and nutrition affect your self-esteem.
Developing and maintaining healthy self-esteem is key for living a happy life, and with the new research and exercises you ll find in this updated best-selling workbook, you ll be ready to start feeling good about yourself and finally be the best that you can be.
Frequently Asked Questions About The Self-Esteem Workbook
Books like The Self-Esteem Workbook
Book Reviews
(15)
Did you read The Self-Esteem Workbook? Please provide your feedback and rating to help other readers.
This book arrived in a timely manner and in excellent condition. It is an absolutely excellent workbook addressing ...

Derived From Web

, Apr 20, 2022

This book arrived in a timely manner and in excellent condition. It is an absolutely excellent workbook addressing real issues in a thorough way and in layman's language.
Would recommend.

Derived From Web

, Apr 20, 2022

I am a therapist and often use it in a self esteem and recovery group that I facilitate. I find it very helpful. '' Would recommend.
Nice

Derived From Web

, Apr 20, 2022

I usually don 't like reading, but I can relate so much to this book, it is really not a book, but a workbook that takes you through several steps and actually works with you. It has helped.
Best Book Ever!!!

Derived From Web

, Apr 20, 2022

This book helped me so much! It is very inspiring and I feel like it has made me a new person! It brought up a lot of things I never knew were related to what I was feeling and gave me a whole new perspective on life and myself. I love it and would recommend it to anyone, even if you're just down. It really helps you to find your self-worth!
It is a good, educational overview of cognitive behavioral therapy and challenges ...

Derived From Web

, Apr 20, 2022

This is a must read book for anyone who needs a tune-up on self-love. It is a cognitive behavioral overview of good, educational therapy, and challenges the reader to re-think the story he has created in his own view of the world.
Highly recommended

Derived From Web

, Mar 18, 2022

I was not surprised to see, among the many positive reviews of the self-esteem workbook, that readers go through it with a counselor ''. It is an excellent workbook, filled with helpful insights, exercises and practices. I believe that it will be the most helpful to go through it with a counselor or trusted friend, so that you can discuss the content and how to apply it. If someone else isn't available, one will still benefit from going through the workbook on your own, as I did. Schiraldi is a trustworthy, well-respected expert and his great knowledge is clearly visible in all the comprehensive content he has included. Highly recommended! Highly recommended! ''
Good for ideas with helping improve self-esteem

Derived From Web

, Jul 24, 2020

This would be a great workbook for someone looking to improve their own self-esteem or for clinicians looking for ideas to help a client improve self-esteem. This workbook is easy to understand and the worksheets are easy to navigate. I really like New Harbinger's workbooks and this one is definitely a great addition to the others! ! !
It's nicely designed with exercises but is a bit over my head.

Derived From Web

, Sep 8, 2019

I believe that this is helpful for self-esteem, but it was a little over my head. I am in therapy for complex PTSD and other stuff that may affect my interpretation of the exercises. I moved to the book Top Walking On Eggshells '', which breaks things more simply for my particular experiences. I have made a friend, however, who is like me burned out, but can not continue the therapy right now. Some of the things mentioned made me think of this book and I was grateful to be able to pass it to her. In all, I believe that this book is beneficial... for the targeted audience, if self-esteem is the right issue, I think that the exercises are worth the time invested in the practices.
Realistic & helpful

Derived From Web

, Feb 14, 2019

This does not offer instant results. Instead, it focuses on making fundamental changes in the way a person thinks, feels, and behaves, which takes time and effort, but leads to lasting results. Slowly working my way through this, I slowly work my way through this. Like that, you can also download the worksheets.
Not really practical

Derived From Web

, Dec 13, 2018

Nothing is in this book that isn 't already common sense. Take care of yourself. Get some sleep. Get some sleep. Get some exercise. Get some exercise ''. Eat better. Be healthier. '' Well, no kidding, really? Right away it has you read all kinds of dietary info that seems Greek to me. With this info, it wants you to draw up your own diet. The whole thing seems to be so out of touch with the realities of true low esteem. I think that people who find this book helpful are not truly struggling with low self-esteem. The more one thinks about it, the more one has to doubt that any book could actually do something for anyone, another book for the donation pile.