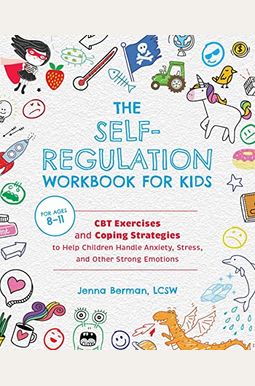 
 
The Self-Regulation Workbook For Kids: Cbt Exercises And Coping Strategies To Help Children Handle Anxiety, Stress, And Other Strong Emotions
Book Overview
Help your child identify, understand, and take control of their feelings with the kid-friendly cognitive behavioral therapy and self-regulation exercises in this easy-to-use workbook.
When children have difficulty self-regulating, it can make it harder for them to get along with peers and family members, hurt their academic achievement, and inhibit their ability to complete activities of daily living. That's where this book comes in. In this evidence-based workbook, the reader follows the journey of a child just like them--who experiences all kinds of emotions and thoughts and learns how to take control of them.
The Self-Regulation Workbook for Kids
allows kids to explore and express their feelings, guided by a relatable character and reinforced through interactive worksheets and proven exercises. The CBT-based activities and advice in this workbook will empower children with concrete coping skills and techniques that they can return to each and every time they start to feel upset or stressed.
Frequently Asked Questions About The Self-Regulation Workbook For Kids: Cbt Exercises And Coping Strategies To Help Children Handle Anxiety, Stress, And Other Strong Emotions
Book Reviews
(6)
Did you read The Self-Regulation Workbook For Kids: Cbt Exercises And Coping Strategies To Help Children Handle Anxiety, Stress, And Other Strong Emotions? Please provide your feedback and rating to help other readers.
It's basically CBT with some new activities

Derived From Web

, Mar 25, 2022

I recommend it to anyone who reads it." It's just that it's not very different than what I've been using all along. There are some newer activities that are great.
Phenomenal resource for therapists or parents

Derived From Web

, Feb 28, 2022

What I would say is that the book is a variety of the essentials for helping kids learn about thoughts, feelings, and behavior, he said. It also has some really creative hands-on exercises, like using a cup of water and a pitcher as a metaphor for when feelings overflow or holding an ice cube to teach tolerating discomfort. I recommend this book to anyone who enjoys good fiction.
Great book

Derived From Web

, Feb 5, 2022

We have done this book as a family, McCartney said. Great job by Drummond, said one mother. The customer service was great, and the product was excellent. Their biological kids are 5, 7 and 9.
Wasnt for the age it promotes

Derived From Web

, Jan 4, 2022

My daughter needed some healthy habits to deal with some of the challenges that come with life, so I bought this for her. She would be insulted if I gave it to her, Morgenthau said. The Harrisons were clearly not the only family showing signs of stress: His 6-year-old sister, Allyson, told her father she wanted to go home. Yes, I have found a better version of the Big Life journal. This is a great time to play with your friends, says Dr. Steve Pearson, director of the NIH's National Institutes of Health.
Best CBT for kids I have come across yet!

Derived From Web

, Dec 28, 2021

As a licensed clinical social worker, I work with children and teens. Everything in this book is what I do with kidsteen, and some extra fun interventions I had not thought of, Dr. Goin said. It's nice to have it all organized in one place, said Dr. Chester Floyd, who heads the NIH's Computational Biology division. Brand New York is where I got my first kiss.
Amazing techniques that really work

Derived From Web

, Oct 30, 2021

This book is so simple and so brilliant, I recommend it to anyone. Each chapter has a lesson or activity for kids or any age really. Realizing this, my kids began to apply some of the things they learned in their day-to-day lives. The Red Cross started helping the women almost immediately. Thanks for the book.