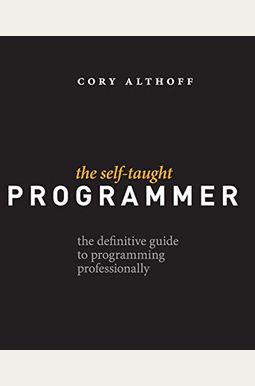 
 
The Self-Taught Programmer: The Definitive Guide To Programming Professionally
Book Overview
I am a self-taught programmer. After a year of self-study, I learned to program well enough to land a job as a software engineer I at eBay. Once I got there, I realized I was severely under-prepared. I was overwhelmed by the amount of things I needed to know but hadn't learned yet. My journey learning to program, and my experience at my first job as a software engineer were the inspiration for this book.
This book is not just about learning to program; although you will learn to code. If you want to program professionally, it is not enough to learn to code; that is why, in addition to helping you learn to program, I also cover the rest of the things you need to know to program professionally that classes and books don't teach you. The Self-taught Programmer is a roadmap, a guide to take you from writing your first Python program, to passing your first technical interview. I divided the book into five sections: 1. Learn to program in Python 3 and build your first program.
2. Learn Object-oriented programming and create a powerful Python program to get you hooked.
3. Learn to use tools like Git, Bash, and regular expressions. Then use your new coding skills to build a web scraper.
4. Study Computer Science fundamentals like data structures and algorithms.
5. Finish with best coding practices, tips for working with a team, and advice on landing a programming job. You CAN learn to program professionally. The path is there. Will you take it?
Frequently Asked Questions About The Self-Taught Programmer: The Definitive Guide To Programming Professionally
Book Reviews
(13)
Did you read The Self-Taught Programmer: The Definitive Guide To Programming Professionally? Please provide your feedback and rating to help other readers.
Lots of gaps

Derived From Web

, Oct 15, 2021

I immediately began taking computer science classes. Now that I know just a bit about programming, I wonder how you can have a subtitle called the definitive guide to programming professionally and not discuss segmentation faults, memory heap, pointers, IDEs, etc. He certainly found a lot of room to ramble, but not enough to include all the essential items. It's a self-published book, and it's also very low-budget. Great idea, which is why I was credited with two stars, but not recommended.
Good for Absolute Beginners

Derived From Web

, May 31, 2021

Programming concepts are well-known and well-explained. This book is highly recommended for absolute beginners, and for those who need a good overview of Python and command line.
It help's to have some programming back ground.

Derived From Web

, Jan 29, 2020

This is new to me and specially python I had trouble down loading it because it was out dated, so I had to update it to 3.8.1. I had problems with some of the programming when I type it into the python shell, sometimes with errors, and sometimes with it not letting the program run. I did it the way the book explain it so may be there something I did not understand.
Brief overview of Python basics; not much depth

Derived From Web

, Jun 22, 2019

If you already have some experience with Python, this book won't be necessary.
Who Doesn't Love Coding?

Derived From Web

, Dec 19, 2018

A lot of people claim this book is not exactly what they thought it would be, but for me it's what I exactly thought it would be. But I've been coding for most of my life trying to find something that would work for me. And, when I say I like Cory Althoff's book The Self-Taught Programmer, I truly mean it. To me, space is everything and I will put this as best I can you can learn programming very simply from him with this simple, small book. In this video, Huq gives you the tools that helped him become a Python programmer. The Harrisons are legendary for saying things like, "I think that says it all."
Tells you what you really need to know

Derived From Web

, Sep 21, 2018

After learningTRAN and programming, I was at a loss trying to retool with OOP languages such as Python. I've read a couple of books that went over code and concepts. I felt like something was missing, Chandrika added. I could write simplistic programs, but didn't think I was utilizing the full power of Python. Axel Althoff's book helped fill in the gaps. He gave the most lucid explanation of OOP concepts that I've come across, as well as touching on practical subjects such as the command line, bash, and GitHub. Thanks to the Stack Overflow community, I feel more empowered to write meaningful code. There are also a lot of good books about how to code. Separate books will be devoted to programming languages and user interface concepts. Buy the other two books, then read one of them. If you're just starting out, it's a must-read.
Very informative

Derived From Web

, Jun 24, 2018

AmazonBasics is a free kindle book for people who can't read Kindle. Buy copies of this and other useful paper products. Easy to follow and written in a way that is perfect for self-instruction.
Go for a better choice

Derived From Web

, Feb 6, 2018

The book offers limited insight into the making of the U.S. military's elite, but is highly detailed and well written. You will learn the bare minimum of Python, C#, SQL, and even a few other programming languages. That is, if Quattrone's appointment was less than satisfactory. While he offers a few Udemy courses, he attempts to prepare you for every aspect of becoming a developer while even teaching you to code. This is an impossible quest that results in a shallow book,and I would definitely offer the complete guide software developer's career by John Somnez.
Not what I was hoping for

Derived From Web

, Feb 4, 2018

Like other introductory books, this one gives much of the same information that other introductory books cover. He focuses on Python and includes a few new features, including a built-in shell for creating dynamic web services. I was hoping for some new insights or new explanations, but I feel that most of the information is readily available elsewhere. It's not a bad first book pick up, in fact the author explains some concepts quite well -- but don't expect more programming than that, he writes.
Thorough, engaging, and well organized

Derived From Web

, Jul 19, 2017

I started reading this book without any prior programming experience. The course was well-suited for those seeking entry-level software development jobs. To get the most out of the book, I recommend 1) Read the book quickly cover-to-cover, glossing over any confusing parts. It's great to read it again, more slowly, doing every exercise and typing every line of code example.