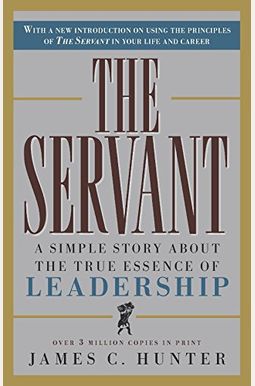 
 
The Servant: A Simple Story About The True Essence Of Leadership
Book Overview
With a new introduction on using the principles of The Servant in your life and career, this book redefines what it means to be a leader.
In this absorbing tale, you watch the timeless principles of servant leadership unfold through the story of John Daily, a businessman whose outwardly successful life is spiraling out of control. He is failing miserably in each of his leadership roles as boss, husband, father, and coach. To get his life back on track, he reluctantly attends a weeklong leadership retreat at a remote Benedictine monastery. To John's surprise, the monk leading the seminar is a former business executive and Wall Street legend. Taking John under his wing, the monk guides him to a realization that is simple yet profound: The true foundation of leadership is not power, but authority, which is built upon relationships, love, service, and sacrifice. Along with John, you will learn that the principles in this book are neither new nor complex. They don't demand special talents; they are simply based on strengthening the bonds of respect, responsibility, and caring with the people around you.
The Servant
's message can be applied by anyone, anywhere--at home or at work. If you are tired of books that lecture instead of teach; if you are searching for ways to improve your leadership skills; if you want to understand the timeless virtues that lead to lasting and meaningful success, then this book is one you cannot afford to miss.
Frequently Asked Questions About The Servant: A Simple Story About The True Essence Of Leadership
Books like The Servant: A Simple Story About The True Essence Of Leadership
Book Reviews
(13)
Did you read The Servant: A Simple Story About The True Essence Of Leadership? Please provide your feedback and rating to help other readers.
Insightful Read

Derived From Web

, Apr 20, 2022

For those in the service industry, this is an excellent read. The message is still plausible and welcome, Graham said.
Best leadership book, hands down!

Derived From Web

, Apr 20, 2022

This book is hands down the best leadership book I've ever read. Other leadership books I've read were dry and too text-heavy for my taste.
Great book that has changed my thinking

Derived From Web

, Apr 20, 2022

I love the concepts of servant leadership and the mindset of leadership. I wish all leadership could read this book because I think it would create a much richer corporate America, he said.
Easy to read because it is written with a more ...

Derived From Web

, Apr 20, 2022

A great book of leadership. It is my company's philosophy on leadership, and we use the book as a training tool for new leaders going through it chapter by chapter.
fantastic guide

Derived From Web

, Feb 23, 2022

For anyone aspiring to leadership (effective leadership, this book is a must read. I always wanted to be in a leadership position, but I had no idea how to truly lead. I'm glad I never got the promotion because I would have failed miserably, Hughes said. The book is an encouraging, thought-provoking, insightful and just fantastic.
Overly simplistic, somewhat outdated, verbose

Derived From Web

, Jul 26, 2021

Complicating the situation, the writer drifts a lot from the core topic — lots of unnecessary filler, and the writer's political leanings are clear. The core message of this book is that there is no such thing as complacency, Rule tells us. The book describes the generals as "arrogant" and "outdated." Those examples might be useful in a small, old-school automotive repair shop - dysfunctional places like 'Orange County Choppers, but not in any benchmark company today.
Leadership lessons with personal stories

Derived From Web

, Apr 17, 2021

Careful, if you are not in place for place reflection and self-questioning this book is not for you. The book draws you in the personal experience of the author and the week-long retreat that defined servant leadership. Each character is written in a way that can be understood by all, Raymond said. The book will challenge how you view leadership on your actionsparadigms. Strong recommendation for all levels of leadership.
Everyone from high school to senior managers should read

Derived From Web

, Dec 19, 2020

A great book, said Blair. I have highlighted and underlined so many places where you can learn so much about being a true leader, he said. Ms. Kennedy has already recommended and given as gifts to Ms. Richardson. I think Seniors in high school should read and be a better leader and positive influence on those around them.
Get it!

Derived From Web

, Sep 2, 2019

Great read, said Dr. Robert Hemenway, director of the federal Centers for Disease Control and Prevention. If you want to take a step in the right direction, this is a start, he said. Through this book, you open up your eyes on a lot of things you are doing that you may not think is effecting the people around you. Enough said, or I may give up a good read. Even if you are great leader, you are not going to loose.
Good book

Derived From Web

, Jul 30, 2019

This book is a great read, even if you don't get to the core of the story. In Service to the World, Paul Beck and Brian Stokes Mitchell show how to approach your leadership role in work or in any other area. Whether you are a boss, entrepreneur or owner of your company, this book will give you the tools to take your work to the next level.