Buy 3 Get 1 Free
Our Best Sale Yet! Add 4 Books Priced Under $5 To Your Cart Learn more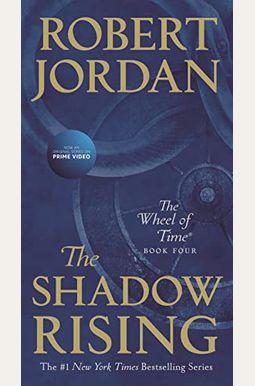  
The Shadow Rising: Book Four Of 'The Wheel Of Time'
Frequently bought together
Frequently Asked Questions About The Shadow Rising: Book Four Of 'The Wheel Of Time'
Book Reviews
(11)
Did you read The Shadow Rising: Book Four Of 'The Wheel Of Time'? Please provide your feedback and rating to help other readers.
Times of pleanty and times of none.

Derived From Web

, Apr 20, 2022

I will try to keep this short and spoiler-free, Mr. Rule told the judge. There are a lot of times where you are suddenly sucked into the plot and almost cannot read the pages because Jordan is so busy tracking down every detail. After the fast pace of the last two books, this one slows down to start pulling old plot threads back together. Though I've read many, many, many, yes, fascinating books, I say this one is strictly boring. If you want to keep going, you need to do it. But be warned, you may have to slog through some chapters if you want to get to the fun parts. It's a good book, even if its called The Fifth Estate. At times, it feels like we're plodding along.
Keep on Turning

Derived From Web

, Apr 20, 2022

If you are a fan of the series, this is the book for you. It was a good read, said Blair. While I'm a huge fan of Simon and Schuster's books, I felt that Perrin was given more plot time than Mat. There is a lot of mystery surrounding what took place in this entry. I am just waiting for his mysteries to be revealed, Taylor said.
Love this series, and this is the best book!

Derived From Web

, Apr 20, 2022

Note the ending: "The third and final book in the series, "Of which I am very proud." Though I'm not a huge fan of Alfred Hitchcock's movies, Perrin is my favorite character and he was a large part of this volume. The kid becomes a man, a shadow of who he ends up being. Only a few weeks ago, he was described as a "major threat." We're really focused on a lot here, and we're taught who they are, and why they are the way they are. It's a great book, I think, by a great American writer. I'm a huge fan of Dr Pepper's work, and it doesn't disappoint at all! Amazon has a hard copy of the book, a paper version, and the Kindle version. It's great to be back reading the series, and I highly recommend it to anyone. If you enjoy fantasy novels, or just enjoyed the Lord of the Rings movies, then this is a must read.
The Wheel loses some momentum

Derived From Web

, Apr 20, 2022

While this book is a great read and has all the ingredients that Jordan fans love, it's the first book where I began to feel the story get bogged down. The book opens strongly and carries itself for a while, but ultimately becomes too unwieldy to sustain its momentum. Jordan's work is still better than most authors' best moments. The overall narrative of the series expands into some new areas that leave some intriguing future possibilities, Morgenthau said. If you're not into the series, this book will satisfy and is highly recommended.
The Wheel of Time Book 4

Derived From Web

, Oct 27, 2021

I'm a big fan of good stories, Raymond said. He also criticized the book's cover, which he called "a badly edited book." I tend to be more of a "editor" than an "author." The third and final book, "The Fall," is one of the best stories I've ever read. Midway through book two, the team started using common measurements rather than the ones Robert Jordan instilled in the story. I don't know how it happened, but it continues. In some instances, they will use both styles of writing within one sentence. This occurs when the typist is rushed and doesn't pay attention to the variances. Its sad that Amazon has picked up this show as a movie series but are doing nothing to correct the products they are selling me,iedigital books. What's more, Amazon is only concerned with making as much money as they can with as little effort as they need to expel the IP holders, Hughes said. Sad, but true, Mr. Caramore said. The Beatles' music "was almost as good as George Bush's."
Progressively getting better starting from awesome

Derived From Web

, Jan 18, 2020

The two main characters continue to grow into their powers. One character's blindness is most enjoyable because it forces the other to see from the others perspective. The world is male vs female with the men being deemed less affected by the disaster causing the male half of the power to be tainted. I enjoy seeing the guys fight for their spot against women who think they know it all better. Like life, death is reversed. The plot thickens, adding even more threads to the story. A very well-crafted tale that keeps getting better and better.
Robert Jordan Wasn't a Good Writer, but

Derived From Web

, Jul 26, 2019

But I don't think a single female character is conniving and petty. It wasn't until the third episode that I realized I was getting angry and frustrated by certain characters, and I realized that's just how Jordan portrayed women. His story is told in his book, "Nickel and Dimed: The Fall of a New York City Police Officer." I loved the world he built, the cultures, the history of the cultures, the mystery and the magic, Raymond said. That's my 2 cents, Mr. Rule told the judge. I have also heard that after Jordan's passing, Brandon Sanderson finished the series that the writing improved ten-fold. If you can make it that far, that is.
Middle School Mean Girls

Derived From Web

, Jan 12, 2019

I myself had a difficult time deciding whether to read the first two books and be totally done with the Jr High behavior of the characters, especially the female ones. Really liked the way he played the part, and the plot line going on. What would an adult do if a child misbehaved? Only then can we truly say how the relationship developed. Sedai was first to court, seeking a six-month extension to his life sentence. Robert Jordan criticizes Tolkien for how it is unbelievable that someone would simply run off on an adventure, but the heroines in his book are "mean girls" that are not even likable. Lord of the Rings's hero, J.R. Tolkien, has nobility, but Jordan must grow up.
This series should not exist

Derived From Web

, Aug 27, 2018

4 books in, and I'm certain that a like story would not exist. It is, however, impossible for someone to create such a rich, complicated, intertwined narrative.
Keep reading

Derived From Web

, Aug 16, 2018

The series is going strong, he said. This book had a lot of good history and lore to share with those reading the whole series.