Cyber Week Deals
Cyber Monday Deals are Here! Save 20% on All Books Under $10 - Code CYBERBOOK Learn more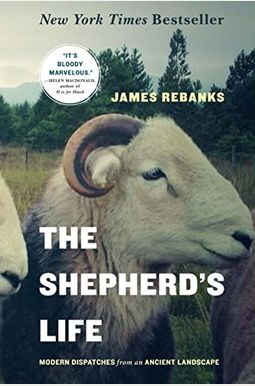  
The Shepherd's Life: Modern Dispatches From An Ancient Landscape
Book Overview
The New York Times bestseller and International Phenomenon
One of the Top Ten Books of 2015, Michiko Kakutani, The New York Times.
It's bloody marvelous. - Helen Macdonald, New York Times bestselling author of H IS FOR HAWK
Captivating. A book about continuity and roots and a sense of belonging in an age that's increasingly about mobility and self-invention. Hugely compelling.
-
Michiko Kakutani, The New York Times
Some people's lives are entirely their own creations. James Rebanks' isn't. The first son of a shepherd, who was the first son of a shepherd himself, his family have lived and worked in the Lake District of Northern England for generations, further back than recorded history. It's a part of the world known mainly for its romantic descriptions by Wordsworth and the much loved illustrated children's books of Beatrix Potter. But James' world is quite different. His way of life is ordered by the seasons and the work they demand. It hasn't changed for hundreds of years: sending the sheep to the fells in the summer and making the hay; the autumn fairs where the flocks are replenished; the grueling toil of winter when the sheep must be kept alive, and the light-headedness that comes with spring, as the lambs are born and the sheep get ready to return to the hills and valleys.
The Read More chevron_right
Frequently bought together
Frequently Asked Questions About The Shepherd's Life: Modern Dispatches From An Ancient Landscape
Books like The Shepherd's Life: Modern Dispatches From An Ancient Landscape
Book Reviews
(16)
Did you read The Shepherd's Life: Modern Dispatches From An Ancient Landscape? Please provide your feedback and rating to help other readers.
His loveletter to his homeland

Derived From Web

, May 28, 2022

During a couple of UK tours, there were always unanswered questions about the sheep, why so many, what are the different species of wool, do they really eat that much lamb, etc. It is technical enough to satisfy the biologists among us, while addressing the historical and traditional and even romantic reasons for the continued presence in such numbers of sheep and shepherds. It enhances the experiences of the previous tours and should be read before one goes. A beautiful read.
A contemplative, conscious life

Derived From Web

, May 28, 2022

Mature memoirs are filled with glimmers of universal truths in action. The photos are beautiful. All the best wishes to the author James, the sheep, Helen, Tan and Floss.
A great story from a true shepherd

Derived From Web

, May 28, 2022

As one who has always loved Lake Country, I enjoyed this personal story from one of the families who have inhabited this area for generations. The writer was interesting and I now know a lot more about sheep and what it takes to care for them.
Great stories of a shepherding culture

Derived From Web

, May 28, 2022

I liked the stories of this humble, hard-working man and his homeland. The way it was written, a jumble of time frame in the order of the seasons, seemed appropriate to a topsy Turvy life, controlled by weather and natural phenomena. It was new, but familiar within the culture of the fells. I also enjoyed the stories of family and neighbors so closely knit in this region of Lake Superior. Rebanks is a good storyteller and obviously a top shepherd!
Wonderful read

Derived From Web

, May 28, 2022

This book gives the reader a good sense of an important old way of life going back centuries. This book describes a way of life that thar may not seem relevant to city folk, but has important skills for us all.
Well written and Interesting!

Derived From Web

, May 28, 2022

If you have visited Ireland, Wales, or England, you have witnessed sheep roaming and lambs hop and romp, if it was spring. This book gives an intimate look at the lives of those who harvest the sheep, as a man tells how his life is intertwined with that of his forebears, neighbors and those who will come after him and the land he calls home.
Bad language and bad attitude

Derived From Web

, Nov 12, 2021

I've visited the UK Lake District and thought that this book would teach me more than just teaching Psalm 23. The word f... appeared once in the first 15% or so of the book, but quickly deteriorated after that in all languages. By the 30% mark, God's name was in vane, the F & F word often denounced as stupid and boring, grandparents with illigitmate children and one with adulterous affair child! I have just quit this book at 35%, unable to subject myself any longer!
A great read.

Derived From Web

, Apr 10, 2021

Reading an important book about the preservation of a great culture and a way of life.
Northern Version Of The Archers - more grit than humour

Derived From Web

, Oct 9, 2019

I bought this after listening to the author on Desert Island Discs, I expected a little more from an Oxford educated Lake Districts Hill Farmer. It could have been the same story from a Durham miner and he's prize winning leeks, racing pigeons and whippets, not badly told, but nothing inspirational better working class stories in This Sporting Life or the Loneliness Of The Long Distance Runner.
Wonderful read

Derived From Web

, Aug 27, 2019

I grew up long ago on a small farm with a grandfather, so that book spoke to me at a deeply personal level. If you are a tree-hugging, gluten-free vegan who contributes to PETA, you should avoid this book. If you want a well written personal description of trying to preserve a way of life, coupled with a deep love of family, place and community, give this a try.