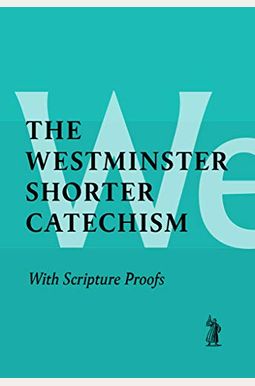 
 
Shorter Catechism with Scripture Proofs
Frequently Asked Questions About Shorter Catechism with Scripture Proofs
Books like Shorter Catechism with Scripture Proofs
What should you read after Shorter Catechism with Scripture Proofs Book? Here is a list of books to read if you read and loved Shorter Catechism with Scripture Proofs
Book Reviews
(11)
Did you read Shorter Catechism with Scripture Proofs? Please provide your feedback and rating to help other readers.
Recommended to go along with Starr Meade's Catechism devotional

Derived From Web

, May 9, 2022

This is a helpful companion to Starr Meade's Teaching Hearts, Teaching Minds. I prefer using the modernized language for the questions and answers of the catechism, rather than Meade's original language, because the authors of the shorter catechism chose each word so carefully and diligently to represent truth. We are using these two books to teach and equip our four year old about truth, which takes a lot of intentional discussions, but already bears fruit. And the price of this book is so reasonable that it doesn 't hurt to try it for your studies!
Probably perfect for explaining WHY Christianity

Derived From Web

, May 9, 2022

There is a reason why The Shorter Catechism has lasted. It is probably close to perfect in explaining the biggest questions of life, what every manwoman wants to know WHY - WHO - WHAT - HOW, why am I here? What happens when I die? These questions are only answered by Christianity. Don 't let the size of this folly fool you. It is large, meaty, and it will take you some time to get through despite it's pamphlet size. Instead, it tries to back everything with the Bible. The Bible is never changing and is more than enough to explain the big questions of life. I would encourage this for someone who is trying to figure out why Christianity answers to all of life's biggest questions.
A Clear, Concise Representation of Beliefs

Derived From Web

, May 9, 2022

Small, nice design and wonderful for backyard, camp fire question and answer, memorization and explanation. Price is just right to have a dozen and pick up family time over topics that seem to be mainly forgotten. This is a summation of what the Scriptures teach and is for our benefit as we discuss our purpose in life, our duties in life and how we must treat one another. Each church has their own confession of faith, whether written or not. This catechism expresses these beliefs in a QA format. Good size, binding quality.
Good to have around.

Derived From Web

, Feb 7, 2022

These very reasonably priced booklets are good for folks interested in a bit of reformed theology, whether new or mature Christians.
Just right for me.

Derived From Web

, Jul 25, 2021

This is exactly what I needed. I have others this small, but this is the first to have the scriptures with it instead of just the references. I like having it open when a few minutes come to read and no time to take my Bible out to look at the verses. For me, it is better than playing games on my phone.
Great for memorizing

Derived From Web

, Dec 14, 2020

If you learn the Westminster Shorter Catechism as an adult, you should buy one of these, keep it in your coat pocket and read it while waiting in line, on busestrains or whenever you have a free moment. If you can do it discreetly, you will hear the cadences of the questions and answers, and that will help you see the logic of the wording.
Good for discipleship

Derived From Web

, Sep 29, 2020

Not so good for people who are not used to classical literature. I 'd prefer an updated version, but this one did the job and sparked a lot of excellent spiritual discussion with my teen.
Priceless but Very small book to read

Derived From Web

, May 3, 2020

I received this book for my 12 year old daughter and my daily Bible study. It contains related Bible verses, so we don 't need to read this book from the Bible. The contents of the book are obviously priceless. The only problem I see for myself is that the book is very small, so it is very difficult to read for my old eyes. Also, it is not written in modern English.
Scripture proofs written out

Derived From Web

, Feb 5, 2020

With so many verse citations, nobody is going to flip through their Bible or even use their computer to look up the verse references.
Love

Derived From Web

, May 28, 2019

Catechism is a good way to teach your children about faith or if you are a new believer who is looking for a simple and concise overview with easy-to-node questions and answer sections, this is an awesome way to do so.