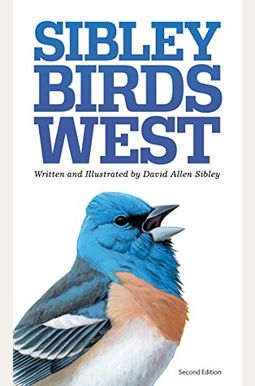  
The Sibley Field Guide To Birds Of Western North America
Book Overview
COMPLETELY REVISED AND UPDATED: From renowned birder, illustrator, and New York Times best selling author David Sibley, the most authoritative guide to the birds of the West, in a portable format that is perfect for the field.
Compact and comprehensive, this guide features 715 bird species, plus regional populations, found west of the Rocky Mountains. Entries include stunningly accurate illustrations--more than 5,046 in total--with descriptive captions pointing out the most important field marks. Each entry has been updated to include the most current information concerning frequency, nesting, behavior, food and feeding, voice description, and key identification features. Here too are more than 652 updated maps drawn from information contributed by 110 regional experts across the continent, and showing winter, summer, year-round, migration, and rare ranges. This new and improved edition includes: - Updated habitat, description, behavior, and conservation text for each species account and all family pages. - New and revised illustrations of species and regional forms. - New design featuring species accounts in columns, allowing for better comparison and more illustrations and text. - Current taxonomic order and up-to-date common names. - All maps revised to reflect the most current range information. - More species and rarities included.
Frequently Asked Questions About The Sibley Field Guide To Birds Of Western North America
Books like The Sibley Field Guide To Birds Of Western North America
Book Reviews
(6)
Did you read The Sibley Field Guide To Birds Of Western North America? Please provide your feedback and rating to help other readers.
First impression of the 2nd edition Western N.A. guide

Derived From Web

, Feb 8, 2022

I can only comment on one aspect of the guide at the moment. I have a newer version of the 2002 guide. There is a quick finder index in the front cover of the 2002 edition. The new 2 nd edition guide moved the quick index feature from the upper outside corner of each page to the lower inside edge and in a smaller style. I'm sure I' ll get used to this new edition as a 3 12 year birder.
another great bird ID book from Sibley

Derived From Web

, Feb 15, 2021

This book will help you identify birds you see in your back yard. This is smaller and lighter than the Field Guide to Birds of North America and it is easier to carry. I still carry Petersons to identify the birds I am watching and to hone in on their identities. The pictures give male, female and juvenile appearances and also what the birds in winter look like. Particularly for the males who are different in appearance when they aren't in their brighter mating plumage. The common West of the Rockies birds are included along with occasional visitors and overlap visitors from the East of the Rockies. Habitat maps are easy to comprehend. Highly recommended.
Avoid this book

Derived From Web

, Jan 4, 2021

I' ve returned the item. The type is very small. The letters are about 1 mm high. It's nearly impossible to read with glasses and a magnifying glass, even when sitting in my den. I can't imagine how hard it would be to use it in the field. The type size was fine when I saw Sibley's Birds. This is much smaller. It made me think twice about buying any books online. I'm amazed that anyone thought this book was appropriate. Beware! The hassle of having to return unsatisfactory items is the reason I'm canceling many Amazon orders. This is the second bad product I' ve received recently. It was disappointing. The merchant did a good job. The book is being packed to be sent back.
Type size is fine! Not sure why so many are complaining — maybe an issue if you are elderly

Derived From Web

, May 23, 2020

This book is very good. I wanted to post a review with a photo of the type size because I read a lot of 1- star reviews that said the type is too small. I thought it was okay.
Font too small to read without magnification

Derived From Web

, Feb 24, 2019

When I tried to read the introductory material in front, I was completely shocked. I don't have a problem reading anything other than my glasses prescription, but I had to dig up my Dad's old hand held scepter to read it because the small fonts made it hard to read. I showed it to 3 other people and asked if they were able to read it. One of the classmates in the beginning birding class told me that a wonderful quick ID chart that had been in the prior edition was missing from this one and had been her favorite part of the previous edition. The instructor said that the absence of the quick ID chart was unfortunate because of its usefulness.
Excellent information, but best viewed with a microscope due to small images and use of flyspeck 3 font.

Derived From Web

, May 28, 2017

The field guide is more difficult to use than it should be. It appears that the printing runs a bit faint. I like the bolder prints found in the National Geographic's field guides.