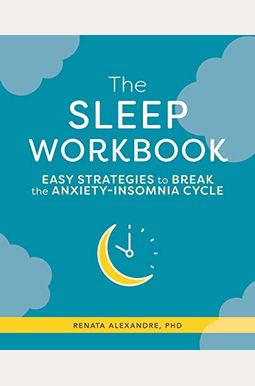 
 
The Sleep Workbook: Easy Strategies To Break The Anxiety-Insomnia Cycle
Book Overview
Conquer anxiety-induced insomnia with your mind-a workbook for rethinking sleep
If you are among the 1/3 of adults in the United States dealing with the vicious cycle of chronic sleep disruption, you can put your worries to bed. The Sleep Workbook uses the scientifically proven Cognitive Behavioral Therapy for Insomnia (CBT-I) to change your thinking, improve your life, and help you get a good night's rest.
By following easy-to-understand and easy-to-follow steps, you can reduce anxiety, change detrimental sleep habits, and sleep more easily. CBT-I can help you make measurable positive changes, boost your confidence, and have more energy to do the things that matter. Before turning to options like sleeping pills, take the time to understand your insomnia and change the things you have full control over-your thoughts and behavior.
The Sleep Workbook contains:
Personal experience-Use self-assessments, journal prompts, and self-reflective questions to fully grasp your underlying issues.
Success rate-About 80% of people who complete CBT-I show long-term sleep improvement.
A stronger you-As you learn to combat anxiety and other types of mood disorders, you'll likely increase your self-confidence because you were able to help yourself.
No more counting sheep for you Break the sleepless nights and start your days refreshed.
Frequently Asked Questions About The Sleep Workbook: Easy Strategies To Break The Anxiety-Insomnia Cycle
Book Reviews
(4)
Did you read The Sleep Workbook: Easy Strategies To Break The Anxiety-Insomnia Cycle? Please provide your feedback and rating to help other readers.
Very repetitive

Derived From Web

, Jun 19, 2021

Just because I learned nothing, does not mean that someone else will. I would have preferred more data vs. reiterating the same common sense info. I thought I was reading the same pages over and over again. Maybe that's the point to continually repeat yourself to get the message across or it lacked data from trials and pages needed to be filled. I hope that others can benefit from it. I'm currently reading another CBTCBTI book and I'm only on page 46 and have learned more than I did in this whole book.
Helpful info for some; did not help me

Derived From Web

, Jan 29, 2021

I actually paid for this book, so I was really hoping it would help me re-instinct and get to the bottom of my lifelong insomnia, but it has been three weeks and I am sleeping worse than ever. I had already tried most of the tips in the book and had hoped that it might reveal some new info that would help me. I think that this book would be helpful to people who have chronic anxiety or mild insomnia or who have never explored options like meditation or CBT before or who were unfamiliar with sleep hygiene, etc.
Easy to read, helpful with my insomnia and anxiety

Derived From Web

, Dec 3, 2020

Covered everything I was wondering about anxiety and insomnia and gave me really helpful tips.
Help for sleep issues

Derived From Web

, Apr 23, 2020

I know that I am not alone when I find myself wide awake in the morning with no hope of falling back asleep. Especially with today's stressors, falling asleep easily and sleeping well is elusive for many people. This is a journal authored by a PhD in cognitive behavior therapy for insomnia. It offers many things to help you in calming the anxieties that keep us from getting good sleep. Would be helpful to anyone struggling with this issue. I received a copy of this book from the publisher, but it has influenced my review in no way.