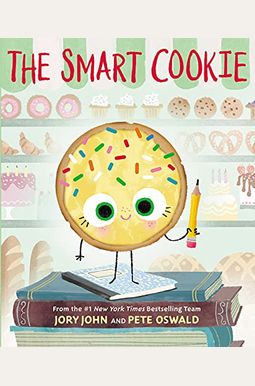  
Frequently Asked Questions About The Smart Cookie
Book Reviews
(10)
Did you read The Smart Cookie? Please provide your feedback and rating to help other readers.
So sweet!

Derived From Web

, Jan 26, 2022

This book is very cute. I bought this to share with my special education class, kids who can definitely relate to the cookie in the book. It helped them to see that smart cookies are available in many varieties.
Not like the first 3 books

Derived From Web

, Dec 28, 2021

This book was disappointing. We have all of them, but this one has not met the mark of the first three. I feel that they drag on for 3 pages. I am not sure if I will buy anymore.
What a let down

Derived From Web

, Dec 2, 2021

The illustrations in this book are very cute. The story was horrible. It didn't rhyme at all. The cookie's grand poem creation was the culmination of the whole book. If you gave the teacher a few minutes, they could re- write this book. A miss in a cute series.
Delightful!

Derived From Web

, Dec 1, 2021

A great story about finding your voice and building confidence in your abilities.
My 3rd Graders Loved It

Derived From Web

, Nov 20, 2021

I surprised my students with another good egg book because they were so excited about it. I like the fact that it talks about poetry and that even though they aren't good at one thing, they are gifted at other things. This would be a great way to start a poetry unit.
Love it!

Derived From Web

, Nov 8, 2021

My 3 year old loves all the books in this series, and this one was great. It doesn't have the silly humorpuns like some of the others, but it still has a great story that's presented in a way that's easy to understand. My son can grow up with a book that is definitely going to be a long time to come.
Let down

Derived From Web

, Nov 4, 2021

The book did not live up to expectations, but I hate to be the one to do it. I own every book in the collection and love it! This one was boring. It went on and on, and my kids lost their attention about 4 pages in. It didn't flow well together like the others and there was no humor in here. It seemed boring and dragged on. I pre ordered months ago expecting something like the others, but it wasn't to my liking.
The Smart Cookie 🍪

Derived From Web

, Nov 3, 2021

This book was very good. I like the story about being smart. Ms. Biscotti encouraged the Smart Cookie to find out what they are good at. It makes a big difference in the classroom. I can't wait to read it. .
I think this is best so far out of all the books!

Derived From Web

, Nov 3, 2021

I think this is the best of the 5 books so far, it's an amazing story about how the cookie didn't think she was smart since it sometimes took her longer to answer the questions and wasn't as quick as the other kids The smart cookie learns that she is great at writing poems after her teacher has all the kids create something. This book is a must have for all kids.
My 3-year old loved it!

Derived From Web

, Nov 3, 2021

A good lesson for kids to overcome their fears is from the story line. Colorful pictures are fun to read.