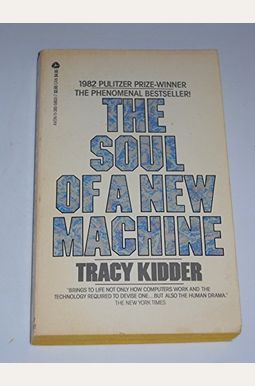  
The Soul Of A New Machine
Book Overview
This Description may be from another edition of this product.
Tracy Kidder's riveting (Washington Post) story of one company's efforts to bring a new microcomputer to market won both the Pulitzer Prize and the National Book Award and has become essential reading for understanding the history of the American tech industry. Computers have changed since 1981, when The Soul of a New Machine first examined the culture of the computer revolution. What has not changed is the feverish pace of the high-tech industry, the go-for-broke approach to business that has caused so many computer companies to win big (or go belly up), and the cult of pursuing mind-bending technological innovations.
The Soul of a New Machine is an essential chapter in the history of the machine that revolutionized the world in the twentieth century. Fascinating.A surprisingly gripping account of people at work. --Wall Street Journal
Frequently bought together
Frequently Asked Questions About The Soul Of A New Machine
Books like The Soul Of A New Machine
Book Reviews
(11)
Did you read The Soul Of A New Machine? Please provide your feedback and rating to help other readers.
Outstanding

Derived From Web

, Jun 2, 2022

A story of how the world was changed by the microprocessor and how engineers and their desire to create.
heroic tale about creating the impossible

Derived From Web

, Jun 2, 2022

It is a heroic story about creating the impossible, although far from being as heroic, it remembered me about my own debugging time.
Good read

Derived From Web

, Jun 2, 2022

I recommend it to anyone interested in the history of the computer industry.
Great insightful book that looks in the personal side of ...

Derived From Web

, Jun 2, 2022

Great insightful book that looks at the personal side of the people who made the computers of the late 1970s to early 1980.
What was past is relevant today

Derived From Web

, Jun 2, 2022

I found the book very insightful from both a business management and information age perspective. On the Mountains Beyond Mountains...
I work on computers (not build them from the ground up)

Derived From Web

, Nov 11, 2020

What a great and interesting book! I realize that what they were focusing on goes way back to my college days with assembler and working at that very low level. The bits where they are using oscilloscopes to grab pictures to see what the machines are doing I would have liked to have been there. If you can identify a part of a computer and take each piece off, you will enjoy this book. If you can view the chips on a MOBO and know their function, you will REALLY like this book.
Computer and business history at its finest

Derived From Web

, Nov 9, 2019

This book gives a new insight into how a company creates a rare and wonderful product and all the hardships involved in bringing it to market. Moreover, it's insights into team dynamics, management and project structure is simply amazing. The events of this book are 40 years old, but one can still collect some gold today. But it is more than that, a playful and amazing look into the early days of computing. In the days of VirginiaX and Data General and many other companies that are no longer around. Recommendation highly recommended.
Insider look at building a computer

Derived From Web

, Jul 14, 2019

It is well written, as it places you in the room with the team as they build a new and improved computer in the early days of computing. It is a good history, written as if it were a novel with a cast of characters who happen to be real. Recommended for anyone interested in the human experience of computer engineers in the back room.
A nourishing memoir for talented technical people

Derived From Web

, Feb 11, 2019

A bunch of people come together haphazardly to build a new computer, and with their managers and their earnest desire to excel in their craft, manage to bring the damn thing to life. I found this on so many levels '' personally relatable. Not only the pastiche of people working on the project, but also the range of corporate politics and bickering. This book bludgeoned me in the stomach purely from the fact that the project leader, Tom West, describes the power of trust to lead teams. An easy 1010 recommendation from me to any technical person who will encounter some kind of existential crisis in their career and find this book enlightening, as it did for me.
Outstanding Portrayal of Exceptional Engineers in Action

Derived From Web

, Sep 12, 2018

This book should be placed on the desk of every manager of technical projects in the United States. More than any other work in history, it shows how innovation occurs and how a few near-genius and hard-working individuals can get things done. It also shows modern organizational theory to be badly flawed and that the much-defunct group dynamics and teamwork can replace a few bright minds dedicated to the creation of a new product. The Apple Computer is an example of the concept, describing Steve Wozniac invented the Apple in his garage and marketed it to Steve Jobs. It isn't it -- a man has created the personal computer virtually by himself. All alone, not even with a team made of diverse talents and representing various views.