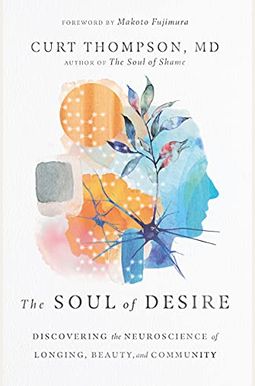  
The Soul of Desire: Discovering the Neuroscience of Longing, Beauty, and Community
Book Overview
We are people of desire. In The Soul of Desire, psychiatrist Curt Thompson suggests that underneath all our longings is the desire to be known--and what's more, that this fundamental yearning manifests itself in our deep need to make things of beauty, revealing who we are to others. Desire and beauty go hand in hand. But both our craving to be known and our ability to create beauty have been marred by trauma and shame, collapsing our imagination for what God has for us and blinding us to the possibility that beauty could ever emerge from our ashes. Drawing on his work in interpersonal neurobiology and clinical practice, Thompson presents a powerful picture of the capacity of the believing community to reshape our imaginations, hold our desires and griefs together, and invite us into the beauty of God's presence. The Soul of Desire is a mature, creative work, weaving together neuroscience and spiritual formation to open up new horizons for thinking not only about the nature of the mind, but about what it means to be human.
Frequently Asked Questions About The Soul of Desire: Discovering the Neuroscience of Longing, Beauty, and Community
Book Reviews
(5)
Did you read The Soul of Desire: Discovering the Neuroscience of Longing, Beauty, and Community? Please provide your feedback and rating to help other readers.
Groundbreaking

Derived From Web

, Oct 5, 2021

He effortlessly weaves the latest in neurobiology and interpersonal theology into a book that had me gripped from the first page. Day-long air travel became a day of joy as I read this engaging text. Dr. Thompson says we are invited to be shaken free from pain and surprised by encounters with transcendence through art.
How people change and how groups can help

Derived From Web

, Oct 5, 2021

As someone who has led and participated in Small Groups for over 40 years, I was curious to hear Dr. Thompson's take on the connection between how our brains work and how people actually change and mature. The idea of being a part of creating and participating in soul-freeing relational environments that encourage people to mature—to be making sense of our stories and becoming out offlowers of goodness, beauty, joy and love in all arenas of our lives is exciting to me. I'm looking forward to trying to implement in the groups I'm a part of or have an opportunity to influence what Dr. Thompson is doing, he said. I highly recommend this book to anyone who is interested in learning about how people can be helping each other mature in community. Dr. Thompson said he was "practising for heaven."
Nurture the soul

Derived From Web

, Oct 5, 2021

Curt Thompson pairs Gospel truths with the latest neuroscience and creates a beautiful experience that should awaken our souls to true calling. This book, as well as his earlier works, gently invites the reader to deeper understanding the true purpose for desire.
Important--and beautiful -- connections

Derived From Web

, Oct 5, 2021

Dr Thompson's work is unique because of the connections he draws between two all-important areas of neuroscience—psychiatry and theology. I'm so grateful to have had the opportunity to read an advance-ordered digital copy as part of the launch team, said HarperCollins UK managing director Simon Fox. Beautifully written, as well as surprisingly practical, the book offers a framework for attending to others, and being attended to by them, in the presence of our indwelling and all-encompassing God. I'm looking forward to re-reading it with our family, our life group, and anyone else I can convince to join me!
Healing synthesis of IPNB & of being known by a God who invites us to know ourselves/others, & Him!

Derived From Web

, Oct 5, 2021

As a pastor I often see books listed in the realm of neurosciences, or books meant to help us grow in our personal Christian walk with Jesus and find true healing and redemption. From neuroscience he does a great job of synthesizing insights from ancient and modern neuroscience, offering an invitation for us to step deeper into relational healing in how we view ourselves, how we relate to others, and how we are transformed as we come to know the God who knows us fully. With practical stories from the confessional communities of today, he helps provide us with inspiration to help us imagine along with God – what healing, redemption, and practicing for Heaven may look like in our contexts.