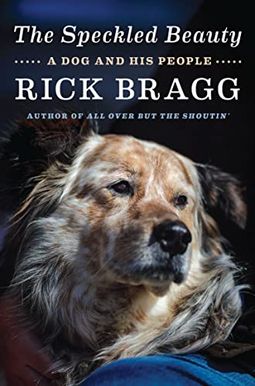  
The Speckled Beauty: A Dog and His People
Book Overview
From the best-selling, Pulitzer Prize winning author of All Over But the Shoutin' and The Best Cook in the World, the warm-hearted and hilarious story of how his life was transformed by his love for a poorly behaved half blind stray dog
Speck is not a good boy. He is, a terrible boy, a defiant, self-destructive, often malodorous boy, a grave robber and screen door moocher who spends his days playing chicken with the Fed Ex man, picking fights with thousand-pound livestock, and rolling in donkey manure, and his nights howling at the moon. He has been that way since the moment he appeared on the ridgeline behind Rick Bragg's house, a starved and half-dead creature, 76 pounds of wet hair and poor decisions. Speck arrived in Rick's life at a moment of looming uncertainty. A cancer diagnosis, chemo, kidney failure, and recurring pneumonia had left him lethargic and melancholy. Speck helped, and he is helping, still, when he is not peeing on the Rose of Sharon. Written with Bragg's inimitable blend of tenderness and sorrow, humor and grit,
The Speckled Beauty
captures the extraordinary, sustaining devotion between two damaged creatures who need each other to heal.
Frequently Asked Questions About The Speckled Beauty: A Dog and His People
Book Reviews
(14)
Did you read The Speckled Beauty: A Dog and His People? Please provide your feedback and rating to help other readers.
It brought to surface every emotion in me.

Derived From Web

, Mar 20, 2022

I'm thankful for the opportunity to be with Rick Bragg, Tunick said. I'm thankful he is a writer, a craftsman, true to his trade, Tunick said. I just recently found his books, and I almost missed out on some good reading these past years. I found him, and I am making up for lost time, reading his stories about living, loving and in the Deep South. Byrd, who lives in Virginia, said his people are from the Appalachian Mountains of West Virginia. Through it all, I have been able to relate to many of the family members and personal story lines. I'm thankful that it was nonfiction, but even if it wasn't, I am just as thankful that it was available to read. I tried hard to savor it, the book I mean, once I realized what it was going to be like, even making myself read a chapter a day just so it would last longer. I never had a bad dog, Raymond said. He added that he wishes he had "a bullet in my head."
AWESOME

Derived From Web

, Feb 11, 2022

I knew every character who filled the pages of this book!
A great dog story.

Derived From Web

, Oct 25, 2021

A great story about a great dog, Raymond said. The more people laugh, the louder the satire. Even if it makes you cry, it might not be that bad. Loved the book, said Gillian.
Awesome subject, awesome writing

Derived From Web

, Oct 23, 2021

You won't find a better descriptive writer than Rick Bragg. I've always enjoyed reading his work, and I love the way he writes. I'm not saying I read all the books, but I knew I would read every book he wrote. I am truly the most talented and authentic writer you'll ever read.
Excellent!!!

Derived From Web

, Oct 13, 2021

Anyone who has ever rescued a dog knows this story. You will laugh and may shed a tear.
Favorite Author

Derived From Web

, Oct 10, 2021

One of the few remaining mysteries is how exactly when the new book will drop. I also love his easy, lyrical way of writing and will at some point get all of his books in audio format just to hear his voice. While I dont think this will be my book favorite by him, it still warms my heart for the love he has for this poor, stray dog that he took under his wing. Few people would adopt such a dog, let alone fall in love with it, and I'm thrilled that the dog doesn't die in the end. It was a double suicide, and I was also set for the brother to die but he didn't. In one of the chapters, I kept wondering about what happened to his wife and step-son. In the second book, "The Runaway," Jackson writes, "He is living with his mother." He previously published a book that was all about his relationship with his step-son and there is no mention of him in this book. A lot of people are curious, so I'm curious.
good book

Derived From Web

, Oct 8, 2021

I've owned an Australian shepherd and this book was great. I've read several other books by Rick Bragg and I really enjoyed them.
Southern Books about Dogs.

Derived From Web

, Oct 6, 2021

I'm a big fan of southern writers and I also love books about dogs. Rick Jr. said he's a big fan of a good book by a Southern writer add a dog. I have this compulsion, I have this compulsion, to finish a book. It may take me months more to finish, but I will. I was able to read this book without leaving it for another which is about the best I can say about it. I think I was off the mark, Mr. Rule told the judge. Only 1 out of every 3000 calicos are male, so if your Momma has a calico tom cat it's very rare, Google says.
Every good human needs a bad dog

Derived From Web

, Sep 29, 2021

Like his owner, Mr. Gromer Jeffers calls Louie a "bad dog." In a time when the days seem twice as long and the whole world drags, could it hurt to go out and find every awful, hopeless dog on every dirty street and country road, and give them a home, Raymond writes. He stands on his back legs and presses himself against me. 0 3171616 3171578 He's a little shy, but he stands up and says, "Want a cuddle?" He has no interest in harming anybody, ever, said Blair, "and I only manage him in this human world." He's a big teddy bear, but he loves himself first and then me in his dog world. I fell in love with him the instant I read the book. It has outraged the book's publishers, who called the allegations "ridiculous."
Another Wonderful Book

Derived From Web

, Sep 29, 2021

The Speckled Beauty is absolutely wonderful and another treasured book on my bookshelf.