Buy 3 Get 1 Free
Our Best Sale Yet! Add 4 Books Priced Under $5 To Your Cart     Learn more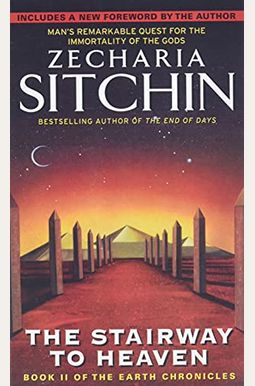 
 
Book Overview
This Description may be from another edition of this product.
ARCHAEOLOGY / HISTORY Special large-format edition, lavishly illustrated with maps, diagrams, and photographs. Mythic memory has long held that somewhere on Earth there is a place where we can transcend death and join the gods. In The Stairway to Heaven, Zecharia Sitchin deepens his fascinating explorations into Earth history by looking at this longing for a return to the divine. Combining the enigma of the Pyramids with legends of human attempts to ascend like gods to Heaven in search of immortality, he delves into the lives of the pharaohs of Egypt, who taught how to travel the Route of the Gods to the eternal afterlife; the Sumerian king Gilgamesh, who journeyed to distant lands in his quest to scale heaven and ward off his mortal fate; Alexander the Great, who believed he was actually the son of a god; and Ponce de Leon, who explored Florida in search of the legendary Fountain of Youth. Finally, he leads us along the gaze of the Sphinx, the Sacred Guide, for remarkable insight into the archetypal search for eternal life. Well researched and persuasive . Sitchin brings to this book' the logic and scholarship so often lacking. . . . He demonstrates the flaws in established theories about pyramid builders and exposes a few ancient hoaxes. --Library Journal Impressive. --United Press International Compelling. --Booklist
Frequently Asked Questions About The Stairway To Heaven
Books like The Stairway To Heaven
Book Reviews
(7)
Did you read The Stairway To Heaven? Please provide your feedback and rating to help other readers.
His academic conclusions are brilliant and his work is interesting and thought provoking

Derived From Web

, Feb 8, 2022

The continuing story of the ancient history of planet Earth and how humans came to be here is in the second part of The Earth Chronicles. She is a linguist and researcher. His work is interesting and thought provoking. I would like to see him present his theory in secondary schools. I would recommend it to anyone who is looking for it.
solid facts mixed with interesting theories

Derived From Web

, Feb 8, 2022

I had never heard of the ruins of Baalbek, but I enjoyed learning about them. The discoveries of the early archaeologists in Egypt was something I enjoyed learning about. Regardless of accuracy, the modern perspective on Egyptology has been shaped by the findings. Sitchin's writing is filled with passion and excitement. To fully enjoy this book, you need to share some of your passion as well. I found it a bit long winded as he kept adding more and more facts in order to prove his points and explain his theories. It's usually something pretty cool when he gets to those points. The first book in this series was more enjoyable for me, but I enjoyed this one even more. I will read the books again.
Stairway to Heaven by Zacharia - Not Zeppelin

Derived From Web

, Feb 8, 2022

Man's quest to achieve immortality from the gods is the focus of this book. In Book I, Sitchin compares and contrasts archaeological findings, the Bible, writings of historians throughout the ages and mythology to come up with his conclusions. It's hard to believe that every civilization had the same tale to the Sumerican king. Where did Gilgamesh go to speak to the gods? The evidence shows that the gods traveled from earth to the heavens. The drawings, geometric measurements and descriptions of these places are more convincing than the arguments. They are hard to overlook. The current paradigm of the history of Earth is problematic and not really credible. Sitchin got my attention with the series.
Sitchin was a one-of-a-kind visionary

Derived From Web

, Feb 8, 2022

There are many books in the Earth Chronicles series that are enjoyable to read. You can't agree with all of Sitchin's theories about Nibiru and the Anunnaki, but his understanding of Sumerian mythology and language is perfect. Regardless of the personal conclusions you arrive at after reading his work, I can guarantee that you will also come away with a greater sense of possibility for our ancient past, and the realization that there is much, much more to our history than we' ve ever been led to believe. It is the great work of researchers like Zecharia Sitchin that will bridge the gap between evolution and creationism, and finally reveal to us the long- hidden truths about our origins.
Some what redundant to 12th planet

Derived From Web

, Feb 8, 2022

A great archeologist, writer and speaker is Zecharia Sitchin. I believe his interpretations of the Sumerian tablets are correct. I' ve heard others say his work is the best in the business. The book on the Egyptian after death experience is interesting, but seems redundant due to the 12 th planet being referenced. I recommend starting with the 12 th planet then moving on to the rest of his books.
The book and its relevance in the human race along with the bible.

Derived From Web

, Jan 13, 2021

It's amazing to read about things we don't understand. I know that the Bible is good and that all who live by it will live a harmonious life with others like minded. We should look after one another and treat them the way we would like to be treated. We want anything in this world we have to work for, not sit down and wait for it to be delivered, all these teachings are in the bible. Thank you for your knowledge of the world. Rest in peace.
Word for word description of an elaborate false promise?

Derived From Web

, Aug 23, 2018

The material found in the Egyptian pyramids is called a word for word translation. It's interesting, but we need to realize that most of it is related to a lie. Ra promised eternal life to his half human mortal offspring, and he was the only god of man. If they followed his orders, they would be given false hope of eternal life. It was a lie, how do we know? The bodies never left and the money meant to pay for the passage to heaven was still there. The tomb thieves were paid for their work. There is no evidence to show that Ra has control of the human souls after death.