Buy 3 Get 1 Free
Our Best Sale Yet! Add 4 Books Priced Under $5 To Your Cart     Learn more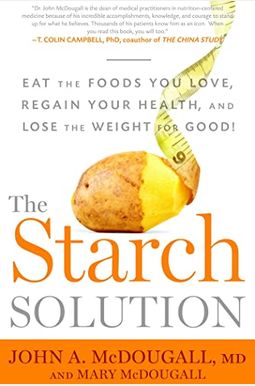  
The Starch Solution: Eat The Foods You Love, Regain Your Health, And Lose The Weight For Good!
Book Overview
Pick up that bread This doctor-approved method lets you keep the carbs and lose the pounds
The Starch Solution is one of the most important books ever written on healthy eating.--John P. Mackey, co-CEO and director of Whole Foods Market, Inc.
Fear of the almighty carb has taken over the diet industry for the past few decades--from Atkins to Dukan--even the mere mention of a starch-heavy food is enough to trigger an avalanche of shame and longing. But the truth is, carbs are not the enemy Bestselling author John A. McDougall and his kitchen-savvy wife, Mary, prove that a starch-rich diet can actually help you attain your weight loss goals, prevent a variety of ills, and even cure common diseases. By fueling your body primarily with carbohydrates rather than proteins and fats, you will feel satisfied, boost energy, and look and feel your best. Based on the latest scientific research, this easy-to-follow plan teaches you what to eat and what to avoid, how to make healthy swaps for your favorite foods, and smart choices when dining out. Including a 7-Day Sure-Start Plan, helpful weekly menu planner, and nearly 100 delicious, affordable recipes,
The Starch Solution
is a groundbreaking program that will help you shed pounds, improve your health, save money, and change your life.
Frequently Asked Questions About The Starch Solution: Eat The Foods You Love, Regain Your Health, And Lose The Weight For Good!
Books like The Starch Solution: Eat The Foods You Love, Regain Your Health, And Lose The Weight For Good!
Book Reviews
(10)
Did you read The Starch Solution: Eat The Foods You Love, Regain Your Health, And Lose The Weight For Good!? Please provide your feedback and rating to help other readers.
Lose the Weight, Regain your Health!

Derived From Web

, Apr 20, 2022

The book is great. I've lost 75 pounds on this way of eating. When my weight loss slowed down, I got rid of the oil. My type 2 diabetes is under control with 10u of Lantus and my eyesight has improved so much that I had to get new glasses. I no longer need Hydrocodone for the pain anymore, I only take 1 aspirin twice a day. My chronic headaches are gone and I'm off all my medication and vitamins which saves me hundreds of dollars each month. I have followed a Whole foods, plant based, no oil diet and have never been hungry or left the table unfulfilled. I followed the outlines of Dr. McDougall's way of eating and will never follow the Standard American Diet again. I would like to thank Dr. McDougall for leading me in the right direction after many years of yo-yo dieting. I am on my way to health, by following your guidelines.
Real health solutions

Derived From Web

, Apr 20, 2022

There is a lot of information in the book. In 10 weeks, I have lost 32 lbs, lowered my blood pressure, and changed my diabetes. I recommend everything from Dr. McDougall.
Feeling better already

Derived From Web

, Apr 20, 2022

This isn't new information because I have heard of Dr. McDougall on the internet. Sometimes I like to read. I knew I could survive a plant based diet when potatoes and beans were allowed. I was surprised how quickly my tastes have changed. A good companion to this book is the McDougall Quick and Easy Cookbook. I'm looking forward to future blood tests to see my progress If you want to take a B12 supplement, remember. It is absolutely essential.
LIFE CHANGING!!

Derived From Web

, Mar 21, 2021

If you have been struggling to lose weight and are over 30 this is the book for you. I was 10 pounds overweight and had no idea how to lose it. This book changed my life. At the time, it seemed impossible to lose 4 pounds. I am looking forward to continuing the program for the rest of my life because this is a sustainable lifestyle not a trendy diet. The Paleo diet nonsense should be left alone. The book is the best for health.
Very helpful

Derived From Web

, Jul 1, 2020

Great information. A woman from work told me that my face doesn't look puffy after I followed this diet for 12 days. I feel like I don't have as much joint pain.
Don't do it if you have type 2 diabetes

Derived From Web

, May 23, 2020

I followed the diet in the book for three months and a few others did the same. My blood work for the visit with my doctor was so bad that I had to have it removed. All numbers went up. My A1C was down to 6.7 from 7.3 but my cholesterol and triglycerides were higher. I found that my blood sugar levels were out of control with spikes at every meal over 200. I have lost 24 pounds and my sugar levels are close to 120 after meals, I am off my diabetes medication, and I have changed my diet to the keto diet. I want to get to my goal weight so I'm hoping to start eating again. This is a dangerous diet for people with type 2 diabetes. I wanted it to work so I could love it.
Best Way of Eating out there!

Derived From Web

, Jan 13, 2019

I've been following the same people for most of my life. Only to find that is what they and their diet are. 1.5 years ago I stumbled across Whole Food Plant Base No Oil and never looked back. He is backed by science and knows what he is talking about. There is no funny stuff here. If you haven't changed to this way of eating, I highly recommend you do it today.
YMMV

Derived From Web

, Apr 11, 2018

If you eat the standard American diet, you will have dramatic results. After 3 weeks of strict adherence, my vegan results are minimal. The only change is that you don't feel guilty about eating potatoes or brown rice. I started because I don't want to be on medication for high blood pressure. It has been minimally downward, but not enough to make me want to continue. The eat as much as you want aspect is not true if you are already eating well.
Easy to follow delicious recipes

Derived From Web

, Jul 7, 2017

Well written and easy to follow. I was hesitant to order a digital version because of another reviewer's comments. He claimed that the book had poor charts. I was anxious to read the book and confirm the formatting flaws in my review. I have no plans to cancel my order since my findings show there were no formatting errors. I will rewrite my review when I have more time.
Please read this book!

Derived From Web

, Apr 28, 2017

Life is changing! Not another diet book. This changes the way you view food and nutrition. I have been following Dr. Mcdougall's advice for 30 days. I have lost some weight. I don't like to eat. I feel great and I'm full. Stop the crazy diet if you purchase this book. I know why they didn't work now that I have tried them all.