Buy 3 Get 1 Free
Our Best Sale Yet! Add 4 Books Priced Under $5 To Your Cart     Learn more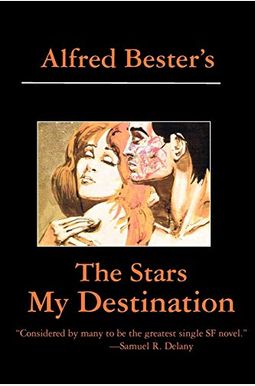 
 
Book Overview
#5 in the Millennium SF Masterworks series, a library of the finest science fiction ever written. Science fiction has only produced a few works of actual genius, and this is one of them-Joe Haldeman Bester at the peak of his powers is, quite simply, unbeatable -James Lovegrove Marooned in outer space after an attack on his ship, Nomad, Gulliver Foyle lives to obsessively pursue the crew of a rescue vessel that had intended to leave him to die. When it comes to pop culture, Alfred Bester (1913-1987) is something of an unsung hero. He wrote radio scripts, screenplays, and comic books (in which capacity he created the original Green Lantern Oath). But Bester is best known for his science-fiction novels, and The Stars My Destination may be his finest creation. With its sly potshotting at corporate skullduggery, The Stars My Destination seems utterly contemporary, and has maintained its status as an underground classic for fifty years. (Bester fans should also note that iPicturebooks has reprinted The Demolished Man, which won the very first Hugo Award in 1953.) Alfred Bester was among the first important authors of contemporary science fiction. His passionate novels of worldly adventure, high intellect, and tremendous verve, The Stars My Destination and the Hugo Award winning The Demolished Man, established Bester as a s.f. grandmaster, a reputation that was ratified by the Science Fiction Writers of America shortly before his death. Bester also was an acclaimed journalist for Holiday magazine, a reviewer for the Magazine of Fantasy and Science Fiction and even a writer for Superman.
Frequently bought together
Frequently Asked Questions About The Stars My Destination
Books like The Stars My Destination
Book Reviews
(15)
Did you read The Stars My Destination? Please provide your feedback and rating to help other readers.
The count of Monte Cristo as a sci-fi thriller

Derived From Web

, May 30, 2022

After moving from Asimov to Heinlein, I expected a story with a captivating plot but could not anticipate this graphic novel in a bright and colorful style. Bester writes deep and dirty and makes me want to grimace and turn away at times, while at others marvel at the true and freakish nature of our very existence. His color story may start slow and uncomfortable at times, but prepare for one of the most dynamic and thrilling character transformations you have ever seen. A truly existential masterpiece that made me wish that this were a modern comic book style movie. A must read for Sci-Fi fans.
Now I know why it's on so many top SF lists

Derived From Web

, May 30, 2022

I read all the great SF titles. But missed this one for some reason. A brilliant work, filled with enough tropes for at least a dozen SF novels and with a style all its own. To borrow from C-3PO, Master Foyle need not worry about C-3PO. He is quite clever, you know... for a human being.
I read this book way back in high school

Derived From Web

, May 30, 2022

After I read it, I misplaced the book and read it again some 40 years later. After I ordered my Kindle, I searched for Alfred Bester and found it on a whim. I had forgotten so much so that it was like reading a new novel or re-reading one. I remembered Jaunting and the tigers burning bright, but not much of the plot. I enjoyed thoroughly familiarizing with Alfred Bester and his wonderful book.
Fun Read

Derived From Web

, May 30, 2022

I enjoyed reading this book really ''. I agree with the other reviewers who said that the story has held well despite the passage of time and the great leaps in technology since it was written. The plot is moving quickly. I ended up enjoying the gutter talk of the lower working class, though it was rather difficult to get used to reading.
Good book, but riddled with transcription errors (Kindle)

Derived From Web

, May 30, 2022

I enjoyed it very much as an original and imaginative sci-fi novel. There are glaring errors on nearly every page where the scanning software goes bogus. It is rather distracting.
Thought provoking and entertaining

Derived From Web

, May 30, 2022

The flow is deep philosophical and the action never stops, yet I found myself captured in quick thinking about mankind, power and life. This should be a required reading for any SF fan.
Worst Kindle I've ever seen

Derived From Web

, Oct 12, 2021

I have never seen a worse job of creating a Kindle ''. In addition, sections are missing. Fonts changes, Theme changes, etc. A completely pirate job, and now I think it was a botched edition. I am a designer books and I made 50+ Kindles, including a few where all I had to work with was a PDF. Even those were better light years than this hot mess. I see now that the version I bought is no longer available. The current Kindle is actually made properly.
Wasted Potential.

Derived From Web

, Jun 22, 2021

I did not enjoy this. I think I'm being kind with two stars because the only thing interesting was finding out why Vogar Gully passed without aid. The gutter - speak was the best, but obnoxious. A character is described as perfectly white, while another is called Negro girl several times. The biggest problem was the formatting. I don 't know if it was just a problem with my kindle or a pretentious gimmick tied to gutter speak, but I had typos galore.
There's a better Kindle edition of this book without the OCR issues

Derived From Web

, Apr 14, 2021

This review is for the Kindle edition at httpswww. amazon. comStars-My-Destination-Alfred-Bester-ebookdpB08T8HQMQ4ref 17D8USKVI0WGYanddchild 1andkeywords the+stars+my+destinationandqid 1618392787andsprefix the+stars%2Caps%2C193andsr 8-1. If you're a fan of Alfred Bester or classic SF, read the better Kindle version at httpswww. amazon. comgpproductB0054LNIQSref dbs_a_def_rwt_hsch_vapi_tkin_p1_i0.
Kindle version is poor.

Derived From Web

, Mar 23, 2021

This is one of my favorite books of my youth, and I was delighted to be able to read it on the Kindle first. Unfortunately, they removed the prologue that describes the concept of wandering and how it was invented. There was a confusing number of mistakings and large text for MAJOR GAP!Also. Clearly, someone has scanned the text of the original book and then took the time to correct the scan and eliminate any errors. This book is a classic. This Kindle version does not do justice to it.