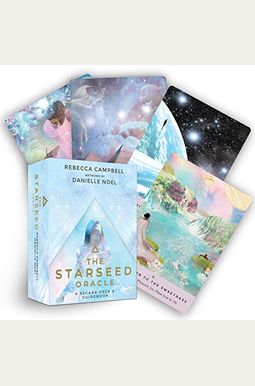  
The Starseed Oracle: A 53-Card Deck And Guidebook
Book Overview
A modern oracle for a new generation of mystics, and fans of astrology and New Age.
The Starseed Oracle
is a breathtaking 53-card oracle deck for starseeds, empaths, lightworkers and seekers. Starseeds are souls that first incarnated somewhere beyond this planet - many have a sort of 'knowing' from a young age. Depicting energy portals, ancient sites, faraway planets and star systems, the oracle is otherworldly, literally opening a path to things that cannot be seen with our eyes. For those starseeds roaming the Earth with a pull towards the unknown within the stars, this deck will help them to: - identify as a starseed, and understand what this word means
- feel less alone in the universe and understand their longing for 'home'
- activate imprinted memories of their soul history through beautiful cosmic images
- understand their mission on Earth and empower them to be a source of positive energy
Frequently Asked Questions About The Starseed Oracle: A 53-Card Deck And Guidebook
Books like The Starseed Oracle: A 53-Card Deck And Guidebook

Book Reviews
(16)
Did you read The Starseed Oracle: A 53-Card Deck And Guidebook? Please provide your feedback and rating to help other readers.
Beautiful

Derived From Web

, Mar 12, 2022

The deck has nicely weighted card stock. I found them to be an excellent option for starseeds early in their awakening. This is true for me. I realized that the cards weren't the right deck for me at my particular place of spiritual growth because they didn't resonance as deeply as I had hoped.
OMG these are great

Derived From Web

, Oct 12, 2021

The first set of oracle cards I owned were these. I'm very happy with them, I feel very connected to them, and with the words on the cards, it's easy to find meaning even if you don't know what to think.
Intuitive cards?

Derived From Web

, May 25, 2021

I really like these. I know the meaning of the cards when I spread them with them. I feel a deeper connection with these oracle cards than with any other deck.
I love these!

Derived From Web

, Jan 19, 2021

Absolutely gorgeous deck! The way the cards shuffle is wonderful and the meanings are beautiful. These are one of my favorite decks because of the artwork on the cards.
Growing on me... beautiful deck

Derived From Web

, Oct 7, 2020

These are growing on me, but I didn't feel connected to them. I still try to work with them, and they are growing in me. !
Love Them

Derived From Web

, Jun 13, 2020

I love everything about them. The material for the cards is thick and well made, the art is amazing. The guide book is well written and has great reading directions. I will be getting more for gifts because I got them.
Great for beginners

Derived From Web

, May 31, 2020

This is my first deck. It was recommended by someone else. The little book that comes with the cards gives an explanation for what each card means and how to use it. Exactly what I wanted.
Decent purchase

Derived From Web

, Mar 5, 2020

Need to work on this deck more. Not the greatest tarot card purchase I have ever made.
So beautiful

Derived From Web

, Feb 21, 2020

I was not sure which one to buy since there were a lot on Amazon, but when I saw some of the images of this ones I was so happy to have them. Thanks to the autor for the work.
Beautiful cards!

Derived From Web

, Feb 11, 2020

The oracle cards are beautiful. The fated life vs destiny life spread was helpful, I used the starseed spreads in the guidebook. I love the information about the attunement. It looks like a lot of love was put into the creation of this deck.