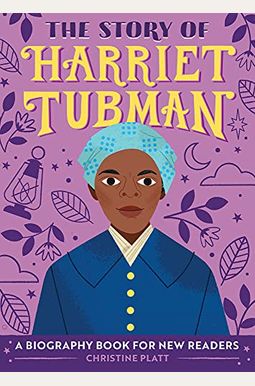 
 
The Story of Harriet Tubman: A Biography Book for New Readers
Book Overview
Help kids ages 6 to 9 discover the life of Harriet Tubman--a story about courage, bravery, and freedom
Harriet Tubman became a celebrated leader in the fight to free people from slavery. Before that, she was a determined young girl who believed that everyone deserved to be free. Harriet Tubman bravely used the Underground Railroad--a network of secret routes and safe houses--to free herself and many other enslaved people. Explore how Harriet Tubman went from being a slave on a plantation in Maryland to one of the most important figures in American history. How will her courageous spirit inspire you?
This Harriet Tubman biography includes:
Path to freedom--Explore a visual timeline of Harriet's life so you can see her progress over time.
Helpful definitions--Discover a glossary with easy-to-understand definitions for the more advanced words and ideas in the book.
Test your knowledge--Take a quiz to make sure you understand the who, what, where, when, why, and how of Harriet's life.
If you've been searching for Harriet Tubman biographies for kids, look no further--this one has it all.
Frequently bought together
Frequently Asked Questions About The Story of Harriet Tubman: A Biography Book for New Readers
Book Reviews
(17)
Did you read The Story of Harriet Tubman: A Biography Book for New Readers? Please provide your feedback and rating to help other readers.
Well written

Derived From Web

, Nov 8, 2021

A good story, appropriate for intended audience, Morgenthau said. Introduces vocabulary and concepts so that it's a great tool for new readers or teachers working with new readers.
Engaging, real, and inspiring

Derived From Web

, Apr 10, 2021

I bought this because Harriet Tubman was a legit super hero and I was peeved they didn't mention her during Black History month at my daughter's school. I had to edit some of the language as it gives some descriptions of the physical abuse she endured while enslaved, which can be a lot for little kids to hear. My daughter was 6 and was in awe of the terrible things that happened to Harriet. It's a great story, no punches, said Blair. It helped open up conversations on race and equality in today's society, he said. My daughter went to school after school to tell everyone how awesome Harriet Tubman was, so mission complete, she said.
Great for Your Young Reader

Derived From Web

, Mar 19, 2021

The book is not what I expected from Simon. I wanted biography-style info about Harriet Tubman to read to my children, but this book assumes the reader doesn't even know what slavery is. This is not the case for our family, so I was disappointed in how the material was presented and organized, Mrs Clinton said. But once I read through it, I came to appreciate how the author pulled together historical information at a children's reading level and the illustrations kept a child's attention. If your child is too young to read, I recommend letting him or her read it to your family, rather than reading it to them. It will definitely spark good conversation and be a great history lesson for the whole family, Mr. Dhaliwal said.
Well written biography...poor binding

Derived From Web

, Feb 11, 2021

Bad book, terrible bindings. As we progressed, more pages came out with a perfectly cut edge. Simply put, the tape is not an option. My grandchildren love to read so this book is not going to last long, she said. I would love a replacement, but I read another review that said theirs copy did the same thing.
Book pages falling out!

Derived From Web

, Nov 24, 2020

The book is not put together well. We did not read it immediately, and now the return window has closed. No wonder pages are falling out. Some of the documents are not part of the binding. I turn to page and I end up with a separate page in my hand, Mr. Dhaliwal said. It's so disappointing, said Blair. Don't expect a new printer to arrive any time soon.
Great series!

Derived From Web

, Sep 5, 2020

Level 2 reader Elizabeth Hunter agrees with the verdict. The book is a perfect length to hold his interest and the drawings capture his attention. Extras included: a gag at the end of the show, and we also love the extras along the way. A great series, said Blair.
Strong Woman, great intro to Harriet

Derived From Web

, Sep 3, 2020

I can't get enough of it.
Interesting and informative book for school age children

Derived From Web

, Aug 7, 2020

After reading an overview book about Harriet Tubman, the 5 year old and the adults in our household wanted to learn more. This book is very thorough and is quite interesting, too. I consider this a successful purchase, Mr. Rule told the judge.
A delightful biography about a young leader.

Derived From Web

, May 6, 2020

Anyone young reader will enjoy reading this book about a courageous young woman named Harriet Tubman, Rosalyn said. Even adults can learn some facts from reading this book. The author of the story must be kept in mind that the reader is not the only one who reads it. The glossary also will help people who have missed a fact or need the information quickly find the answer. The book is a wonderful read for anyone, it's just that good.
Great book

Derived From Web

, Apr 18, 2020

Young readers will find this book to be an excellent addition to their collection. It covers the life of Harriet Tubman very well and gives some good questions to think about and a quiz to test comprehension.