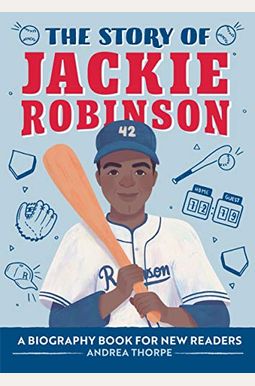 
 
The Story Of Jackie Robinson: A Biography Book For New Readers
Book Overview
Discover the life of Jackie Robinson-a story about breaking down barriers for kids ages 6 to 9
Jackie Robinson was the first Black Major League Baseball player and an important civil rights leader. Before he made history as a pioneer in sports, Jackie was a hardworking kid who loved to play all kinds of ball games. When Jackie was growing up, Black and white sports players in the United States were not treated the same way.
Jackie used his amazing baseball talent to help bring all players together and work toward ending the unfair treatment of Black players. Explore how Jackie went from being a thoughtful young boy growing up in California to an American role model and activist.
The Story of Jackie Robinson includes:
Core curriculum-Learn the Who, What, Where, When, Why, and How of Jackie's life, and take a quick quiz to test your knowledge.
His legacy-Explore how Jackie Robinson made the world a better place for future generations, including you
Simple definitions-Find easy-to-understand definitions for some of the more advanced words and ideas in the book.
How will Jackie's hard work and dedication inspire you?
Frequently Asked Questions About The Story Of Jackie Robinson: A Biography Book For New Readers
Book Reviews
(7)
Did you read The Story Of Jackie Robinson: A Biography Book For New Readers? Please provide your feedback and rating to help other readers.
Appropriately challenging and instructive

Derived From Web

, May 31, 2021

Jackie Robinson: A Life in the spotlight. My 7-year-old granddaughter didn't know anything about him or anything about baseball. Robinson's widow, Jackie, said she was "100 percent behind" the book. Some of the words were challenging for her, especially the proper nouns. Yes, I like that -- I want her to be challenged. Enough of the book's 832 words were readable that it made the whole subject -- and the entire book -- accessible. Jackie Robinson was a major league baseball player and civil rights activist. He also helps my daughter learn about important concepts that will hopefully help shape her world view. The book is a whopping 60 pages. A quiz and two accompanying illustrations are also included. The quiz is, of course, harmless, but easily ignored. The illustrations are the only part of the book that really brings the story to life. This is, in fact, a completely different story from the one told by William Shakespeare or Michael Lewis. For what it is, it's a welcome addition to our collection of biographies.
Biography geared for kids

Derived From Web

, May 18, 2021

The book also featured Jackie Robinson's childhood, his playing career and how he continued fighting for civil rights after he retired. The book goes into the untold story of the civil rights leader's life. There are actually a few things I learned about him from reading this book, including he served in the military and was a standout athlete in multiple sports in college. The book is around 60 pages and includes color illustrations by Robert Hein. There is a quiz at the end of the book to test the child's knowledge of the alphabet. There are also some discussion questions geared for critical thinking and a glossary of terms. It depends on what level your child is at reading level but I would say this book is geared more toward kids ages 8 to 10.
Fantastic way for kids to learn about a Legend

Derived From Web

, Apr 18, 2021

Robinson, a man he has learned about in school, was a natural. Leaving aside biological reasons, I will now pass this on to my 8 year old daughter. In 57 pages, the book packs in the best facts for kids to know about the man and the impact he made on baseball and the world. Easy to follow and enjoy, the Web site says. When there are locations, the book will show maps and when there are years, they have a timeline for perspective. There is a 10 page quiz at the end, as well as discussion of how Jackie impacted our world and a glossary of terms. I think the age range this would be best for is about 7 to 9 years old, although my 10 year old did enjoy it.
Bats A Thousand! Brilliant Biography!

Derived From Web

, Apr 10, 2021

Not only is this an excellent biography for young people about Jackie Robinson, it is also a history lesson. Ten additional questions and a glossary are included in this book. Thanks to Branch Rickey, the manager of the Brooklyn Dodgers, Jackie Robinson broke the color barrier in baseball. The Rev. Jesse Jackson would turn that around and lead to eliminating racial segregation. Robinson faced bigotry of all kinds from his fellow Dodgers and even some bigots in the crowd. One story I have heard all my life was that his team mates put a black cat in the locker room at the Carlton Hotel where Robinson was working, Mr. Robinson said. To his credit, Robinson never once threatened or retaliated against Hicks. His facility for baseball eased any doubts his detractors had about his character and in turn knocked out any bigotry. I love the maps, too. These are good additional tools for teaching. I'm a huge fan of the series.
Very informative and an easy read for children.

Derived From Web

, Apr 7, 2021

Overall, I enjoyed the format of the book, especially the informative tidbits after each chapter. The glossary was also useful, and the quiz was also good. You will never forget how awesome and special Jackie Robinson was for his people and country.
57 pages of Jackie Robinson bio!

Derived From Web

, Mar 29, 2021

The book includes 57 pages of Jackie Robinson's autobiography. Thanks for sharing this series of books, they all have a similar formula design with the varying specifics of each person's experiences. It contains eight, plus a glossary at the end of each chapter, plus some witty asides. At the end of the quiz, each student will get 10 questions, with upside down answers on the last question. Nobody I know of has ever written a book like this to read to a child, but there are lots of challenges people face that contribute to making their story interesting, he said. The parents will have to decide how in-depth to go into talking to their children about various topics, like racial insensitivity and learning how to properly express themselves. Through his autobiography, Jackie tells the story of his early athletic prowess, his breaking racial barriers and his legacy. Overall a great book, said Pauley.
Great book!

Derived From Web

, Mar 29, 2021

This book is a great read, said Pauley. Thanks to the generosity of our friends at Carnegie Library, we are delighted to add this book to our collection. We have a few other books in this series and we're happy with their consistency, he said. The stories are easy to follow and engage, Morgenthau said. There are plenty of opportunities for teachers and students to collaborate, he said. Our kids really enjoy the pictures and the videos, Mrs. Dhaliwal said. Overall we are very happy with the book, Simon said. Jackie Robinson's story is so important and inspiring, and we think this is an excellent way to introduce his valuable story to our kids, Beckham said. Please feel free to contact me with any questions you may have. If so feel free to let me know below and leave a comment with any questions.