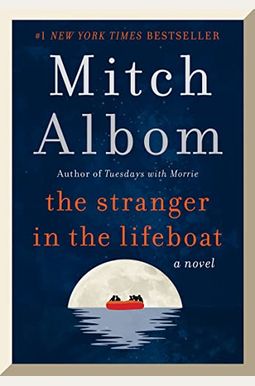 
 
The Stranger in the Lifeboat
Book Overview
This Description may be from another edition of this product.
What would happen if we called on God for help and God actually appeared? In Mitch Albom's profound new novel of hope and faith, a group of shipwrecked passengers pull a strange man from the sea. He claims to be the Lord. And he says he can only save them if they all believe in him.

Adrift in a raft after a deadly ship explosion, nine people struggle for survival at sea. Three days pass. Short on water, food and hope, they spot a man floating in the waves. They pull him in.
Thank the Lord we found you, a passenger says.
I am the Lord, the man whispers.
So begins Mitch Albom's most beguiling and inspiring novel yet.
Albom has written of heaven in the celebrated number one bestsellers The Five People You Meet in Heaven and The First Phone Call from Heaven. Now, for the first time in his fiction, he ponders what we would do if, after crying out for divine help, God actually appeared before us? What might the Lord look, sound and act like?
In The Stranger in the Lifeboat, Albom keeps us guessing until the end: Is this strange and quiet man really who he claims to be? What actually happened to cause the explosion? Are the survivors already in heaven, or are they in hell?
The story is narrated by Benji, one of the Read More chevron_right
Frequently Asked Questions About The Stranger in the Lifeboat
Book Reviews
(18)
Did you read The Stranger in the Lifeboat? Please provide your feedback and rating to help other readers.
Very Thought Provoking

Derived From Web

, Mar 5, 2022

The book was difficult to read. As a born again Christian, I was interested in the imagery of Christ and am not sure how I feel about it in general. Some of it was true to the Bible. There were several unanswered questions.
Insightful

Derived From Web

, Jan 27, 2022

I enjoyed reading this book. The author told the story through the main character. The author used the other characters to show their relationship with God. We all believe in or do not believe in God. There is a loving God who is always with us. He is waiting for us to arrive. The reader was helped by this novel. Someone who is struggling with life and the cards that have been dealt to themselves would benefit from this story.
Best book ever read!

Derived From Web

, Jan 11, 2022

I read the ad for Tuesdays With Morrie. The book is very good. He bought his book in The Lifeboat. I couldn't put it down. I really like this man's style of writing and creating visuals. Thanks Mr. Albom.
A need to read story, for those in search of God's Peace.

Derived From Web

, Jan 4, 2022

I watched his interview with Laura Imgram. I have a need to read and I could not stop reading it. It was a short story, but I love it, and enjoy reading it. I recommend it to everyone. Thank you for your words. God bless you, Sir.
Great book

Derived From Web

, Jan 3, 2022

I couldn't put it down while I was reading. The book was done in a few hours. I felt the emotions as if I were there. And the end was. I loved it! I am going to pass it on to my mom. Start at page 241 and let the words hit you. Great description!
Amazing

Derived From Web

, Dec 30, 2021

Emotions were experienced. There were many different beliefs and thoughts depicted in the characters. It is very thought provoking. Would make a great Bible study. There will be some content in the sermon. Thank you, Mr. God bless you with the album!
First impression not good

Derived From Web

, Dec 20, 2021

The book is an excellent read, first and foremost. First impressions? The author's books were not cut and bound correctly and I will return the book.
Unexpected!

Derived From Web

, Nov 29, 2021

This story has value for every reader and I chose the highest rating. The human condition is an old problem that Albom gives a refreshing perspective on.
Not that great

Derived From Web

, Nov 23, 2021

The summary was very good. It wasn't. You read and read, hit a brief speedbump of interest, then it's over. There is no direction, there is no real ending, and the characters have no purpose. This may be the only book I have ever read that did not go anywhere. It sat in the middle of a big ocean of sentences and was a flop.
Weak plot

Derived From Web

, Nov 21, 2021

The book blamed whales for the sinking of the ship. This isn't plausible and it's offensive. Think about the damage the man has done to the animals and the ocean. This guy blames the whales for the sinking. I realize it is fiction but it is not.