Buy 3 Get 1 Free
Ends Soon! Buy 3 Books Under $5, Get a 4th one Free.      Learn more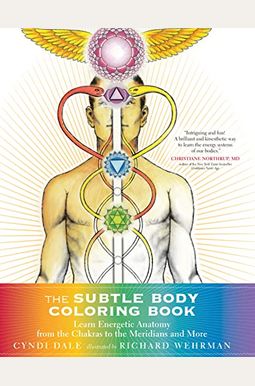  
The Subtle Body Coloring Book: Learn Energetic Anatomy--From The Chakras To The Meridians And More
Book Overview
Explore the Energetic Dimension of Your Health--In Living Color

When it comes to the subtle body, coloring is more than just an enjoyable way to learn about the energy systems that govern our health--it's also an effective practice to help awaken your intuitive connection to your chakras, meridians, and more. With The Subtle Body Coloring Book, Cyndi Dale joins illustrator Richard Wehrman to bring you an illustrated resource on healing modalities from a variety of traditions, inviting you to:

- Embark on a coloring tour through the major energy structures of the subtle body--fields, channels, and centers
- Explore the body's aura and electromagnetic biofield
- Illuminate the meridians--the body's chi channels as identified by Traditional Chinese Medicine
- Awaken the gifts and wisdom of each chakra as you color them
- Journey through your acupressure points, organs, and the subtle energy centers that empower health and wellness
- Learn the special qualities and healing properties of each color you use

Filled with practical guidance for students, teachers, and holistic practitioners here is an information-rich book that serves as an educational tool, memorization aid, and a great way to relax and explore the energetic dimensions of our health.
Frequently bought together
Frequently Asked Questions About The Subtle Body Coloring Book: Learn Energetic Anatomy--From The Chakras To The Meridians And More
Books like The Subtle Body Coloring Book: Learn Energetic Anatomy--From The Chakras To The Meridians And More
Book Reviews
(10)
Did you read The Subtle Body Coloring Book: Learn Energetic Anatomy--From The Chakras To The Meridians And More? Please provide your feedback and rating to help other readers.
Great Overall

Derived From Web

, Apr 16, 2020

I really enjoy this book ''. However, some of the incorrect organs are in the actual physical places. I'm sure that they are meant to be more of a representation and I realize that this is not a Western anatomy book. Part of the practice of energy medicine is being able to visualize. And, visualizing organs in the incorrect relationship is unhelpful and ineffective. The Tibetan Chakra System could also be explained better. There are a few things that seem to just revert back to the Vedic system... and while they are similar at their core, they are not the same.
good book, yup there's an anus, fix the order of the liver meridian points

Derived From Web

, Feb 25, 2020

I bought this mainly to learn the Chinese medicine Meridians, but may also color some of the other pages. I was not going to write a review, but noticed that the Liver Meridian pages are incorrect. The easiest thing to do is to change the numbers on the first page and the text on the second page. The order should be LR-3 LR-4 LR-8 LR-1 LR-5 LR-2 LR-14 I cracked up because I also had the experience that the book opened to the first page the book was the Anus. It must be the middle of the book, so opens there on its own.
absolutely outstanding for the empath & healer

Derived From Web

, Sep 9, 2019

This book and the accompanying textbook are life-changing. As an empath and unwilling psychic, I needed these to understand how to protect myself and understand the energy dynamics of the body. Without these books, I could not imagine how to protect myself from energies that come from outside or within.
Great subtle body learning aid!

Derived From Web

, May 10, 2019

Like Kelly Solloway's Yoga Anatomy Coloring Book, I think this great body book is subtle and really helpful. I have been teaching yoga and for a long time have been interested in the energetic body. This coloring book brings it to life in a way that is clarifying, informative, and fun. Since using it, I feel more secure in my knowledge of the components and systems of the subtle body in both general and specific ways. I recommend it for anyone who is fascinated by or required to learn the energetic structures and systems of the body.
Learn while you Color

Derived From Web

, Jan 1, 2019

I learned so much about the Meridians and the auras just by coloring. There is a plethora of information provided by the author. It was recommended by a teacher to me and I shared it with another class and that teacher ordered a copy for himself immediately. I would recommend this coloring book to any interested in learning about meridians and reflexology.
Don't listen to the 1 star person who could just see a male anus, it's not what you think.

Derived From Web

, Aug 29, 2018

So far, I really like what I see, because I want to see the bad as well, but a reviewer posted that when they opened the book, they could only see a male anus... they couldn t believe it, and criticized their discovery as if this had ruined their whole day. OMG - Woman, are you kidding me? Get your mind set in balance and see the whole person. I will post another review as I see it when I get more into this fascinating topic, but I had to see it straight, as I could see absolutely nothing wrong with the pictures in this book.
Learn about energetic anatomy of our own body.

Derived From Web

, Aug 12, 2018

I enjoy splorifying human bodies auras around the energetic body. Field Life, Morphological field exchanges between like-minded species and transfer information from one generation to another. Field Life, Morphological field exchanges that serve as a blueprint for life. The universal field is also called a zero point field, consisting of photons or units of light that regulate every living thing. And the last mentioned is Geofields, Earth and cosmological based fields. Meridian system, chakras, subtle energy points. If you are prepared to learn and color these energy body fields and points, it is a good book to start with.
I have learned so mush more about energy in the ...

Derived From Web

, Dec 17, 2017

I mush so much more about energy in the body. I take QiGong and this book reinforces what I am learning.
Brilliant! Love it!

Derived From Web

, Nov 8, 2017

Starts simple with the chakras and then gets into meridians and acupressure points and so on.
I love that I can learn as I color

Derived From Web

, Aug 17, 2017

Customer service is great... delivery was prompt and the product was well packaged... I am excited to learn and coloring in this book... the quality of this book is amazing, as are the pages, details and information. In time, I will venture out to a few of their other books. I recommend this coloring book... It is better for me than a science class.