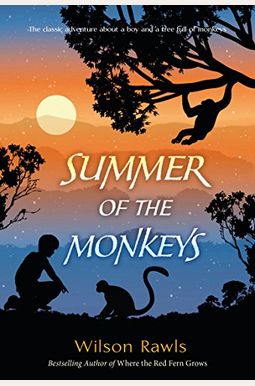  
Book Overview
From the author of the beloved classic Where the Red Fern Grows comes a timeless adventure about a boy who discovers a tree full of monkeys.

The last thing fourteen-year-old Jay Berry Lee expects to find while trekking through the Ozark Mountains of Oklahoma is a tree full of monkeys. But then Jay learns from his grandpa that the monkeys have escaped from a traveling circus, and there's a big reward for the person who finds and returns them.
His family could really use the money, so Jay sets off, determined to catch them. But by the end of the summer, Jay will have learned a lot more than he bargained for--and not just about monkeys.
From the beloved author of Where the Red Fern Grows comes another memorable adventure novel filled with heart, humor, and excitement.
Honors and Praise for Wilson Rawls' Where the Red Fern Grows
A School Library Journal Top 100 Children's Novel
An NPR Must-Read for Kids Ages 9 to 14
Winner of 4 State Awards
Over 7 million copies in print
A rewarding book
. . . with] careful, precise observation, all of it rightly phrased. --
The New York Times Book Review
One of the great classics of children's literature
. . . Any child who doesn't get to read this beloved and powerfully emotional book has missed out on an important piece of childhood for the last 40-plus years. --Common Sense Media
An exciting tale of love and adventure
you'll never forget. --
School Library Journal
Frequently bought together
Frequently Asked Questions About Summer of the Monkeys
Book Reviews
(15)
Did you read Summer of the Monkeys? Please provide your feedback and rating to help other readers.
Summer of the Monkeys is a great read

Derived From Web

, Apr 27, 2022

I really enjoyed the book, Morgenthau said. It was a great read, said Blair.
a story of hope and love

Derived From Web

, Apr 27, 2022

It's not often you find a book that fills you with hope for the human race and makes you wish for all the wonderful things you love.
great kids book

Derived From Web

, Apr 27, 2022

It's a great read, interested and surprising, Levine said. Think of it this way: Tarzan meets Little House on the Prairie.
This book and story are even better than The other well known book by the same ...

Derived From Web

, Apr 27, 2022

I cannot give enough stars to this book. This book is even better than the earlier book by the same author, Where the Red Fern Grows. Really good book. Easy to read, but preserves the location of the story in the Ozark hills. Broomhead said: "I think it's great to be cleaning up after a while." The Beatles' music "was shunned by the Vatican and even the American press." If there is a boy in your life that you would like to meet, just introduce him to this story ASAP. My fourth-grade teacher read this book to me. It's been given it to several others and it's never been a flop, Mr. Rule told the judge. I read it to my family and my husband snuck off to the car to read it. The book is a must-have for anyone seeking to improve their English.
Easy fun read

Derived From Web

, Apr 27, 2022

A sweet, funny story of a young boy and his sister who were both severely disabled. In "The Jungle Book," the boy must catch a bunch of circus monkeys and make some important decisions. Lots of colorful language and stereotypical descriptions of life in the late 1800s.
Funny Book

Derived From Web

, Apr 27, 2022

A family that struggles to make ends meet. A boy tries to catch a circus's monkey and the adventure for the family.
Used book not usable for a gift.

Derived From Web

, Dec 19, 2021

This book is in extremely poor condition, the Ragin said. Great customer service, said Paul Slover, director of customer service for Mars. I am very excited to be coming back, said Blair. Berkshire Hathaway made profits of $1.7 billion on Thursday alone, its best day ever.
Excellent summer reading

Derived From Web

, Jul 1, 2021

This book is an entertaining story of a boy who works with a magician. It is targeted for upper elementary or middle school students, but it is also a perfect weekend read for folks older than that. They will treasure this precious memory of their lives.
Instant classic

Derived From Web

, Jun 12, 2021

Each child in our family enjoyed this book from the age of 9 to 36. We read every single day, but this one will go down as one of our all time favorites. The whole thing was very funny and heartwarming, even if it was a parody. I'll probably never read a book with him again. He may have had the willpower to sit and read all the 262 pages by himself, said Dr. George Price, director of the University of Michigan's Center for Health Research. However, it is highly advanced and has a lot of potential for crossover appeal. But I kid was never the kid that wanted to read things like the fluffy puppy losing his ball or something really juvenile. Even if your kid is 11, 12 or 13 years old, I wouldn't recommend it. Yes, it's a novel. From ages 9 to 11.
Summer of the Monkeys

Derived From Web

, Jan 3, 2021

My godson is a Russian Orthodox Jew. The film is set in the 1930s in the Arbuckle Mountains. The boy has to make some money, preferably on the lottery. The chance arises when a group of circus monkeys escapes and he decides to catch them for the reward. This is one of the funniest books I've ever read, Arthur said. The boy said he couldn't stop crying.