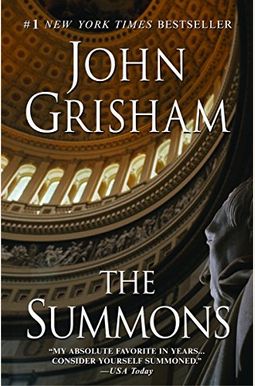  
Book Overview
This Description may be from another edition of this product.
Ray Atlee is a professor of law at the University of Virginia. He's forty-three, newly single, and still enduring the aftershocks of a surprise divorce. He has a younger brother, Forrest, who redefines the notion of a family's black sheep.
And he has a father, a very sick old man who lives alone in the ancestral home in Clanton, Mississippi. He is known to all as Judge Atlee, a beloved and powerful official who has towered over local law and politics for forty years. No longer on the bench, the Judge has withdrawn to the Atlee mansion and become a recluse. With the end in sight, Judge Atlee issues a summons for both sons to return home to Clanton, to discuss the details of his estate. It is typed by the Judge himself, on his handsome old stationery, and gives the date and time for Ray and Forrest to appear in his study. Ray reluctantly heads south, to his hometown, to the place where he grew up, which he prefers now to avoid. But the family meeting does not take place. The Judge dies too soon, and in doing so leaves behind a shocking secret known only to Ray. And perhaps someone else.
Frequently bought together
Frequently Asked Questions About The Summons
Book Reviews
(15)
Did you read The Summons? Please provide your feedback and rating to help other readers.
thin plot, ok pace....not the best, but good

Derived From Web

, Jun 1, 2022

A far cry from the legal dramas one can expect from Grirsham. A fairly thinnish plot with a flood of points turning at the end. As in other books of his, good narrative style is not enough, but the plot is not enough to maintain a quick pace. Nevertheless, it is a story with few characters well told and leaves a feeling of divine justice after reading the book... One certainly expects a much better plot from Grisham and this book alone should not be held against him. There seems to be a slight change in his plot development methods from the painted house. The next book will probably tell you the next book. One can hope that it is better than the summoned. Overall, a good read, nothing to be really excited about... one for the lazy weekends.
Watching info-mercials a better use of my time

Derived From Web

, Jun 1, 2022

Home with the flu and so thankful to have a new JG book to read, imagine my crushing disappointment upon completing his latest work. I kept reading and reading, waiting for the plot to catch up, the characters to become interesting, the protagonist to become someone I gave a hoot about... It never happened. I was happy returning to Clanton, hearing about Claude and the old courthouse, but it seemed to me a much more faded version than in A Time to Kill. Even the former Harry Rex was an older, paler shadow of his incorrigible self. I have not written anything more than this review, certainly not 14 best sellers, so I hate to criticize the life of a person-but this one should have stayed on the hard drive and not been published. The Loyal Grisham fans deserved better.
Hoping for better

Derived From Web

, Jun 1, 2022

Why can 't John Grisham return to his original form of the firm? The Summons was obviously written as a character study and not a thriller. Usually I like this kind of novel, but this was extremely slow as we learned about the lives of the judge, Ray Atlee, Forrest Atlee and several others who interacted with them. The plot is woven together with a thin thread a father's death, the finding of questionable money and subsequent erratic guarding of it, worry about Forrest and his pitiful lifestyle, and Ray Atlee's irrational antics comprise the plot. It doesn't take much to figure out the ending, which is open, but of course dismal and predictable for a sequel. This ends my buying a Grisham novel again, unless it is in paperback form. A library loan would be better, maybe a personal loan!
Grisham Grows Up

Derived From Web

, Jun 1, 2022

Apparently John Grisham has grown up with this latest offering of legal intrigue. This volume is marked by ideology and ethics, but Grisham Justice has certainly evolved. I liked the book's cleanly concise ending with the big surprise at the end. The characters were interesting, if not totally lovable, and left this reader guessing exactly who were the good guysbad. The book was streamlined and uncluttered and perhaps there is an emptiness in Ray perhaps a void in WAS. The airplane Lore and mass torts were fascinating, as was the insight into casino lore. At home to a dying father, Law School Professor Ray realizes that he wasn 't quite fast enough. And then discovers a completely unexpected $3 million in cash and a new brand.
OK if this was his first book

Derived From Web

, Jun 1, 2022

I love John Grisham and will read almost everything he writes. If you have written everything else that he liked, you will probably enjoy this. It must be said, however, that this book seems tired. Nothing new, nothing that really grabs you and says, this is the man who started the run on legal thrillers. I miss the depth of character from books like A Time to Kill, the surprise of The Firm and the audacity of The Runaway Jury, and yet this book is not bad. I found it optimistic, but less predictable than many previous books, and it is nice to not end up on a tropical island.
I Enjoyed The Summons by John Grishman/Read by Mr. Beck

Derived From Web

, Jun 1, 2022

I must admit, I gave the book an extra star because of Michael Beck's. I adored The Summons. I am shocked that many of Grisham's fans were disappointed. The novel exceeded my expectations. It takes an exceptional author to consistently give his fans their money, and Mr Grishman is such an author. If you are a genuine fan of Grisham and live in the real world, you will understand that not all of Mr. Grisham's books live up to everyone's expectations. Every author goes through good novels and great novels periods. Until now, Mr Grisham has not disappointed me.
I found it interesting

Derived From Web

, Jun 1, 2022

Yes, this was an easy to read and amusing ''. But, that is what I expect from Grisham. I love his law books and dislike skipping Christmas ''. A distant and insignificant father leaves and dies his sons little. A son is a professor of law and the other is an addict. The Professor finds $3 million dollars, stashed in the father's study. He is captured and threatened and almost jailed. I think the ending is a little surprise and well done ''.
Quick read, but nothing special

Derived From Web

, Jun 1, 2022

I think that I view my time reading this book as watching a few hours of decent television. This book is nothing special and nothing near the excitement and enjoyment of reading his classic books. On the advice of my father, I did not read A Painted House. This book took only a few hours to read and was mildly amusing. My advice is to wait until it comes back on paper.
Not Grisham At His Best

Derived From Web

, Jun 1, 2022

As an avid John Grisham reader, I must admit that I was dissatisfied in the Summons. While it seems to have all the general elements of a Grisham Law novel, the characters are not as developed as I expected. The books ends leaving the reader wondering if there is one more chapter to read or should I wait for Part Two? Good for reading a day at the beach, but not much content.
Grisham Lite

Derived From Web

, Jun 1, 2022

This book by Grisham is not as interesting as his other books, but is nonetheless quite rich and complex. In this latest offering, law professor Reuben Atlee was summoned home for a family conference by his father, retired judge Ray Atlee. Forrest and his brother Ray have never been close to their father, and neither a return to the family home is enjoyed. Upon his arrival, Ray makes two remarkable discoveries that drive the rest of the book's plot. The book moves slightly slowly in the beginning and it appears as if Ray spends a lot of time on the road between his home in Mississippi and his father's place in Virginia. At the end, however, the book begins to move quicker and the reader is left with an interesting, if somewhat mysterious ending.