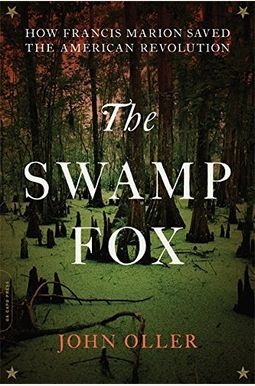  
The Swamp Fox: How Francis Marion Saved The American Revolution
Book Overview
This comprehensive biography of Francis Marion, the Swamp Fox, covers his famous wartime stories as well as a private side of him that has rarely been explored
In the darkest days of the American Revolution, Francis Marion and his band of militia freedom fighters kept hope alive for the patriot cause during the critical British southern campaign. Employing insurgent guerrilla tactics that became commonplace in later centuries, Marion and his brigade inflicted enemy losses that were individually small but cumulatively a large drain on British resources and morale.
Although many will remember the stirring adventures of the Swamp Fox from the Walt Disney television series of the late 1950s and the fictionalized Marion character played by Mel Gibson in the 2000 film
The Patriot
, the real Francis Marion bore little resemblance to either of those caricatures. But his exploits were no less heroic as he succeeded, against all odds, in repeatedly foiling the highly trained, better-equipped forces arrayed against him. In this action-packed biography we meet many colorful characters from the Revolution: Banastre Tarleton, the British cavalry officer who relentlessly pursued Marion over twenty-six miles of swamp, only to call off the chase and declare (per legend) that the Devil himself could not catch this damned old fox, giving Marion his famous nickname;
Read More chevron_right
Frequently bought together
Frequently Asked Questions About The Swamp Fox: How Francis Marion Saved The American Revolution
Books like The Swamp Fox: How Francis Marion Saved The American Revolution
Book Reviews
(18)
Did you read The Swamp Fox: How Francis Marion Saved The American Revolution? Please provide your feedback and rating to help other readers.
Marion: A great American patriot for the cause of freedom

Derived From Web

, May 26, 2022

If you are interested in Francis Marion, aka Swamp Fox, this is a new and fresh look at his life and his legacy. This book is well written and researched. In my opinion, the author does well to explain why Marion's wartime tactics were crucial to defeat the British in the American Revolution. Always fascinated by history, and I found this particularly good ''.
The ultimate Francis Marion biography

Derived From Web

, May 26, 2022

A few years ago, Walt Disney released the first three episodes of The Swamp Fox on DVD. Sadly, the last five episodes remain hidden in the glen. John Oller, author, does things differently. He gives you the whole story and a good one it is. Of all the fine books written about Francis Marion, this is the best. I learned several years ago that the Swamp Fox wore a red coat during the Revolutionary War, but no other author explained why. However, John Oller provided the answer. The book is very detailed and interesting and helps to better appreciate Francis Marion and know him even more. John Oller is deserving of the highest respect for the role he played in securing our country's liberty, and Marion is to be commended for this wonderful biography he has written.
Everything you want from a good biography.

Derived From Web

, May 26, 2022

Readable, clear, well-documented, with beautiful maps on the front and augmented by a valuable collection of illustrations. A consistent, honest portrayal of Marion and sufficient suspense to keep the reader interested and reading quickly. A compelling account of this long-overdue figure. Four stars and half stars.
Wades through the legend to find the truth about the Swamp Fox

Derived From Web

, Mar 31, 2021

Good history, most of the myth and legend is dismissioned with for facts, and is still an astonishing story.
Very well written and researched.

Derived From Web

, Feb 17, 2021

The perfect amount of background information is provided so that I was constantly learning new tidbits about this point in history, but the story never bogs down and the focus never leaves Marion for more than a page or so.
Not worth your time

Derived From Web

, Mar 23, 2020

The book gives a sense of how the war was fought and seems very well researched. My conclusion is that Marion's life was not worthy of a full-dress biography.
Good Read

Derived From Web

, Apr 2, 2019

Just recently '' I started reading about the American Revolutionary War period, a nice addition to the library. I '' recommend it.
An excellent history lesson.

Derived From Web

, Mar 16, 2019

A remarkable person of vision, integrity, and perseverance.
Absolutely a WONDERFUL book about a little known man (we've all heard ...

Derived From Web

, Aug 6, 2018

Absolutely a WONDERFUL book about a little known man that this book delves into incredbile and riveting style.
A Great Book about the Man and his Actions

Derived From Web

, Apr 3, 2018

Despite living in Savannah, just south of South Carolina for most of my life and having a practically lifelong love of history, I never knew much about Francis Marion beyond the myths and legends that surrounded him. This book is a compelling story not only of Marion's military activity, but also of Marion himself. Knowing who he was as a person is key in understanding why he did what he is famous for and gives a window into his decision making, explaining why he was as successful as he was. Marion has done a wonderful job of telling us about Oller the man, so we have not only a record of what he did, but also a much better understanding of how and why he did it. I heartily enjoyed reading The Swamp Fox and recommending it to anyone who is familiar with the myths and wants to know more about who Marion was and what he did.