Buy 3 Get 1 Free
Our Best Sale Yet! Add 4 Books Priced Under $5 To Your Cart     Learn more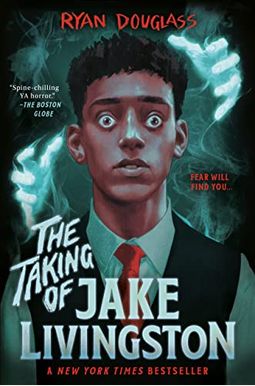  
The Taking Of Jake Livingston
Book Overview
An Instant New York Times Bestseller
Get Out meets Holly Jackson in this YA social thriller where survival is not a guarantee.
Sixteen-year-old Jake Livingston sees dead people everywhere. But he can't decide what's worse: being a medium forced to watch the dead play out their last moments on a loop or being at the mercy of racist teachers as one of the few Black students at St. Clair Prep. Both are a living nightmare he wishes he could wake up from. But things at St. Clair start looking up with the arrival of another Black student--the handsome Allister--and for the first time, romance is on the horizon for Jake. Unfortunately, life as a medium is getting worse. Though most ghosts are harmless and Jake is always happy to help them move on to the next place, Sawyer Doon wants much more from Jake. In life, Sawyer was a troubled teen who shot and killed six kids at a local high school before taking his own life. Now he's a powerful, vengeful ghost and he has plans for Jake. Suddenly, everything Jake knows about dead world goes out the window as Sawyer begins to haunt him. High school soon becomes a different kind of survival game--one Jake is not sure he can win.
Frequently Asked Questions About The Taking Of Jake Livingston
Book Reviews
(9)
Did you read The Taking Of Jake Livingston? Please provide your feedback and rating to help other readers.
Odd

Derived From Web

, Oct 25, 2021

I had a hard time at first following the story. It was different and the writing style was copy enough that I was confused. But halfway through, I got into the story and enjoyed it. I still think the ghost world and what happens there, as well as everything with Sawyer was confusing, but what I really loved was Jake and his growing friendships with Fiona and Allister.
Fear is a killer

Derived From Web

, Oct 8, 2021

Fear... It didn 't tell a ghost story and tried to be a important book, but also touched on spooky topics. It spoke heavily on mental health, LBGTQ+ and proper representation of not only African Americans, but also African Americans in the gay community. I can 't express how much I loved that book. It took you through a lot of challenges and made you really think, but kept to the idea that it was actually a ghostspooky story. The characters were strongly supported with strong personalities and they made you have strong feelings, not just Jake. The way the story went from present day to past was so well done, and you begin to feel for the killer, but also see what caused most of it. I reread it again. A great five out of five for me.
Wanted to like this book

Derived From Web

, Aug 8, 2021

How ever Jake isn 't a character, he exists until the plot throws him the task he has to do. A ghost is trying to kill him, but he doesn 't take action actively. and defeats the ghost by believing in himself that is not hyperbole.
Conflicted

Derived From Web

, Aug 8, 2021

3.5 stars for this ya horror film. I was so conflicted about this novel ''. It was one of my most anticipated, but i felt like I did not understand half the book. The parts with the ghosts were, however, a little too fantastical for me and hard to follow.
Dark but deep

Derived From Web

, Jul 28, 2021

This story hits home as a gay kid growing up in the South. I am so glad that the teens have these stories that show them the true side of life through a supernatural fantasy lens. When shown to us via extreme fictional circumstances, I find the harsh realities easier to understand. I hope this story really takes off - it was exciting, heartbreaking, frustrating, and romantic. Mr Douglass, excellent work!
So Many Lessons

Derived From Web

, Jul 28, 2021

This book was definitely a rollercoaster of events, emotions and life lessons. Jake eventually finds his voice and becomes unstoppable when he does. I love that he ended up with friends who love him without judgment. Clark City did a great job in putting Ryan Douglas in. I can 't wait to read more of his work. I am donating this book to our high school library.
Great read

Derived From Web

, Jul 22, 2021

When I was in high school, there were hardly any books with black, gay teens, and having one as a main character was simply out of the question. It is healing to be able to see yourself in a character. The tone of the book is dark and morbid until just before the end. I would have liked a little more of the happy parts to break the dreariness, but it is a solid setup for a sequel. In all, if you're the Stranger ThingsAmerican horror type and enjoy diversity in characters, chances are that you'll enjoy this book.
Not a Good Fit for Me

Derived From Web

, Jul 19, 2021

I did not get this feeling at all. It lacked the wisdom and the subtlety that Get Out delivered so masterfully. It also has a lot of similarities with Legendborn's. I struggled with it, because I am not a fan of the fantasy phantom genre. It was interesting enough to push and see how it would unfold. I loved the way it ended, but that didn 't make up for all the nonsense leading up to it.
I don't like horror but loved this book

Derived From Web

, Jul 13, 2021

This book is a breath of fresh air, with a different protagonist than the usual a gay, black, and teen. And he is not fighting problems in the 'hood ; he is fighting evil spirits. I don 't want to spoil anything, but it was great and I read it in a day! It was delivered to my Kindle last night when it was 12th SOMEWHERE in the world, but still the 11th where I am.