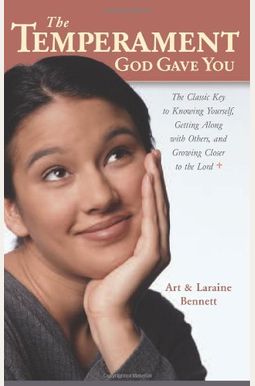 
 
The Temperament God Gave You
Book Overview
All of us are born with distinct personality traits. Some of us live for crowds and parties; others seek solitude and time for quiet reflection. Some of us are naturally pushy, while others are content just to get along. We don't pick and choose these traits; they're just part of the way we're made.
For in the womb God doesn't merely mold our body; He also gives us the temperament that, all our days, colors our understanding, guides our choices, and serves as the foundation of our moral and spiritual life.
Ancient philosophers identified four basic temperaments, and over the centuries, countless wise souls have used these four to understand human nature. Now comes The Temperament God Gave You, the first Catholic book on the subject in 70 years. Here veteran Catholic counselor Art Bennett and his wife Laraine provide an accessible synthesis of classical wisdom, modern counseling science, and Catholic spirituality: a rich understanding of the temperaments and what they mean for you and for your family.
Drawing on decades of study, prayer, and practical experience, Art and Laraine show you how to identify your own temperament and use it to become what God is calling you to be: a loving spouse, an effective parent, and a good friend. Best of all, they give you a Catholic understanding of the four temperaments that will bring you closer to God and help you discover the path to holiness that's right for you.
Peace. Happiness. Holiness.
You'll find yourself growing in each of these qualities as you come to understand -- and learn to use as you should the temperament God gave you.
Frequently Asked Questions About The Temperament God Gave You
Books like The Temperament God Gave You
Book Reviews
(9)
Did you read The Temperament God Gave You? Please provide your feedback and rating to help other readers.
the information is very good and should be a requirement for relationships of any ...

Derived From Web

, May 24, 2022

A little slow getting started, but once in the information is very good and should be a requirement for relationships of any kind. Very practical advice in coping with your spouse and children, who may have different temperaments. Has helped me appreciate the differences in our home, given by God, rather than being frustrated by them. The only down side for me is that I am not Roman - Catholic and there is a bit of religious scattered throughout. Definitely not a reason to miss the great information, though.
Incredible

Derived From Web

, May 24, 2022

I read myers-briggs, the Enniagram and other personality frameworks for my whole life. But this is the book that changed the way I relate to others in a down-to-earth, practical way. It teaches the techniques that are best for teaching each of the four basic temperaments, communicating with them, nurturing them, loving them, and motivating them. My favorite thing about this book is the way that it does not treat people like machines or animals, but casts an incredible vision of the way that you and I can grow up and beyond the limitations of our temperament, each day a fuller person. I would recommend this book to anyone who knows how to read and wants to know herself and others.
Giving me a new perspective into my children's behaviors

Derived From Web

, May 24, 2022

Since reading this book, I am constantly reminded of what I learned about the different temperments. I learned other personality traits in college, marriage preparation etc. When you learn that some of the behaviors that occur over and over again are related to their temperment and how these properties can be useful. I highly recommend this as a quick read for all parents interested in improving their relationship and parenting their children. I love especially that it refers to temperments to saints, the Bible and spiritual growth. I would recommend reading the end first to start.
This book was not my cup of tea

Derived From Web

, May 24, 2022

I am really not a fan of putting myself in a personality box - I'm sure that other people are into this kind of thing. I did not find the book very interesting or relevant and skimmed through it pretty much ''.
Fantastic guide to getting to know yourself!

Derived From Web

, May 24, 2022

I really enjoyed how this book brought the spiritual aspects of one's life into the temperament profile, especially the important strengths and weaknesses specific to each temperament. It also came with an extensive test at the end where you can determine which of the four temperaments you are as well as your secondary temperament. It opened my eyes to my own natural inclinations and the habits of family members! 2013 -- Still one of my favorite books! I lent this to family members, my co-workers, even my boss. One of my friends kept my original copy and I had to get another one! The information from the book continues to be a great way for me to appreciate myself and others... and to understand our differences.
Insightful

Derived From Web

, Jan 26, 2021

The book is quite thorough in covering all sides of discussion about temperament. It was very easy to read and insightful. Without really knowing anything about temperament, I would say that it is a wonderful book.
Worth your time

Derived From Web

, Jan 17, 2020

This book has been loved! It helped me see myself and my family through a different perspective tube, and gave me insight into their motivations.
Book made me feel like an outcast to society

Derived From Web

, Nov 18, 2017

I didn 't fit into any of the described temperaments. The book made me feel like an outcast to society. I am childless by choice as well and it has not one, but TWO chapters on children and when I reached this point, I had to stop reading.
Easy to read and quite interesting

Derived From Web

, Mar 5, 2017

This is an easy to read book! It was quite interesting to find out about the different temperaments of choleric, melancholic, sanguine and phlegmatic. I took the quiz and test it primarily choleric with melancholic, which I believe is accurate. I found it to be true to life, especially the description of the role reversed that occurs when a choleric woman marries a phlegmatic man.