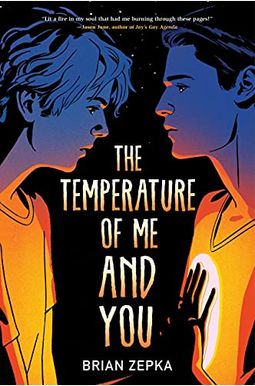  
The Temperature of Me and You
Product is currently Out of Stock.
You can add it to your wishlist and you will be notified once we receive a copy.
Frequently Asked Questions About The Temperature of Me and You
Book Reviews
(8)
Did you read The Temperature of Me and You? Please provide your feedback and rating to help other readers.
Hotter than 110 Degrees!

Derived From Web

, Mar 19, 2022

I loved the intertwining of everyday suburban life with the Sci-fi bent and the descriptiveness of the author letting the reader imagine the characters easily. There were times when I was tearing from ear to ear and others when I was grinning. In all, I love the story and I hope to follow Dylan and Jordan's journey in a sequel! I love LGBTQ+ representation, the dealing with high health issues and just the trials and tribulations of the mental school experience. This makes a really compelling novel, paired with the excitement of a beautiful corporation, spontaneous combustion and a sinister love story.
Pure love

Derived From Web

, Feb 21, 2022

I wish I had stayed like this when I was a teenager. It's good, it's happy, it's real. This book describes a pure love without going into deep darkness and sadness of gay life. It really made my heart beat faster and I immersed myself into a world where being gay is just part of who you are without unnecessary emphasizing and struggle.
Cute, Adorable, and Relatable

Derived From Web

, Feb 9, 2022

Expect what this means and what to know. Yes, the protag is a bit of a doofus, but he is a doofus like any other 16 or 17 year old. This story is fantastically cute and written wonderfully. The narration manages to clearly give that kind of single-minded perspective of teenagers, but in a way that doesn 't grate on my mind now that I'm older. The plot isn 't revolutionary and while it is not quite a romance story, it borders on it, but all the same, it left me with a smile and a heart full of happiness.
A truly entertaining read!

Derived From Web

, Feb 5, 2022

This was well, entertaining. I felt like I was in a movie ''. This had everything - action, romance, classic banter, sci - fi and a witty suburban setting. He is messy... of which we always need more in books. His inner monologues are appreciated because we really get to know his wants and fears. He has a great group of friends on the way, helping him and an adorable, supportive family. Jordan and then his crush, Ah. I enjoyed how the Sci-fi elements were almost secondary to routine high school life.
All great love stories start at Dairy Queen

Derived From Web

, Jan 29, 2022

I had never read a book with a queer protagonist before the temperature of me and you, but I quickly realized what I had been missing. The chance to live inside Dylan Highmark's head felt like reliving a life that I had never quite gotten to experience. Brian Zepka has created a novel with richly developed characters, clever pop-culture references and plenty of sci-fi magic. It features romantic chemistry that reads at a thriller pace. It is a story about identity and self-discovery that is perfect for the Gen - Z teen, yet still remarkably relatable to an older millennial, like me. I can 't wait to see what you do next.
Couldn't put it down! Read it in 2 days

Derived From Web

, Jan 27, 2022

The book starts off fun and casual, so that the reader can relate easily to Dylan and his friends. Just as you are acclimated to Falcon Crest High and its social dynamics, a major plot twist turns the book into a thriller that you can not put down. The only thing I'm left wondering is if there will be a sequel? What do you think?
On Fire!

Derived From Web

, Jan 26, 2022

Absolutely an amazing read! Brian Zepkas creative and imaginative style had me ready to flip the pages and felt each temperature on the way! Loved each character line and the twists that came on the way! Bravo to Disney for publishing such a unique book, can 't wait to see more from this author!
Great read!! Quite the page turner!!

Derived From Web

, Jan 25, 2022

I enjoyed this story thoroughly ''. Not only was the writing well done, but it captured my attention. It was SO hard to put down, especially towards the end, as I had to keep reading to find out what happens next. Each character was unique and special to the story and was suspenseful and intriguing after the different relationships. There were many mystical twists that had me on my toes every chapter! I highly recommend The Temperature of Me and You and look forward to seeing if the author Brian Zepka has more novels in the works!