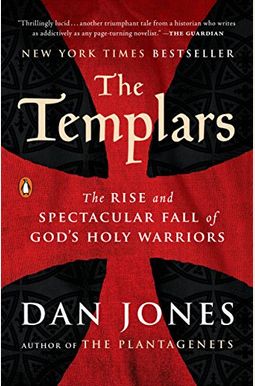 
 
The Templars: The Rise And Spectacular Fall Of God's Holy Warriors
Frequently Asked Questions About The Templars: The Rise And Spectacular Fall Of God's Holy Warriors
Book Reviews
(8)
Did you read The Templars: The Rise And Spectacular Fall Of God's Holy Warriors? Please provide your feedback and rating to help other readers.
Another excellent treatise from Jones

Derived From Web

, Feb 18, 2022

Like many of his other books, Jones does another excellent job in narrative history. He takes history and turns it into a page turning story that reads almost like a novel engulling the reader in the pages as if one was actually on the battlefield. Jones begins his story of the Templars with the beginning of the Christian Crusades and follows the story in a different fashion, if you will, such as banking, battlefield knights, pilgrim protectors, kingmakers, and land holders. Jones ensures that his book is about history and although he touches on some of the fringe theories surrounding the Templars, such as what you would find in a Dan Brown novel, he quickly dispells these and focuses on the hard facts of historical accounts. If you enjoy reading history and especially want to know more " true " history about the Templars, I highly recommend this book.
One of the best history accounts I've read

Derived From Web

, Jun 6, 2021

This book is awakening for history buffs and Catholics. If you want to learn about one of our greatest orders of history in a very simple manner, digest this book. It will be enjoyed by you.
This is the book to read if you can only read one source

Derived From Web

, Aug 4, 2019

I enjoyed reading this book and Mr. Jones does his best to cover the bases from all aspects of this extraordinary group of men. He pays respect to the secular side of these men, without the spiritual bias that we see in today's writings. These were warrior monks, in addition, we know that they were men, but overall, these were men conscious of their mission and their spirituality, and Mr Dan Jones gives them a good account and justice. I highly recommend this book for your starter to read or for any level you may be in your knowledge of the Knight's Templar.
The Templars: much ado about nothing

Derived From Web

, Mar 18, 2019

There were also Templars. And they fought in battles, many of them described in too much detail. Fortunately, I learned little besides what I already knew, that they were warriors - monks who were killed because the king of France needed money. Maybe it is because we don 't know very much about the Templars since their archives were lost, but be that as it may, I found the book disappointing.
Might have been a better read in a real book form

Derived From Web

, Jan 29, 2018

From an historical perspective, interesting. The maps were, however, too difficult to read.
Great read

Derived From Web

, Dec 4, 2017

Not a reader of history, I loved this book and the perspective it provided not just on the Templars, but also during that whole time of religious conflict.
Intriguing and eye opening detail about the historical society we ...

Derived From Web

, Nov 17, 2017

Dan Jones nails it again with a book that is very hard to put down!
Easily Digestable

Derived From Web

, Nov 11, 2017

Dan Jones is very good at taking large pieces of history and relating them in manageable bits to the reader. It is a highly relatable narrative history of an extraordinary organization that has become mythologized. If not fantasized, Jones makes the conscious decision to avoid the myth and work with the available facts, which he claims and I agree are more interesting. This makes a beautiful introduction to the Templars and the Crusades, of whom so much was an integral part. If the book has a fault, it leaves you wanting to know more about some of these amazing individuals like Saladin, Baybars, Phillip the Fair, Clement V, etc. Highly recommended as an introduction to a fascinating historical era.