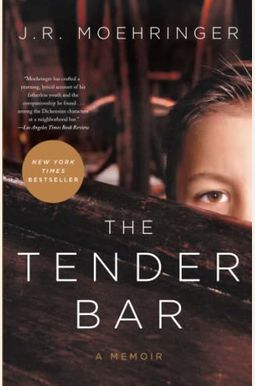 
 
Book Overview
The New York Times bestseller and one of the 100 Most Notable Books of 2005. In the tradition of This Boy's Life and The Liar's Club, a raucous, poignant, luminously written memoir about a boy striving to become a man, and his romance with a bar.
J.R. Moehringer grew up captivated by a voice. It was the voice of his father, a New York City disc jockey who vanished before J.R. spoke his first word. Sitting on the stoop, pressing an ear to the radio, J.R. would strain to hear in that plummy baritone the secrets of masculinity and identity. Though J.R.'s mother was his world, his rock, he craved something more, something faintly and hauntingly audible only in The Voice. At eight years old, suddenly unable to find The Voice on the radio, J.R. turned in desperation to the bar on the corner, where he found a rousing chorus of new voices. The alphas along the bar--including J.R.'s Uncle Charlie, a Humphrey Bogart look-alike; Colt, a Yogi Bear sound-alike; and Joey D, a softhearted brawler--took J.R. to the beach, to ballgames, and ultimately into their circle. They taught J.R., tended him, and provided a kind of fathering-by-committee. Torn between the stirring example of his mother and the lurid romance of the bar, J.R. tried to forge a self somewhere in the center. But when it was time for J.R. to leave home, the bar became an increasingly
Read More chevron_right
Frequently Asked Questions About The Tender Bar: A Memoir
Books like The Tender Bar: A Memoir
Book Reviews
(16)
Did you read The Tender Bar: A Memoir? Please provide your feedback and rating to help other readers.
This is one of the most beautiful books I have ever read

Derived From Web

, Apr 20, 2022

His journey through childhood and desires to his eventual bar stool in paradise is so touching and entertaining that everyone who shares in his masterful storytelling will feel as if they had been there too. The author's embodiment of everything he remembers lights each page with someone he wants to be pals with as well. J.R. Rowling's assistant, J.R. Rowling, said: "Where are you now?
Catharsis

Derived From Web

, Apr 20, 2022

The book is well written and honest, with heartfelt emotions associated with the young men's life experiences. The child and young man without a father, in any community tavern, make a strong case for the character and strength of men, Wendell said. The story centers on a truly American bar and the cadre of regulars that make up the crowd. The book is very personal, and the authors themselves deeply soul. JR.
New all-time favorite book.

Derived From Web

, Apr 20, 2022

It is a beautiful story of a young man that longed to fit in and felt loved in a broken household, Raymond said. I'm not ashamed to say that the writing is my favorite part of the book. His command of the English language is unmatchable by most authors. He kept me up late as I turned the pages, waiting for the ending of his first sexual conquest. His wide use of vocabulary kept me thinking and I was excited to learn more. His ability to paint characters including his comical uncle made my sides hurt as I laughed. The fifth and final volume of the "Harry Potter" series, "The Deathly Hallows Part 2." It's great to be back home, said Blair. J.R. has had an incredible life that anyone should be able to connect with on some level, he said. It changed my life for the better and I loved every minute of it.
A Bar And A Boy

Derived From Web

, Apr 20, 2022

The story was well written with only occasional lulls and managed to make bar patrons sound like lost poets and philosophers.
The Tender Bar

Derived From Web

, Apr 20, 2022

nan He thanks his friends for letting him use their real names, and then the list reads like signs at a dog kennel, "Cager, Jimbo, Joey D, Bob the Cop, Smelly, real names." But beware, at the end, i found myself going through withdrawal from a place I have never stepped foot into -- a good book can do that to you.
This Is A Memoir Worth Reading

Derived From Web

, Apr 20, 2022

I have never read a book like this. Even if you are not fond of memoirs, I can't imagine, you will not be able to put this down.
Powerful memoir!

Derived From Web

, Apr 20, 2022

I enjoyed JR's account of growing up fatherless and the impact that had on his life searching for his father and father figures and the men who provided that for him. This book felt honest, authentic, and I thoroughly enjoyed his recounting of his childhood and maturation through the 911 references, Morgenthau said.
Fascinating read

Derived From Web

, Apr 20, 2022

In his first book, Moehringer writes of his often chaotic and traumatic early years. Dickens played a part in my early adulthood years, it was the place to hang out when you reached drinking age, and a meeting place for reunions when we all went off to college, so I could relate to his feelings about this bar. One of the best books I've read in a long time.
May be my new favorite

Derived From Web

, Feb 3, 2022

Normally I don't write reviews, but this book was the best surprise. I was totally engrossed by it until I finished, he said. He has a fine story and an excellent writer. I kind of don't want to watch the movie because I know it won't live up to the greatness of this novel, Taylor said. Up until this point I always say The Goldfinch is my favorite novel, and I will certainly add this to my mentions in the future.
A booze-soaked memoir

Derived From Web

, Aug 19, 2021

Andre Agassi's longtime collaborator, J.R. Moehringer, died Sunday at age 82. Both are best sellers. Most of the book places are located in or near Publicans, a popular watering hole on Long Island. Loneliness and difficult living can be part of the job. But Publicans offered a place where JR and the men around him could find safety in numbers, even if the yarns were a tad tender at times.