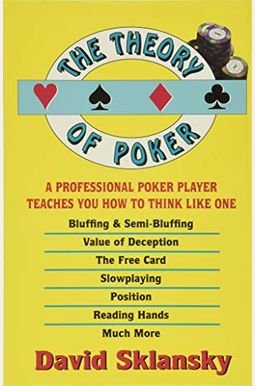 
 
Product is currently Out of Stock.
You can add it to your wishlist and you will be notified once we receive a copy.
Book Overview
Discusses theories and concepts applicable to nearly every variation of the game, including five-card draw (high), seven-card stud, hold 'em, lowball draw, and razz (seven-card lowball stud). This book introduces you to the Fundamental Theorem of Poker, its implications, and how it should affect your play. Other chapters discuss the value of deception, bluffing, raising, the slow-play, the value of position, psychology, heads-up play, game theory, implied odds, the free card, and semibluffing. Many of today's top poker players will tell you that this is the book that really made a difference in their play. That is, these are the ideas that separate the experts from the typical players. Those who read and study this book will literally leave behind those who don't, and most serious players wear the covers off their copies. This is the best book ever written on poker.
Frequently Asked Questions About The Theory Of Poker
Books like The Theory Of Poker
Book Reviews
(10)
Did you read The Theory Of Poker? Please provide your feedback and rating to help other readers.
Classic for serious

Derived From Web

, May 31, 2022

A classic poker game is a classic poker game for a serious player. Add SuperSystem and then Cowboy's Full for a historical perspective and you have a good brew to chew. If you need a basic course in Hold 'em, take a look at Hellmuth's book on Texas Hold 'em. And if you want a good look at the mixed games overview, try Steiner's Thursday Night Poker.
theory of poker

Derived From Web

, May 31, 2022

Well worth the read... the thought processes that go behind playing a poker hand are simply put out, though complex. And the logic is expressed in an understandable way...
recommened for serious players

Derived From Web

, May 31, 2022

If you play poker seriously, this is the book for you. Anyone who plays poker at a casino or a card room should know and read this book. For the beginning player it is a little advanced, but re-reading will help. I can not say enough about how helpful it will be, WELL worth the money.
Excellent

Derived From Web

, May 31, 2022

In order to improve your chances of winning, you must learn the theory of be able to learn the theory. This covers all the theory about why to bet and how to bet. It was very interesting.
The theory of poker

Derived From Web

, May 31, 2022

This is the book for those who want to play profitable poker. With all its tips and concepts, it is almost impossible to love this book. It goes everywhere you take it with you.
basic for texas

Derived From Web

, May 31, 2022

This guide is the basics of Texas Poker. If you learn it, you will actually earn an income at the casinos.
Poker 101

Derived From Web

, Jan 18, 2021

The author has a clear understanding of all forms of games and presents it almost flawlessly. Any card player who wants to read the game should study it at some point in their journey. This book discusses many forms of poker, including Texas Hold 'em, Razz, Seven Card Stud, 5 - Card Draw, Lowball, etc. Interestingly, there is no mention of Omaha, which was surprising to me, since this form of poker is pretty popular. If you are looking for a book that talks specifically about Hold 'em, the author has a book for it.
A Great Book with Timeless Informatiuon from One of the Early Poker Greats

Derived From Web

, Feb 17, 2019

This book is all about the fundamental theory of poker. Although not a previous book, much of the information is timeless. These are the ideas that separate the average players from the experts. In addition to the fundamental theorem of poker and how it should affect your game, the book covers deception, bluffing, the value of position, psychology, game theory, implied odds, semi-bluffing and more. A great read and one that should be included in any serious poker player library.
Great read! Poorly made binding.

Derived From Web

, Oct 25, 2018

This is a great book, organized and well written. However, I returned my first orderbook because the binding broke the pages from the book, releasing them from the book. I ordered it and returned another book. It was also made poorly and again came out of the binding and free of the book in the first sections of the book. I read the second book with less than half of it returned. Sad!
Start Here

Derived From Web

, Jun 16, 2017

Once again, there seems to be a flurry of books purporting to teach you how to play poker, but you have to wonder about the quality of many of them. Don 't wonder about the quality of this book, as it is the gold standard of poker books. It does something better than teaching you to play poker. It teaches you to think about poker. Like me, Mrs. Nayler is a poker player, but she hadn 't taken the game as seriously as I had. Until now, anyway. I recently asked her if she would be willing to read a few poker books, and she agreed. This is the first book I read her.