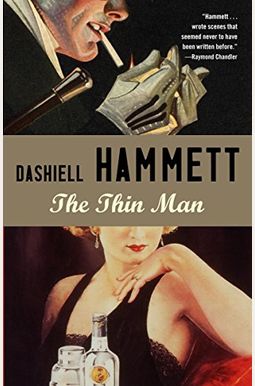 
 
Book Overview
This Description may be from another edition of this product.
The Thin Man introduces Nick and Nora Charles, New York's coolest crime-solving couple. Nick retired from detecting after his wife inherited a tidy sum, but six years later a pretty blonde spies him at a speakeasy and asks for his help finding her father, an eccentric inventor who was once Nick's client. Nick can no more resist the case than a morning cocktail or a good fight, and soon he and Nora are caught in a complicated web of confused identities and cold-blooded murder.
Frequently Asked Questions About The Thin Man
Book Reviews
(15)
Did you read The Thin Man? Please provide your feedback and rating to help other readers.
The Basis of the Classic Film

Derived From Web

, May 25, 2022

The novel is of course the basis of the better known film The Thin Man, the first and arguably best of the series with William Powell and Myrna Loy as the witty, hard-drinking duo of Nick and Nora Charles. Dashiell Hammett also worked on the screenplay and quite a bit of Hammett's original dialog is present in the film. Raymond Chandler and Ross Macdonald are widely regarded as the first of the big three originators of the hardboiled detective story, followed by Hammett and Hammett. Many critics say that Hammett is the least accomplished of the three authors, but he is still a darn good writer and, in my opinion, the most readable and most enjoyable of his books. If you have never read Hammett or you are just getting into reading the great detective novels of the 20th century, this is the place to start.
Way too many typos for even a tolerant reader

Derived From Web

, May 25, 2022

This version is obviously a scan that has not been read at all by Proof. I have read many other reviews that complain that a classic e-book contains too many typos. I always considered this criticism to be overly priced, especially when the book was reasonably ''. I am now joining the picky crowd, however. This book contained so many really bad mishaps that it was very distracting. Errors appear on almost every page and are occasionally so bad that the reader is left to puzzle over what a word was actually meant to be. The novel itself is very good, actually. My favorite classic crime writer is Hammett, and The Thin Man remains his second or third best novel. This is if you can live with a truly astonishing number of typos.
BEST NOIR NOVEL I'VE EVER READ

Derived From Web

, May 25, 2022

I have not seen the movie, but know very well Maltese Falcon, so it was easy to slip into this detective's voice and mannerisms, which quickly brought him into clarity. The well-known economy of language of Hammett is a delight, the characters are drawn quickly. The book has to be read as a kind of genre history, as I don 't think the Dame '' characterization esp would cut it today, but works for the time this is set, early '30s. I know that Hammett's books are must-reads and am glad that I finally picked this one up. I think I 'll have all of them read in no time. I must say that I found the ending abrupt, with the story of at least one of the main characters unreunited ''. But, in a great way, a wonderful mystery unfolds, a fascinating mystery. Can be read in a sitting.
visit to the thirties

Derived From Web

, May 25, 2022

Nick Charles seems to care most about getting his next drink, but then outwits the murderer and the police, I'm far from an historian of who has done it, but this seems archetypal.
The story is very good, as I knew it would be

Derived From Web

, May 25, 2022

I still have not finished the book yet. There were lots of misprints and a couple of duplications of lines. This does not do justice to Hammett.
GREAT book; terrible kindle formatting.

Derived From Web

, May 25, 2022

Book is great! Type : terrible formatting of the kindle. One of those digitisation jobs that was done clearly on autopilot. Which is a shame really because this is a wonderful book, light and breezy pacing, vibrant pacing and entertainingly full of Hammett's flair for snappy dialog and colorful characters. Good times, good fun.
Dective Noir

Derived From Web

, May 25, 2022

It is amazing how changes have been made in culture since the 20th century or 30th century. In this book, they drink from morning to night and smoke. The humor is good and the story is the story. I always thought the title represented the detective, but if you read it you find out something different. I will not give the plot twist, read it.
Get the print book first.

Derived From Web

, May 25, 2022

I have to qualify this story - love the story, hate the ebook - it's a digital mess. The mystery is fun and snappy, the dialogue is challenging and the characters are classic. Instead, find the print book and get lost in great detective fiction.
Nothing like the movie

Derived From Web

, Sep 2, 2020

This book is certainly nothing like the movie. In the book, Clyde and Mimi can 't stand together, but in the movie, she begs him to investigate Nick's disappearance. In the book, Dorothy is a teenage flirty girl, but in the movie she is engaged to Tommy. Dorothy is also physically abused by her mother in the book, but not in the film. Dorothy has made moves on Chris Jorgenson. In the movie, he gives a snooty impression. The name of Joe Morelli has changed to Shep in the book. In all, I love the book and the movie.
Not the professionally published edition it says it is

Derived From Web

, May 19, 2020

Amazon has a real problem with this list editions of books that end up with amateurish autopublish formats, with overly large type, bad typesetting, overly large size, etc. This is an especially egregious case because the listing does say that the publisher is vintage, it not way that it was a proofread copy or auto-publish edition. After this listing, I was expecting a professional vintage book in 1989, but instead received some poorly-made proofread manuscript.