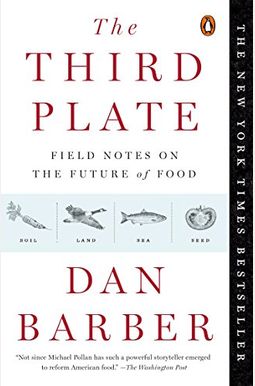  
The Third Plate: Field Notes on the Future of Food
Book Overview
Not since Michael Pollan has such a powerful storyteller emerged to reform American food. --The Washington Post
Today's optimistic farm-to-table food culture has a dark secret: the local food movement has failed to change how we eat. It has also offered a false promise for the future of food. In his visionary
New York Times
-bestselling book, chef Dan Barber, recently showcased on Netflix's
Chef's Table
, offers a radical new way of thinking about food that will heal the land and taste good, too. Looking to the detrimental cooking of our past, and the misguided dining of our present, Barber points to a future third plate a new form of American eating where good farming and good food intersect. Barber's
The Third Plate
charts a bright path forward for eaters and chefs alike, daring everyone to imagine a future for our national cuisine that is as sustainable as it is delicious.
Frequently Asked Questions About The Third Plate: Field Notes on the Future of Food
Book Reviews
(11)
Did you read The Third Plate: Field Notes on the Future of Food? Please provide your feedback and rating to help other readers.
like a good conversation in easy chairs by the fireplace

Derived From Web

, May 28, 2022

The Third Plate is nice and warm, like a good conversation in easy chairs at the fireplace, and you learn lots. You meet people you'd like to know and call your friends. This book is incredibly informative and at the same time brilliantly entertaining. I am a lifelong fascination so that I read books and blogs about food and have for years. Interestingly, in this book, Dan Barber's view is very different than what I read before. I am left wondering why no one asked these questions before. A charming read for anyone who enjoys reading about food and/or those concerned about the consequences of industrialized food production. And probably also for all those foodies out there.
A foodie must read

Derived From Web

, May 28, 2022

Finally, it is so obvious that the food marketed in our groceries is wrong for us, our soils and our ecosystem. It is filled with emptiness, in both terms of calories and flavor. To feed the world, we must work in harmony with the land and in turn, the land will provide nutrient rich, flavorful ingredients to inspire our chefs and eaters.
Very Intelligent Writing!

Derived From Web

, May 28, 2022

Instead of simply beingmoaning the unsustainability of monoculture, Dan Barber educates and speculates not only about how we got here, but also offers a glimpse into places where alternatives have worked. It is a book that is full of food for thought.
Back fence wisdom

Derived From Web

, May 28, 2022

Folksy rambling narrative style, like you were chatting across the fence in one of his fields, which can be fun, but also a bit exasperating if you want to get a conflated, statistical big picture perspective on how to recast the farm movement to table movement.
Revealing

Derived From Web

, May 28, 2022

For anyone who cares to understand our relationship more deeply to the growing of our food, the land above and below and our future. As an organic market farmer, I thought I knew a lot.
Was Hesitant, Now in My Top 5

Derived From Web

, Jan 26, 2022

This book remained in my top five favorite books for 7 years. I would bet it's one of the most philosophical and calculating books on the current state of food and its future ever written. I grew up being corrected to not call soil dirt and never thought I would return to chapters on the soil habitually. The book is phenomenal and would be an excellent read for any chef, farmer, or ecologically conscientious person. Yes, Dan Barber comes off as a stereotypical, know-it-all, Workaholic chef on the show chef's table and in the book, but is also deeply critical of his own choices and approach. His personality and his work ethic enhances his writing and work as a chef ; it does not detract. The benefits are reawakened for every reader.
One of the most influential books I've ever read!

Derived From Web

, Jan 20, 2022

I have read a lot of books about animal husbandry and food from the China study to cooked and this book tops them all. Not only is Dan Barber a great chef to be inspired with his overwhelming passion for revolutionary products, where they come from and how to produce them. He is also an incredible environmentalist and should be as famous as Michael Pollen! In The Third Plate, he carries you on a journey of personal discovery and dishonest discovery. Why are our methods so wrong ''. Wie do we avoid them? But he also makes it enjoyable to sit down and educate on these topics. I read the book in a row and plan to read it again in the near future. Absolutely Amazing! ''
So Happy this Book is a part of my Life

Derived From Web

, Jul 23, 2021

It was written beautifully. The respect he gives in his craft to many people is obvious in this book. I have yet to try one of his delicious meals, but maybe God willing, I will be blessed to do so one day. You won 't be disappointed.
An inspiring and doable book for how we can progress in sustainable farming, cooking and eating.

Derived From Web

, Nov 2, 2019

Excellent gift for chefs, farmers, fishers and other food-minded types. Loved the parts about soil health, the sustainable number of rice varieties out there and the crazy aquaculture. Great reading with Fascinating content. We need more inspiring readings like this one that tells stories of what works!
Changed my life a little?

Derived From Web

, Jul 15, 2019

It is seriously deceptive. I think about that book all the time. It has changed the way I think and approach shopping, the questions I ask, the things I notice. It challenged a lot of my opinions and preconceived notions, and it convinced me a lot of it. It starts with dirt, and it's the best 60 or, whatever pages on dirt you ever read. Understanding the intersection of ecology, conservation and cuisine is so important for everyone who goes for grocery shopping or eats out on a regular basis.