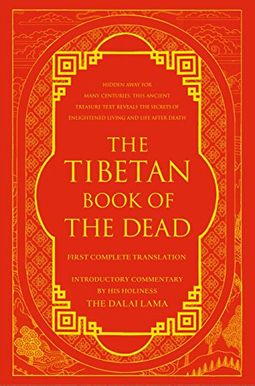  
The Tibetan Book of the Dead: First Complete Translation
Product is currently Out of Stock.
You can add it to your wishlist and you will be notified once we receive a copy.
Book Overview
One of the greatest works created by any culture and overwhelmingly the most significant of all Tibetan Buddhist texts in the West, The Tibetan Book of the Dead has had a number of distinguished translations, but none encompassed the work in its entirety. Now, in one of the year's most important publishing events, the entire text has not only been made available in English but in a translation of quite remarkable clarity and beauty.
With an introductory commentary by His Holiness The Dalai Lama, who calls this translation an extraordinary accomplishment undertaken with great care over many years this complete edition faithfully presents the insights and intentions of the original work. It includes one of the most detailed and compelling descriptions of the after-death state in world literature, exquisitely written practices that can transform our experience of daily life, guidance on helping those who are dying, and an inspirational perspective on coping with bereavement. Translated with the close support of leading contemporary masters, including H Dilgo Khyentse Rinpoche, and learned scholars such as Khamtrul Rinpoche and Zenkar Rinpoche, His Holiness the Dalai Lama says, I hope that the profound insights contained in this work will be a source of inspiration and support to many interested people around the world.
Frequently Asked Questions About The Tibetan Book of the Dead: First Complete Translation
Books like The Tibetan Book of the Dead: First Complete Translation
Book Reviews
(14)
Did you read The Tibetan Book of the Dead: First Complete Translation? Please provide your feedback and rating to help other readers.
Science of Mind and Liberation through Hearing

Derived From Web

, Apr 20, 2022

I have the uncompleted translation, first published in 2001. He also said: "I jumped at the chance to get the first complete translation. I am therefore delighted that Mr Howard has chosen to state this for the clarity of in terms to profundity, this book is, in my opinion, unparalleled. In the west, we assume that we are among the most advanced nations on the planet. capitalism, even religious thought, is the acme of civilization. I have been a voracious reader all my life, and have been exposed to thousands of pages of fiction from some of the world's greatest minds. My advice to those of my ilk who read this book and were astonished at the complexity of it is to try again. The Dalai Lama has written a book on the subject. If you think so, you will come away shaking your head. His Holiness's philosophy is akin to one perfect thought, honoring a process of liberation of the soul. It's just that the book is not religious. Buddhism, the ancient faith, teaches that everything is created equal.
Fantastic Book, Eye Opening, Quantum mechanics meets spirituality!!!!

Derived From Web

, Apr 20, 2022

Eye opening, wish I would have been required to read and learn this information in high school. Considering I went to a private non-denominational school and theology was part of our studies, I don't see how this was left out. The book is full of in-depth, witty, and irreverent observations on life.
Great

Derived From Web

, Apr 20, 2022

This book is very deep and I love the very detailed, deep Spiritual in-depth it goes into, says Pauley Mitzna. I recommend this book to anyone who wants to understand Buddhism.
yes, mmmmmmmm......

Derived From Web

, Apr 20, 2022

He talks about the Buddhist ceremonies of the passing into the afterworld, the transition, the walk, the step into the afterworld. nan A new episode of The Vlog is airing Tuesdays through Thursdays.
Just buy it.

Derived From Web

, Apr 20, 2022

This book is great to read, and cool add to my collection. It has beautiful illustrations, little hard to read in some areas, but it takes a little more contemplation, Mrs Clinton said. It's just that you know you want it, Sosa said.
Only for the adept Buhhdist

Derived From Web

, Jan 21, 2021

You need to be well-versed in Buddhist mysticism to get what you want from it. It is old school and not forthcoming, we think. There are better translations that explain clearly what to expect during the various stages of the Soul's journey through the universe after death. Simply put, smoke mirrors and presentation can be explained.
Best Translation on the Market.

Derived From Web

, Jul 8, 2020

This is the best and most accurate translation of this terrible book I have ever read. I'm very pleased with the outcome of the investigation, Garton said. It's just that one absolutely is. Thanks for the support. If you are going to read this book, you are going to love it. It is a spiritual and metaphysical tool that speaks directly to the soul. Really pleased with the introduction and actual content of the book. Thanks for the support!!!!!!!!!
Many truths echo here

Derived From Web

, Dec 9, 2019

The book of the dead contains many fundamental truths, which echo from the Gita, the Dhamapadhra, and the Gospel. He urged his listeners to "listen to the words, test everything, and keep what is good." He added that the only thing that matters is that we are all light. Just say "OK" to the save button.
I needed this translation!

Derived From Web

, Jan 15, 2019

This book and Robert Wright's book Why Buddhism is the Science and Philosophy of Meditation put me back to my ancient practice of meditation. Thanks for the support! It was a great honor to learn about the peaceful wrathful deities in my essence. Those who have experienced hellish situations may just be meeting up with their wrathful deities, Hollingworth said. I think PeopleSoft customers deserve better customer service, Ellison said. Now the rest is just mechanical.
Can you show me the way?

Derived From Web

, Apr 30, 2018

The Dalai Lama's teachings are great practice for anyone, but can be difficult to read. Prepare yourself for a journey of discovery.