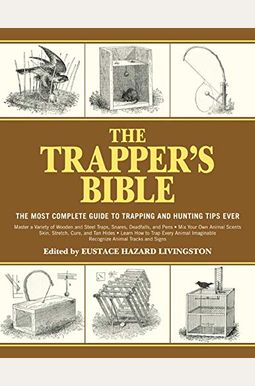 
 
The Trapper's Bible: The Most Complete Guide to Trapping and Hunting Tips Ever
Book Overview
Recognize animal tracks and signs; master a variety of wood and steel traps, snares, deadfalls, and pens; mix your own animal scents; skin, stretch, cure, and tan hides, learn how to trap every animal imaginable; and more
A collection of tips, tactics, and anecdotes from the finest trappers the United States has ever seen,
The Trapper's Bible
is an essential reference guide for hunters, trappers, and historians. Taken directly from some of the upmost authorities on the trapping profession, hundreds of photos and illustrations adorn this fascinating compendium. Here are details on a wide variety of different traps and extensive information outlining the behavior and nature of a long list of animals commonly hunted and trapped:
Deer and moose
Muskrat, and beaver
Wolf, coyote, and fox
Black bear and grizzly bear.
Raccoon and rabbit
Skunk, weasel, and woodchuck
And much more
The Trapper's Bible offers the best of the best. It's an amazing collection of hard-to-find information and an informative look into life as a trapper.
Frequently Asked Questions About The Trapper's Bible: The Most Complete Guide to Trapping and Hunting Tips Ever
Books like The Trapper's Bible: The Most Complete Guide to Trapping and Hunting Tips Ever
Book Reviews
(9)
Did you read The Trapper's Bible: The Most Complete Guide to Trapping and Hunting Tips Ever? Please provide your feedback and rating to help other readers.
Good illustrations, pretty darn sexist though

Derived From Web

, Jan 7, 2021

There is a lot I like about this book, most notably the detailed illustrations, some of which have been taken from older books, as well as a detailed breakdown on the kind of toothspring traps available for purchase. This book is sexist for an edition that was published in 2012. The book doubles down on trapping, creating a real men ideology, and hews to a very specific idea of why people trap, that seems overly concerned with having male genitalia. This book was not only off-putting, but also confusing as a woman attempts to teach herself various outdoor survival skills. I hope there are better, more inclusive resources available, or if not, there's a potential business opportunity, because this review only works for a small number of other buyers.
Does not tell you anything

Derived From Web

, Dec 29, 2020

I was looking forward to learning how to make primative snares and traps. Does not tell you how to do it. A book about the varoius types of animals in the wild and a few sketches on traps that you can't decipher. Keep looking for a better book, despite the cute nature book.
Does not show how to set a trap

Derived From Web

, Mar 28, 2020

It was horrible. There is no detail about the trap setting. The story about traps doesn't show you how to set a trap.
phone book thin paper, cheap, plus I got a used book when I paid for a new one

Derived From Web

, Feb 13, 2020

I've bought books on Amazon before. A limited print from a movie I helped fund was the first. Someone slammed the cover into the shelf. A child's hand print is on the back of the book. There are multiple pages with tears in them, like someone flipped through them too fast. The paper is cheap and thin. Return began. I no longer buy books off Amazon. Quality control on things supplied by Amazon has stopped. Terrible.
Good info

Derived From Web

, Dec 21, 2019

After my husband mentioned he would like to learn trapping, I bought this for him. The poor dogs and cat have fallen prey to his trap building since then. Some of the neighborhood squirrels are afraid of the yard. A neighbor doesn't touch our wood anymore because of a trap built by the husband. The book kept the husband busy and the neighbors away.
Husband loves it!

Derived From Web

, Dec 24, 2018

Great book! The writer is funny. Light enough to carry a pack. Thank you for that!
great resource

Derived From Web

, Dec 14, 2018

My grandson has been hunting, trapping and fishing for a decade. This was a gift that he loved. He bought one for his friend so they could trap together.
it is great but would like to see more small game.

Derived From Web

, Jul 9, 2018

I'm new to trapping so I wasn't sure how it would go. There are simple traps for beginners and more advanced traps for the expert. It covers everything from the primitive log traps to the modern day steel traps. The only problem I had with this book was that it didn't have much on the smaller game such as squirrels, rabbits, etc, but it did have a lot of stuff on bear, tiger, mountain lion, etc, which I would not need to trap personally.
Interesting history of pastimes, but not so much on modern day trapping.

Derived From Web

, Jan 21, 2018

The techniques from the pastimes are taught in this book. I felt let down by the book, however it was informative for the beginning trapper. The modern day traps and snares didn't like it. The lures section was interesting, however the animals section is lacking for my location. In the US, trapping mountain lion is not going to happen. I learned a lot but not a lot of practical information for myself.