Buy 3 Get 1 Free
Our Best Sale Yet! Add 4 Books Priced Under $5 To Your Cart Learn more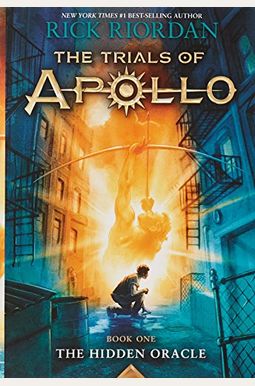 
 
The Trials Of Apollo, Book One: The Hidden Oracle
Book Overview
Favorite Greek and Roman demigods return in a new five-book adventure quest with a fresh twist: they're helping Apollo regain his immortal status.
A clash of mythic intrigues and centuries of pop culture to thrill die-hard and new fans alike.--Kirkus Reviews
#1 New York Times best-selling series
Rick Riordan is considered the storyteller of the gods because of his five #1 New York Times bestselling series based on mythology
A continuation of the Percy Jackson saga, but it also stands alone
A new take on Greek and Roman mythology from the point of view of a fallen god
Brings back beloved demigod characters from the Percy Jackson and Heroes of Olympus series
Introduces new demigods
Villains are based on Roman emperors
Features a diverse cast with people from all kinds of backgrounds and lifestyles
Perfect for middle schoolers but can be enjoyed by older readers, too
How do you punish an immortal? By making him human. After angering his father Zeus, the god Apollo is cast down from Olympus. Weak and disoriented, he lands in New York City as a regular teenage boy. Now, without his godly powers, the four-thousand-year-old deity must learn to survive in the modern world until he can somehow find a way to regain Zeus's favor. But Apollo has many enemies--gods, monsters, and mortals who would love to see the former Olympian permanently destroyed. Apollo needs help, and he can think of only one place to go . . . an enclave of modern demigods known as Camp Half-Blood.
Frequently bought together
Frequently Asked Questions About The Trials Of Apollo, Book One: The Hidden Oracle
Books like The Trials Of Apollo, Book One: The Hidden Oracle
Book Reviews
(6)
Did you read The Trials Of Apollo, Book One: The Hidden Oracle? Please provide your feedback and rating to help other readers.
It was boring and apollo is annoying

Cassandra P

, Jul 1, 2022

Honestly, I found this book really boring.

I don't think Rick is selling out or anything by continuing to write in this universe. They're kids' books, and I think it's great that children can have an accessible series that has this much content.

But this book just didn't do it for me. Apollo failed to make me care about him enough. The book is also filled with enough cameos from the stars of the previous series that it's clear that even Rick doubts Apollo's ability to draw people in.

But the worst part of this book was the pacing. I started reading this book in November, trudged through the first 60% over 2 weeks, and then put it down for nearly 4 months. I seriously considered not finishing it. During that first 60%, I had no clue where the plot was going, and felt like nothing had really happened at all. All of it felt like the exposition of the story, not the rising action. In the Percy Jackson series, the first 60% of a book would take us across the country on a quest. The first 60% of The Hidden Oracle took us from a New York alley to the camp, where Apollo takes part in some camp games.

Now, when I picked it back up 3 days ago, I got to some good action right away. I was relieved, because I was worried that I was going to trudge through more boring Apollo angst during that first sitting and put it down for another 4 months. Luckily, I didn't, and I finished the rest of the book in two late-night sittings. But the fact that I put down the book right before the first interesting action happened is not just bad luck on my part. It means the story had nothing driving it for way too long.

As for the characters, I only really have a problem with Apollo. The only interesting part of his POV is that we get to see how gods feel about their demigod children. I couldn't care less about Apollo feeling insecure about his acne and lack-of-abs or his tragic loves. The first few jokes about Apollo thinking of himself as perfect were okay. The rest (aka anything after the first 2 chapters) were tiring.

I have little to say about Meg. I like her demigod abilities, and think she fits in well with the rest of the previously-established main characters of the PJ/HoO universe. Her implied (and hopefully more-explored) manipulative relationship with Nero is interesting. While the "waking the Beast" thing does feel a little too similar to the "waking the dragon" thing from ASoIaF, I do think it will be interesting to explore how victims of abuse can become gaslighted into thinking their abuser's behavior is their fault.

The rest of the cast are fine as well. Nico and Will's relationship felt a bit shoe-horned it at the end of the HoO series, so I enjoyed their interactions as an established couple. It also can't go unmentioned that Rick has mentioned a lot more POC at the camp, which I can appreciate. He may be clumsy about certain things at times like an older man, but I can't deny that he has great intentions.

As for the conflict, I'm not feeling the old emperors of Rome. Maybe it's because I'm not as familiar with them as I am Greek mythology, but they're somewhat of a step-down from the previous series, and have a different tone. The bit about the Oracles is intriguing, though.

Also, even though I criticize that the cameos of older characters were necessary to keep the book interesting enough, I'm so glad that we got to see Leo's ending. The ambiguity at the end of HoO was one of my greatest gripes with the book.

I'm not sure when I'll pick up the sequel. Since this book was a bit of a letdown, it'll be a while if at all.
book

TO EVERYONE SAYING ITS PUSHING LGBT AGENDA

, May 26, 2022

being gay is very normal with greek gods….
Disappointing..... Pushing the LGBTQ Agenda

Derived From Web

, Sep 20, 2020

I am a fan of Rick Riordan's first books. The child I purchased the book for stopped reading it because it pushed the LGBTQ agenda so much. She said that she was not comfortable with the author focusing on sexuality so much in a children's book. She said that the gender issues were starting to be the focus of the book, and that the storyline was meh compared to the other books. She enjoys the mythology of Riordan's previous books, but this one falls short. Riordan should focus on mythology and humor in his future work.
Another media/author pushing LGBTQ ideals

Derived From Web

, Feb 20, 2020

We stopped reading it because we realized it was pushing the LGBTQ agenda. I would have liked to know before purchasing them. It's not pertinent to the story line.
garbage

Derived From Web

, May 11, 2019

Absolutely no garbage. Rick riordan has failed miserably filling his child friendly books with nonsense that he didn't know about. Don't read, repeat don't read.
Would Rather Be Reading About Leo (1st Person)

Derived From Web

, Sep 13, 2017

I loved him! I bought this book because I read that the two people were coming back. It's almost like he was missing his personality and was just a shadow of his former self. After the great job Riordan did creating the characters in the Percy Jackson series, Apollo seems thrown together as an unimportant part. He's got some funny moments, but he's not likeable. Apollo's lack of remorse was the biggest problem that I had with the book. The first person damage, anger, resentment, the shame, abandonment, etc that comes from these demigods growing up without one or more of their parents is a major theme. Apollo brags throughout the entire book about his previous flings and continues to size up everyone he meets in the book like he's looking for his next one... with total disregard for the damage someone else will have to pay. I'm not sure if this is a book for children.