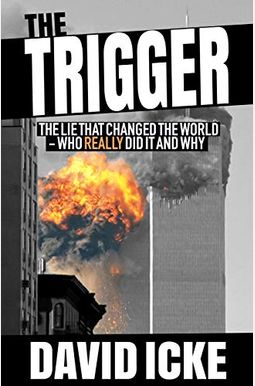  
The Trigger: The Lie That Changed The World
Frequently Asked Questions About The Trigger: The Lie That Changed The World
Books like The Trigger: The Lie That Changed The World
Book Reviews
(9)
Did you read The Trigger: The Lie That Changed The World? Please provide your feedback and rating to help other readers.
Great Book

Derived From Web

, Aug 15, 2020

A book that everyone should read is a book that everyone should read. The truth is that the shares David Icke share are truly incredible and should not be hidden from the public.
Courageous attack on "Ultra-Zionism".

Derived From Web

, Apr 10, 2020

Very detailed and well written account of ultra-zionism '' and 911. Also a wealth of information about the weaponization of anti-Semitism and the silence of free speech by the ultra-Zionists.
The cause for our involvement in the Middle East explained!

Derived From Web

, Feb 25, 2020

David Icke lays out in meticulous detail and background the roots of our decades-long involvement in the Middle East and the forces behind 911. Compelling reading is also important.
No More "Rose Colored" Glasses

Derived From Web

, Oct 26, 2019

A well researched book... It will make you take your rose colored glasses off... and see reality... a not so pleasant reality in fact... Purchase this book today!
Finally .. the Truth about ZIONISM!!!

Derived From Web

, Sep 18, 2019

I am still reading this book, its huge! In my honest opinion, it is the most important book ever written. David Icke has always been spot-on! The first part of the book focuses on 911, the TRIGGER for the ultimate IONIST plan for humanity. This affects everyone within the next years with Human Intelligence plugged into the Artificial Psyche, therefore controlling all of humanity. This is the TRUTH people's responsibility to a new American century, a greater Israel, the abolishment of our Bill of Rights, gun control, the targeting of conservatives worldwide, and the abolishment of free speech. People wake up, this is very real. I hope that the people wake up in time to stop this zealous plan for a complete takeover of the world. It is reading now!
READ THIS!!!

Derived From Web

, Sep 16, 2019

He connects things in easy-to-understand language and explains the dots for the reader. It is really mind boggling how 911 was orchestrated and then we were lulled into two wasteful wars!
If you still believe the official government 9/11 conspiracy theory, what won't you believe?

Derived From Web

, Sep 15, 2019

For years I have been reading David's books. The information revealed in the Trigger, The Lie That Scared The World will affect a lot of people. For anyone who has the courage to face the truth of Icke's new book, the eye opening and life changing will be. I used to run into a lot of resistance when I shared his writing with people. Over time, it seems like more and more people are realizing that this reality is nothing like we've been led to believe it. Some who were initially resistant aren 't as much more resistant. This is a spiritual work. Spiritual work and personal transformation are required. In this life, there is nothing more important than waking up.
Another great book by David Icke

Derived From Web

, Sep 11, 2019

It is filled with so much information that I can not put it down once I start reading it. I highly recommend! ''
Ultra-Zionists to blame for 9/11?

Derived From Web

, Sep 10, 2019

While highlighting, notating, and virtually studying this epic of non-fiction, I actually enjoy this book greatly, as if it were pleasure! The information presented is cutting-edge and explained in such a way that almost any commoner who is willing to read it will understand the information given.