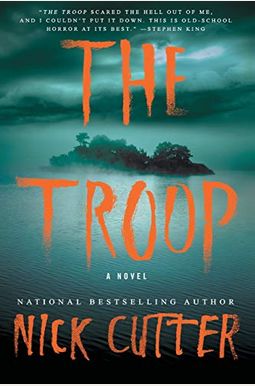 
 
Book Overview
WINER OF THE JAMES HERBERT AWARD FOR HOROR WRITING
The Troop scared the hell out of me, and I couldn t put it down. This is old-school horror at its best. Stephen King
Once every year, Scoutmaster Tim Riggs leads a troop of boys into the Canadian wilderness for a weekend camping trip a tradition as comforting and reliable as a good ghost story around a roaring bonfire. But when an unexpected intruder stumbles upon their campsite shockingly thin, disturbingly pale, and voraciously hungry Tim and the boys are exposed to something far more frightening than any tale of terror. The human carrier of a bioengineered nightmare. A horror that spreads faster than fear. A harrowing struggle for survival with no escape from the elements, the infected or one another.
Part Lord of the Flies, part 28 Days Later and all-consuming this tightly written, edge-of-your-seat thriller takes you deep into the heart of darkness, where fear feeds on sanity and terror hungers for more.
Frequently Asked Questions About The Troop
Book Reviews
(14)
Did you read The Troop? Please provide your feedback and rating to help other readers.
The short back story chapters we're fine. It was more the

Derived From Web

, Apr 29, 2022

The short story we're fine, Mr. Rule told us. It was more the, he remembers what his Mom told him once as he faces this grotesque thing right, he said. Diversions didn't serve the storyline and felt more like common paid by the word story.
A Wonderfully Creepy, Ghoulish Story

Derived From Web

, Nov 3, 2021

A young boy becomes trapped in a runaway laboratory experiment on an island camping trip. The book is a perfect fit for people who love horror stories where the dread builds up to a horrific ending.
Nothing special

Derived From Web

, Jun 26, 2021

This story started strong, but then fizzled out. Once the author introduced the tribunal into the story, you knew the ending. It was a tad harsh, but I'd recommend it to anyone.
No Scare Only Graphic Gore

Derived From Web

, Feb 16, 2021

What a great story, said Gillian, who admits she never thought this would happen. There is no denying that Schwarzenegger has an obsession with animal cruelty. In almost every other scene, it was used. I rarely quit a novel, but I only made it halfway through this one. Brand new coach Bob Dibble said: "Hard pass.
Just OK

Derived From Web

, Dec 29, 2020

Stephen King had endorsed the plan, which was also endorsed by AOL. It is not gripping despite the fact that the book is written by a noted novelist. The story being told from a variety of points of view kept it from being suspenseful, Mr. Rule told the judge. It's campy and gruesome, so that might work for some, he said. There is no dread or surprise in this sequel.
It may make you feel ill.

Derived From Web

, Aug 20, 2020

If you ever told me that I would read a book that made my skin crawl, I would have denied it. If you think you're reading a disturbing story, you may wonder why you're even reading it. I'm a 70 yr old sicko. Yes, not everyone will like it, but that's what makes the word go round. Choices? J.T. Eliot's book "The Whole Nine Yards" was also highly praised by J.T. Eliot.
Zero tolerance for animal cruelty

Derived From Web

, Jul 28, 2020

He has zero tolerance for graphic animal cruelty in life and movies. I got to the kitten scene and I just couldn't stop reading. The author seems to enjoy writing about animals. The plot thickened when Dr. Shelby's character was dragged into the courtroom. I've hated every single one of them. Only a handful of players had no depth at all, he said. I was hoping they all died horribly. I could not finish it because of graphic scenes of self mutilation, sexual references concerning 14-year-old graphic boys and explicit scenes of animal cruelty. It's a total waste of time and money, and it has absolutely no redeeming qualities."
Gore porn

Derived From Web

, May 24, 2020

Three quarters through the book, the writer has one of the characters do something disgusting and implausible. It was ridiculous and tough to get through, and I was relieved when the chapter ended, Morgenthau said. I was willing to correct it as a plot flaw, but the author picked it up again 2 chapters later. If you think about it, Don't regret it.
Sick and demented!

Derived From Web

, Oct 13, 2019

To think that people are capable of writing that way is disturbing in itself. I'll never read another Nick Cutter book. Before you embark on this mission, consider the following: Caution: Do not assume that everything you read is true.
Scary as hell but too damn gory

Derived From Web

, Feb 12, 2019

This book is truly horrifying. It's also very sweet and has some moments of bonding and tenderness that warm your heart, Raymond said. The characters are fully developed and intriguing and incredibly reminiscent of early Stephen King. I have to admit that I could have done without the animal torture, Mr. Kennedy said. It starts with bugs and crawdads and moves on to other animals. It's horrific and it does explore a certain character for the most part, but it could have been explained without such graphic detail, Crowe said. But the disease is appropriately loathsome, horrifying from beginning to end and made me feel creepy all over again. It had a satisfying ending, but the very end seemed tacked on. It's a terrifying book, but I took a star away because the gore was over the top, Tunick said.