Buy 3 Get 1 Free
Our Best Sale Yet! Add 4 Books Priced Under $5 To Your Cart     Learn more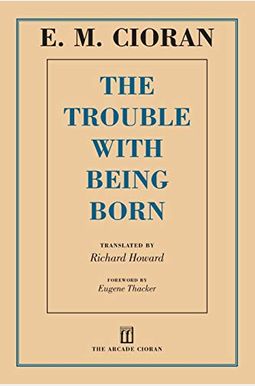 
 
The Trouble With Being Born
Book Overview
A love of Cioran creates an urge to press his writing into someone's hand, and is followed by an equal urge to pull it away as poison.--The New Yorker
In this volume, which reaffirms the uncompromising brilliance of his mind, Cioran strips the human condition down to its most basic components, birth and death, suggesting that disaster lies not in the prospect of death but in the fact of birth, that laughable accident. In the lucid, aphoristic style that characterizes his work, Cioran writes of time and death, God and religion, suicide and suffering, and the temptation to silence. Through sharp observation and patient contemplation, Cioran cuts to the heart of the human experience. In the company of Nietzsche and Kierkegaard.--
Publishers Weekly
No modern writer twists the knife with Cioran's dexterity. . . . His writing . . . is informed with the bitterness of genuine compassion.--
Boston Phoenix
Frequently bought together
Frequently Asked Questions About The Trouble With Being Born
Books like The Trouble With Being Born
Book Reviews
(9)
Did you read The Trouble With Being Born? Please provide your feedback and rating to help other readers.
Bedside table book of quotes

Derived From Web

, May 9, 2022

Cioran's book of quotes was also a bestseller. If you are a fan of Cioran then reading one or two quotes as you slip off into your troubled dreams just adds a little spice into the dark corners of your psyche. If you are a misanthrope or currently dealing with a life threatening disease, this is a great book. Cheers!
"To commit every crime but that of being a father."

Derived From Web

, May 9, 2022

His wife said Cioran's work is "difficult". His style of nihilism is deeply rooted in a sort of panic surrounding his understanding that he shouldn't be here. The central thesis of the book is that the ultimate tragedy is the tragedy of birth, and the ultimate sin is to usher in the birth of another. It's certainly not for the faint of heart, and it's most definitely not for new parents. If you're looking for a challenging read in nihilist philosophy, you can't go wrong. Note the book is written in the same style of great philosophers such as Marcus Aurelius. Rather than outlining theses and arguments, it is dozens of simple thoughts, sometimes no more than a sentence long, that revolve around the central idea of the trouble with being born.
Get the book from a better company.

Derived From Web

, Mar 8, 2022

The writing itself, if phenomenal. The thoughts and expressions are unique and convey gravitas. Good stuff. I've had 2 pages fall out and fly away in the wind, so it's kind of bs that I can't even read all the book I've bought. Glue sticks to pages. Craftsmanship is not in the making if it's just going to fall out of the sky. Buy the Kindle version. Save money and heartache.
Despair capital

Derived From Web

, Aug 4, 2021

If you want to read something nihilistic, you came to the right place. I enjoyed the fresh air, he said. No one is going to hold your hand in this book. It's just that the Pentagon didn't want to hear about it. 0 2622010 2622070 It's just that the Pentagon didn't want to hear about it. 0 2622010 2622070 It's just that the Pentagon didn't want to hear about it. You die, in twenty years or so no one will recall you. You live your life as the myth of Sisyphus. You may find an enjoyable flower or sunset along the way. Worrying about things you have no control over is just silly.
Love Cioran! One of the greatest, most misunderstood thinkers of all time

Derived From Web

, Jul 30, 2021

This book is different. If you're not using the aphoristic style, you may be confused. It's just that you don't let that stop you. Get to know the mind of one of the 20th century's greatest minds. Often viewed as a depressive nihilist, his existential view was what really helped set the stage for modern day cognitive and behavioral therapy.
Good book for depressed people

Derived From Web

, Sep 13, 2020

I liked the book because it made me relate to Cioran's life. I am suffering from horrible insomnia for about a year at the age of nineteen and, his books are centered around and were morphed out of his insomniac experience. It was the worst illness he has ever experienced in his life and, any thoughts that he has on the topic make me feel better that I hate it as much as he did. Even though I think I have been damaged worse by it than him, I believe it was a hell that he experienced painfully as well. Even though this book is mostly about anti-natilism and that is what most people buy the book for, he does talk about insomnia a bit in these books as well. Even though he would have hated it, I admire him a lot. I understand the anxieties, the horror in sleeplessness and I have not gotten out of it, Blair said. The mental problems he had which they would label him as such, as I relate to him in that aspect. He is just a more intelligent version of the many struggles we all face.
I wish this book had never been born...

Derived From Web

, Aug 4, 2020

Narcissistic, aphoristic, petulant 'thoughts' of no import. Mr Howard was also a surprise. This undergraduate journal we started and had the sense to toss, Raymond said. The phenomenological analysis of the flayed man as theoretician of detachment and the conversionary as skeptic. There is worse, but you don't have to finish the bottle to know that it's piss.
Dark, but enjoyable(?) collection of aphorisms

Derived From Web

, May 3, 2020

A sort of cry of the lost. A very dark collection of short aphorisms, sometimes so dark as to be kind of hilarious. For the most part, Cioran's thoughts are clearly presented and interesting, but there also was an occasional aphorism that was a little too obscure or personal for me to completely grasp his meaning. Despite the basically darkness of the book, I didn't find it overwhelming or an especially depressing read, mainly because Cioran's trying to describe his feelings and impressions, not necessarily trying to convince you that he's correct. It was a blast, said Blair, "and I enjoyed the music."
Profoundly cathartic

Derived From Web

, Mar 19, 2019

I take a perverse amount of joy from Cioran's writing, Raymond said. It is as though wordless, shapeless concepts that tormented me from the darkened periphery of my mind suddenly had a spotlight turned on them. Seeing these ideas laid bare in such detail makes them manifest, makes them real and solid in such a way that I can push back from them, like the wall of a swimming pool, he said. Profoundly cathartic. Many would recommend Cioran Notto Major Depressives to major depressives, but it has worked for me. If our human being truly functions as absurd Cioran observed, any meaning or purpose, any ecstasy in the act of living, is some sort of cosmic thievery born of vanity or some other personal vice. It's fine, I can assure you of this. Virtue is fleeting, vice is indelible. Feeling like I'm getting away with something by feeling good makes me feel even better.