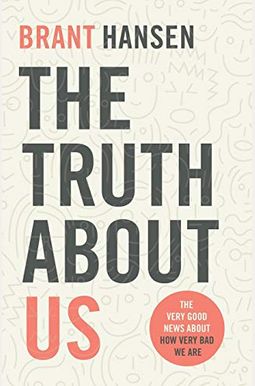 
 
The Truth About Us: The Very Good News About How Very Bad We Are
Book Overview
I'm not a good person.

Seriously, who says that?

Practically everyone, from priests to prisoners, thinks of themselves as morally better than average. So why change our minds? What good could possibly come from admitting that most of us are far more self-righteous than righteous?

In this book, Brant Hansen makes an entertaining and insightful case that we can find great freedom in admitting we're not so wonderful after all. It can help us improve relationships, be better thinkers and listeners, and even make us more fun to be around.

In his conversational, fun-to-read, and delightfully self-effacing style, Hansen draws from biblical insight and the work of everyone from esteemed social psychologists to comedians to show that the sooner we get over ourselves and admit the truth, the sooner we're free to live a more lighthearted, fruitful, fun-loving life.

Because the humble life is truly your best one.


Most of the time, the truth is hard for us to hear. But when it comes with the good-natured humor and crazy-life antics of Brant Hansen, it is God's gift to our souls.--Kyle Idleman, senior pastor of Southeast Christian Church and author of Not a Fan and Don't Give Up

Brant has the rare ability to evoke simultaneous bouts of laughter and moans of conviction. Fresh, Read More chevron_right
Frequently Asked Questions About The Truth About Us: The Very Good News About How Very Bad We Are
Book Reviews
(12)
Did you read The Truth About Us: The Very Good News About How Very Bad We Are? Please provide your feedback and rating to help other readers.
Another Great Book

Derived From Web

, May 3, 2021

No one is good, except God alone! Jesus said it and he means it. Once we are past the false belief that we are good people, we can be humble enough to realize that we are not at all good compared to Jesus.
To be humble...

Derived From Web

, Jun 23, 2020

It seems hard to achieve and it is, but not that difficult. It is almost impossible sometimes. It is sometimes hard to find other times. Without Jesus, I would have nothing. Book was a good one. Jesus, thank you!
True thoughts...

Derived From Web

, Jun 12, 2020

And what he wrote in this book makes you really thinks ''. The rest of my life will stick with me. I hope it will anyways!
Love it!

Derived From Web

, Jun 6, 2020

I '' am actually going through it a second time. I loved the inclusion of psychology and behavioral science '', along with the scripture. It helped me to grasp the pervasiveness and the modus operandi of our sinful nature more fully. It might also be helpful in explaining our sinful nature in a way that non-Christians can understand, too. It brought together verses about our sinfulness in a way that I saw the compassion and mercy of God more. I now feel much better about myself and others! I notice these biases SO often in myself and others, giving me greater humility and more compassion and grace for others. It has been very interesting, deep and effectual for me.
Powerful

Derived From Web

, May 6, 2020

I recommend all Brant's books.
Required reading

Derived From Web

, Apr 21, 2020

It is difficult to write a book review when I have to be at a place to say, I needed this book. I needed the reminder that *I am the problem - it starts with me. This is a book for this exact moment in time, the far reaching self-righteous in every corner. As Brant reminded us in his first book, Unoffendable, we can not be surprised when people act the way they do, but this book is the reminder that I may be pricking others by my own perception of what is right and wrong. In this, his third book is looking at how right we can become in the pursuit of being right, even if we are so wrong. This hard message in love and humor carries Brant. If there was a book that I could suggest for everyone as a required reading, it would be this book.
A book that is needed for today's Christian.

Derived From Web

, Apr 21, 2020

The truth about us : Brant Hansen writes a book that cuts through the bushes and gets right to the point. This is a great book for self-reflection. So many times we think we are fine because we are comparing ourselves to other people instead of comparing ourselves with the standard that God has placed. The beauty of this book is not that it makes you feel bad. It does this because we need to see perspective. I think that the other reason why the book is so great is because it helps you grow in faith and walk with Christ. After reading this book, you will not look at people the same way. It helps you appreciate the grace that God has given us and makes you want to give this grace to others.
Hilarious, Relevant, and thought-provoking

Derived From Web

, Apr 21, 2020

Brant Hansen tries to solve a monumental task by coming across as Pharisee without being aston, lecturing the rest of us about our sins. He absolutely achieves this feat thanks to generous helpings of humor. While reading this, I laughed so often that my husband was concerned for me. But each laugh was followed by equally strong pangs of conviction. Brant has mastered the writing with humility and humor and his work is a joy to read. Besides delivering an abundance of factual evidence that we are indeed obsessed with ourselves, *The Truth About Us* offers a multitude of practical ways we can become more focused on God and others around us and more aware of our own shortcomings. He leaves no room in guilt or shame to wallow, showing the reader that even these actions reveal our focus on ourselves. Altogether, an encouraging, quick and helpful read.
With his usual wit, Brant Hansen delivers another "must-read" book!

Derived From Web

, Apr 21, 2020

Consider how liberating it would be to acknowledge that we are not always the best version of ourselves. The truth about us is like a conversation with a funny friend. One that challenges you to think about who you are really.
The truth will set you free

Derived From Web

, Apr 21, 2020

This book has been loved. I'll have to go back after the rest of my family gets a chance. Reading Brant Hansen's Unoffendable was a life-changing event for me, but I 'll have to read it again to see if the truth about us was even more impactful.