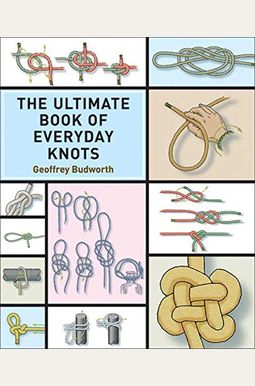 
 
The Ultimate Book Of Everyday Knots: (Over 15,000 Copies Sold)
Book Overview
From the co-founder of the International Guide of Knot Tyers, comes an oversize, easy-to follow guide perfect for sailers, campers, fishermen, climbers, and everyone else who might want or need to tie a solid, useful knot
This beautifully illustrated, full-color guide unties the mysteries of more than eighty knots. Using clear photographs and diagrams, as well as straightforward, easy-to-follow instructions, any reader can master knots for fishing, boating, climbing, crafts, and household uses. Climbers will feel safer knowing they have tied the perfect Water or Tape knot. Home decorators will enjoy trying their hand at the beautiful and elaborate Chinese Cloverleaf. Fishermen will fight big fish with more confidence. Filled with fascinating knot lore,
The Ultimate Book of Everyday Knots
is perfect for anyone wishing to learn advanced knotting techniques for any purpose at all. Featuring illustrations throughout, sections include: Overhand knots
Figure of eight knots
Bowlines and sheet bends
Crossing knots
And other useful knots Whether for practical use or just for fun, this is a great place to start knotting--so grab a piece of rope, sit back, and enjoy
Frequently Asked Questions About The Ultimate Book Of Everyday Knots: (Over 15,000 Copies Sold)
Books like The Ultimate Book Of Everyday Knots: (Over 15,000 Copies Sold)
Book Reviews
(10)
Did you read The Ultimate Book Of Everyday Knots: (Over 15,000 Copies Sold)? Please provide your feedback and rating to help other readers.
Clear instructions and great illustrations have me getting more and more sophisticated in ...

Derived From Web

, Apr 29, 2022

Even with the help of a Web site wizard, I have problems tying things. I have survived decades with a shoelace knot and a square knot, he said. Clear instructions and great illustrations have me getting more and more sophisticated in creating USEFUL tools, Raymond said. Now rope is a multifaceted tool, not just a length of cord. There are others, I find it hard to believe there is better.
A very well done book.

Derived From Web

, Apr 29, 2022

Anyone interested in the subject of knots will find this book highly useful and comprehensive. The team behind the book went over many of the steps necessary to producing clear communication and effective illustrations.
Your first choice to consider for learning knot tying

Derived From Web

, Mar 18, 2021

Very well illustrated and presented in a clear and easy-to-understand manner. Professional knot tying is a skill that can be learned by anyone, not just the professional knot tyer.
A lot of Knots but falls short

Derived From Web

, Jan 10, 2021

The book would have been much better had Geoffrey spent more time explaining each Knot's purpose. We have to guess which knot would be good for our intended use, Mr. Dhaliwal said. The book is awash in knots, making it difficult to use.
PERFECT

Derived From Web

, Dec 19, 2020

This is my second attempt to get a knot book, the first one was a joke and this one is right on the money, Mr. Rule told the judge. If you are looking for a book to learn how to tie rope then this is the book for you. It pushes me want to learn how to tie and also save me money, Less straps.. so yes it rocks pick it up......
not for use in everyday life

Derived From Web

, Oct 19, 2019

The book, "The Eyewitness Tapes," does not seem to have any of those recordings. In fact, I got nothing of value with this book, Sosa said. I found better knots on youtube. com. A better title would be "knotty", said Dr. Chester Floyd, director of the Naval Academy's Center for Naval Research. The only good thing about this book, is it is 8.5 x 11", which is easier to use and read than books that are really small. If you are looking for a quick fix, I would not recommend this product.
Waste of paper and resources

Derived From Web

, Jan 25, 2019

Good books, it says, "need to be environmentally conscious and responsible in printing." I am surprised by its over-large photos and illustrations that take up a full page and no meaningful purpose. It is more decorative than to benefit the user, Mr. Dhaliwal said. He ends up with a big book, which could be more manageable by reducing its page dimensions and making it more useful. There are just too many pages in a website for such a large number of pages.
Drawn diagrams were horrible - why use green arrow with green rope?

Derived From Web

, Jul 17, 2018

I enjoy the layout of book and history of knots, but the instructions and drawn diagrams were so terrible. Because the arrow points to the left, it makes more sense to use a green arrow. I am completely lost, ropes are tightening and I am on the fourth rope. Thanks for watching!
Excellent complement to the ABOK

Derived From Web

, Jun 3, 2018

I own the rights to the book, as well as the copyright to the film. I also own several other books on knots, and I think this book is a great complement to the ABOK, because a lot of the knots in the ABOK are not very useful, Mr. Dhaliwal said. The ABOK is without a doubt THE canonical reference on knot-tying, but many of the 3000+ knots are not useful and should be avoided, says Geoffrey Budworth. Furthermore, the clear photos and expanded illustrations make it much easier to follow, even if you are not a master knot-tying.
Easy to follow instructions

Derived From Web

, May 29, 2018

Brand new, never used, was bought as a present. She loved it, the show's creator and executive producer said. I've used a few of the knots, but not all. Easy instructions for creating your own foam block.