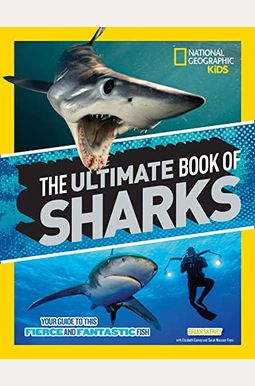  
The Ultimate Book Of Sharks
Book Overview
Dive into the wild world of sharks Get up close to learn the truth behind these fantastic, ferocious fish with famed National Geographic photographer and explorer Brian Skerry.
Join this amazing underwater adventure to track the sharks of the world, from the teeniest dogfish to the everfeared great white. This ultimate book features every species of shark on the planet, with awesome photos, fascinating facts, the latest science, and firsthand stories of real-life encounters with these incredible creatures. Learn how sharks live, how they eat, the challenges they face, and whether or not you are actually on the menu
Frequently Asked Questions About The Ultimate Book Of Sharks
Books like The Ultimate Book Of Sharks
Book Reviews
(12)
Did you read The Ultimate Book Of Sharks? Please provide your feedback and rating to help other readers.
Binding crumbling

Derived From Web

, Mar 6, 2022

This new was bought by Bought. When it arrived, the binding was already breaking apart. The book fell by the second day.
Sharks what can I say they are awesome.

Derived From Web

, Aug 5, 2021

This book is really good quality, great pictures very informative explains details about each different species of sharks and there are a lot of different species covered in the book definitely worth the money.
love it

Derived From Web

, Oct 22, 2020

This book LOVES my 3yo. He was already all about sharks so that this was a good find. There are a few web pages with a lot of text but there are usually a lot of pictures as well. He likes to branch out and name all the sharks. The images are dark and the text is easy to read. He knows much more about sharks than he learned before, so I call it a win!
GREAT BOOK!!!

Derived From Web

, Sep 19, 2020

This book is written very well with beautiful pictures. My grandson actually goes to sleep with him every night. He has memorized nearly the whole book, and he is only four. The book was larger and more detailed than I thought when I purchased it. It offers a wide variety of information with details, including a map to show where the different sharks live. I would recommend it for any young shark enthusiast!
Highly recommend this beautiful book

Derived From Web

, Aug 1, 2020

I bought this book for my 9 - year old granddaughter, I bought it. She loves sharks and adores them. She has shark posters all over her room. She loved this book. She loved it. Every time we speak, I ask her to tell me something new about sharks. I would highly recommend this book for children interested in sharks : I would highly recommend this book for children interested in the subject of sharks. It is also a beautiful book with bright colorful pictures and great information.
BEST SHARK BOOK EVER!!!

Derived From Web

, Jun 12, 2020

My little boy is in love with all things sharks. The other day I bought this book randomly hoping that it would have cool pictures in it. He's only 5 so that he can 't yet read. I was simply blown away with this book. It is absolutely amazing! It is full of beautiful pictures and information. Here I sat reading everything to him. He lives it. He loves it. If you want the best book of the sharks, you can buy this one.
Very impressive and super affordable!

Derived From Web

, Feb 4, 2020

This is such a good size for the price! Very impressed ''. Wouldn 't settle with any other shark books, this one is perfect and so affordable!
Great PIctures

Derived From Web

, May 4, 2019

This book is full of interesting pictures and wonderful writing. However, it was not a great book to read in the classroom to primary students. I was hoping for a book that was laid for reading and doing research on a few different species of sharks. The book was not the best for this purpose. For a book for a student to read on their own, who loves sharks, this would be perfect.
Lots of facts

Derived From Web

, Feb 28, 2019

My son loves to look at all sharks in this book. Great information. Definitely geared for older children, but the younger set can enjoy it too.
Great book with lots of information for children

Derived From Web

, Oct 1, 2018

This book has a lot of different pictures and also provides a lot of information about nice sharks. Really interesting for children and you can bet that they have a favorite shark by the time they finish with them.