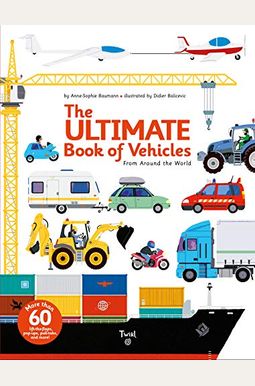 
 
The Ultimate Book of Vehicles: From Around the World
Book Overview
This cheerfully-illustrated, oversized book, with its sturdy flaps, popups, pull-tabs and wheels is just too much fun -- Redbook Magazine's Mamarama Blog
Vehicles, vehicles, vehicles--nearly 100 of them--in all shapes and sizes:
A giant crane hovers over a construction site, a spaceship roars into space. Best of all, lots of flaps, popups, pull-tabs, and rotating wheels bring the various vehicles to life. Readers will poke into a ship's hold, explore the innards of a garbage truck, and help demolish a house. Any child who's ever been intrigued by the roar of an engine will adore this extraordinary collection of things on the go, from the everyday to the nearly outrageous--yes, there's even a pooper-scooper scooter - Supersized spreads feature marvelously detailed illustrations that just beg to be pored over again and again
- More than 60 interactive flaps, tabs, and more to keep kids engaged
- A captivating adventure that brings the world of transportation and the magic of books to life in young minds
Plenty on display to satisfy the vehicle-obsessed. -- Publishers Weekly
- Great family read-aloud book
- Books for kids ages 4-9
- Books for preschool, kindergarten, and elementary school children
Frequently Asked Questions About The Ultimate Book of Vehicles: From Around the World
Books like The Ultimate Book of Vehicles: From Around the World
Book Reviews
(17)
Did you read The Ultimate Book of Vehicles: From Around the World? Please provide your feedback and rating to help other readers.
Priceless Joy

Derived From Web

, Apr 20, 2022

This was one of the priciest books I bought thus far for my two year old, but SO WORTH IT! I find it interesting and fun to read myself! His vehicular heart bursts for all things little and this is just hands down the best book that portrays them. I bought it for him to look at after a surgery, and it literally brightened his little face and his mood. You know that is priceless. Get this book for your child and watch them explore the moving pieces and learn about vehicles from other countries while also watching their love for books develop before your eyes. I do recommend you watch moving pieces with the curious little pieces, as some of ours have already succumbed to my child. I expected that though, and if you keep the pieces, some are easily fixable with tape. edited 2718 to say he is now 5 and still reaches for this book just about every night. Im so pleased with this purchase, as it brings him so much joy!
Such a fun interactive book!

Derived From Web

, Apr 20, 2022

Fantastic book . The book is filled with tabs to hold, wheels to turn and flaps to lift off and on and on every page. The book covers all kinds of vehicles... RV's, construction vehicles, passenger vehicles, boats, planes, spaceships and so much more. My three year old grandson asks for it to interact with everything all the time and loves being able to read on every page. Heck... I love working with vehicles too! It is colorful, with sturdy stock paper and Given that the book has been used to rip off doors on buses and RV's, to turn wheels and cement mixer barrels, to move levers, to launch a spaceship into the sky,... nothing has ripped after many months. I did read the book first and opened all the moveable objects on each page so we could all work together when we read the book, and I knew how to guide my grandson when he did it himself. I have highly recommended this book for the little ones in your life!
Great for five or older

Derived From Web

, Apr 20, 2022

New book for 5 years and over, who loves cars. It had a 4 year old and a three year old on Grandpa's lap for a solid 20 minutes. There are many flaps to see inner workings, products, people and four or five other interesting things to see, which unfortunately our four-year old had seized hold of the book and ripped off parts to two of the harder to manage manipulators. I felt bad '', as I had meant to make sure that it did not happen, but let it go as it is just a book, but not even on the first day before mother and father had even seen it. I wished I had held it back another year.
I saw the beautiful illustrations and tossed it into my cart

Derived From Web

, Apr 20, 2022

I purchased this book for our two-year-old son, who is fascinated by vehicles. It was a quick-in-the-minute purchase in advance of his birthday. I tossed the gorgeous illustrations and saw it in my cart. It was with great delight that I learned it was a pop-up book, and my delight was eclipsed by that of our toddler. The lavish detail and superlative visual design and delightful illustrations make this book a wonderful gift for children like mine. It offers countless readings to find out and explore all the details. Just a beautiful book, hands down.
It is the ultimate vehicle book!

Derived From Web

, Apr 20, 2022

This book has been read over and over again and enjoyed by a little boy who loves cars, trucks, airplanes and anything with wheels! It is a small book with a sturdy flap to lift on most pages.
Fun book...but not toddler proof!

Derived From Web

, Apr 20, 2022

Neat Book, very creative design, with a lot of vehicles on every page. But we quickly found out that a moving toddler can easily break, bend, or tear the tabs unless you monitor them.
It's great that it has all the pull downs my son ...

Derived From Web

, Apr 20, 2022

I bought it as a gift for my son's birthday and received it for other boys'birthdays. It is great that it has all the draws my son requests to read often great for as young as three years old.
Best book ever

Derived From Web

, Apr 20, 2022

Best book ever written! It is so interesting and interactive. Bought several copies for my little one and for his friends. Highly recommended for children who love wheels.
Interactive fun

Derived From Web

, Feb 3, 2022

If your child likes things that go, they will LOVE this book. Even I enjoy lifting all the little flaps and discovering how things move on each page. Warning though my son received this in Prek and loved it dearly, but destroyed it mostly. It is probably best for kindergarten or older children, just because the dredging and rocketship and other pages are delicate.
Great idea but could use more substance

Derived From Web

, Apr 19, 2021

My son is obsessed with machines and construction and this book looked awesome! The moving pieces are very delicate and I waited until he was 4 to give it to him. The first day one of the moving parts ripped, and he was so gentle. The pieces are just very thin and not very well made. While the pages are fun to move the pieces around, there is no storyline. It lists the name of the machine. I think that a story or explanation of what is happening would make the book more interesting. My child was more interested in Richard Scarry's machine book and goes to choose that one over this one every single time. I think that because there is no story, no interesting facts included, only some moving parts, he passes on this book, as it only holds his attention for a few minutes.