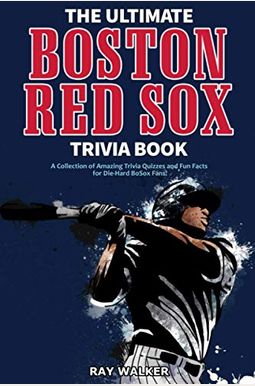 
 
The Ultimate Boston Red Sox Trivia Book: A Collection of Amazing Trivia Quizzes and Fun Facts for Die-Hard BoSox Fans!
Book Overview
Are you a die-hard Red Sox fan?
Now you surely will be with The Ultimate Boston Red Sox Trivia Book. If you want to know all the ins and outs (every great baseball team has a few ) of one of the most famous baseball teams ever in the AL and MLB-this book is for you.
The next time you walk into a bar, your friend's or father-in-law's place for Trivia Night, you'll be a smash hit knowing about Boston Red Sox legends like The Splendid Splinter Ted Williams and Yaz, pitchers like Pedro and the Rocket, classic catchers like Carlton, and sluggers like Foxx, Big Papi, and Tris.
With this ultimate BoSox trivia book, you'll have a handle on the 86-year-long Curse of the Bambino, caused by the hasty sale of Babe Ruth, and why Fenway Park is the most famous ballpark going. You and your buddies will hear how the Red Sox Nation is trying to gain the upper hand against the Evil Empire, none other than Boston's archrivals the New York Yankees.
What ultimate Boston Red Sox trivia will you score with this valuable book? Catch the answers to all these tricky trivia questions and tons more:
- When was Fenway Park inaugurated?
- What stunts did Red Sox fans try to stop the Curse of the Bambino?
- When did Boston win its first World Series championship this century?
- Who exactly is Read More chevron_right
Frequently Asked Questions About The Ultimate Boston Red Sox Trivia Book: A Collection of Amazing Trivia Quizzes and Fun Facts for Die-Hard BoSox Fans!
Book Reviews
(8)
Did you read The Ultimate Boston Red Sox Trivia Book: A Collection of Amazing Trivia Quizzes and Fun Facts for Die-Hard BoSox Fans!? Please provide your feedback and rating to help other readers.
OK Quick Read

Derived From Web

, Jun 21, 2021

Some good stuff, but not enough info behind the scenes. who did not get along with team - horses and why.
Hit run!

Derived From Web

, Mar 10, 2021

The book was a gift to my brother in law, and was well received. Since Christmas, he has thanked me many times for this trrific book.
Great RV gift for my dad

Derived From Web

, Dec 20, 2020

My dad is a big Red Sox fan and it's the perfect gift for him to have something to do in his RV during his down time. The book is very durable.
Red Sox fans must have.

Derived From Web

, Nov 2, 2020

Though I do not follow baseball, this name is synonymous with baseball. i have seen the crazy fans and the electric atmosphere in the city during the games. Must have and must read.
City of Champs

Derived From Web

, Oct 28, 2020

You can not mention baseball without mentioning a few teams with it. One of these teams are the Boston Red Socks. This book has definitely its facts checked and will give any super fan a run for the money there. I learned so much that I didn 't even know. Foe example, the armed socks are one of the original American League teams. Boston also has a big history of winning. Most of the other sports have also done well, like the Boston Celtics. The Red Socks are also known for winning and having won titles.
Highly Recommended for Red Sox Fans and Really, Anyone Who Enjoys Baseball

Derived From Web

, Oct 28, 2020

As a baseball fan, I knew some facts about the Dead Sox I mean Red Sox, but not enough to earn an A in the BoSox Trivia. The stories around the team, like why owner John Taylor chose Red Sox as their name, gives the readers a sense of team history. Red Sox uniforms led to the name of the team's Red Sox. Boston adopted Sox's papers previously being used by the Chicago White Sox. Here is an example of a funny fact about Red Sox : The original Green Monster was fully coated with ads in 1947, supposedly to pay for the cost of its construction. Soon after, the wall received its first layer of Fren Green Paint '', which was known as Monster Green ''. The wall was built to prevent non-paying fans from watching from the street. Red Sox fans are highly recommended and really anyone who enjoys baseball.
Calling all Red Sox superfans!

Derived From Web

, Oct 24, 2020

I am betting that even long-time and life-long fans will learn something by reading this and taking the quizzes!
Great facts about a great team

Derived From Web

, Oct 23, 2020

In my life, I watched a World Series. It was the 2004 Boston Red Sox win. At the end, Jimmy Fallen and Drew Barrymore were kissing on the field. I was watching with my ex and he cracked about it. At that time, I knew nothing about the Red Sox until now. Some I remember from what I learned that year, but the book is current, so I learned what they've been up to since then in a way. Great book for stats if you're into this kind of thing, but I like the facts and trade stories of the player.