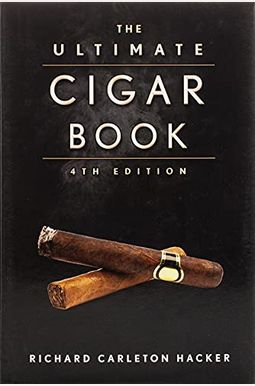 
 
The Ultimate Cigar Book: 4th Edition
Book Overview
The Ultimate Cigar Book is a classic on the subject, covering everything from how cigars are made, to storage, etiquette, and accessories.
Richard Carleton Hacker's category bestselling is often credited with helping to create a new generation of cigar aficionados. No other book contains as much detailed and factual information on virtually every facet of cigar making and cigar smoking. And now this trendsetting has been revised in this fourth edition for the aficionado of the future Forget 1492. This book starts out in B. C. (Before Columbus) and transports the cigar enthusiast on a fun and fact-filled adventure into virtually every realm of today's popular and growing cigar smoking pastime. Written by one of the most knowledgeable and internationally-celebrated pipe and cigar authors of our time, Richard Carleton Hacker's well-known wit and wisdom will keep the reader enthralled with every turn of the page, as he takes you on an information-packed would tour of cigars. Starting off with a history of cigar smoking, the author then shows us how cigars are made today (handmade, handrolled, and machine made), divulges the secrets of finding the perfect cigar, and discusses the ritual of smoking and how to properly care for and store our cigars. From there the book lists a number of innovative cigar accessories, suggests which beers, wines, whiskeys,
Read More chevron_right
Frequently Asked Questions About The Ultimate Cigar Book: 4th Edition
Books like The Ultimate Cigar Book: 4th Edition
Book Reviews
(12)
Did you read The Ultimate Cigar Book: 4th Edition? Please provide your feedback and rating to help other readers.
Ideal Book for Cigar Lovers

Derived From Web

, May 22, 2022

I bought this book for my husband and he can not put it down. I have reviewed the book briefly and is truly detailed and well written.
Great Book Highly

Derived From Web

, May 22, 2022

I have been smoking cigars for a while now, but I wanted to learn the history behind it. Book Highly Recommended Highly Recommend & recomend.
My husband loves the book and would definitely recommend it to anyone who smokes cigars

Derived From Web

, May 22, 2022

The book arrived in a very timely manner.
What could have been a great resource fails for sloppiness and flat-out bad editing

Derived From Web

, Dec 31, 2020

If you want to learn a thing or two about tobacco and cigars, you learn something here, Dislikes. My biggest complaint is that this book has almost no organization. Its purported chapters last anywhere from 50 to 100 pages, and their content is hardly confined to the formal topic at hand. Moreover, the author can hardly seem to stay at a single topic at a time, which makes finding any information of acute interest a needle-in-haystack endeavor. Despite being printed on black-and-white paper, the photographs are not all color-expressed for some inexplicable reason. They also flip between color and lavish, glossy paper. Even the photograph that purports to show the various shades that a wrapper could take in greyscale. Hardly an "ultimate " cigar book, it needs an ultimate makeover first and foremost.
Informative and amusing

Derived From Web

, Sep 17, 2020

You can learn all about how cigars are made and get quite a good list with brief descriptions of all the best cigars.
Great Book

Derived From Web

, Feb 6, 2020

I am halfway through this book and I love it. It is so deep on all angles of cigars. I like the why and science behind everything so that it is great to understand where everything came from and why things are the way they are today.
A good resource for new guys

Derived From Web

, Feb 5, 2020

Facebook taught me a lot about cigars stuff that I really did not know, but it was nice to know history. I would have liked it if it had gone into a little more detail about caring for cigars and picking cigars etc. But this is more of a personal preference for each person, this is a good book to read, but there are some other ones out there that will help you with this one.
Disappointed

Derived From Web

, Sep 4, 2019

This book arrived as a gift for someone last minute and the entire cover was ripped to shreds when it was bought. I am appalled at this, it was not SUPPOSED to be used. I have no time to give it back, so I must now return this gift without the cover. When I pay money, I would like to return with good quality.
Must have for cigar lover's!

Derived From Web

, Feb 3, 2019

Tells you about all your favorite cigars and even the ones in museums that you never get your hands on. This is a perfect gift to help a cigar lover learn more about what they are smoking, how they are made, where they come from and their history.
Excellent cigar book

Derived From Web

, Aug 13, 2018

Current and comprehensive in its coverage of cigar companies and the art of smoking a cigar.