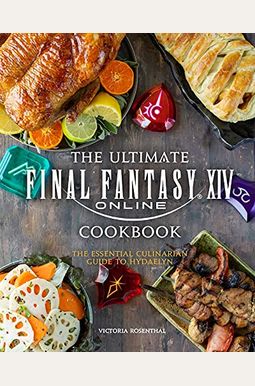 
 
The Ultimate Final Fantasy Xiv Cookbook: The Essential Culinarian Guide To Hydaelyn
Frequently Asked Questions About The Ultimate Final Fantasy Xiv Cookbook: The Essential Culinarian Guide To Hydaelyn
Book Reviews
(11)
Did you read The Ultimate Final Fantasy Xiv Cookbook: The Essential Culinarian Guide To Hydaelyn? Please provide your feedback and rating to help other readers.
Fun

Derived From Web

, Mar 24, 2022

I have been playing FF14 for a while now and had the job of culinarian, always wanted to know how to make these recipes in the real world, this is a lot of fun for all.
Great addition to an Eorzean home!

Derived From Web

, Mar 23, 2022

Forward to making some of our favorites in-game! The only thing I wish is that it had all of the recipes from my Culinarian...
Generic American recipes, zero inspiration or creativity

Derived From Web

, Jan 14, 2022

From this, I expected much more. All I get was some simple Japanese recipes mixed with a few fairly basic American ones. Mashed potatoes, deviated eggs, potato salad, fried fish and chips, meat loaf, beef stew and mushroom spaghetti, apple strudel, hot coco, lemonade and Macha Tea with Honey make up a lot of this book. The Chocolate Cake is a thin white cake with whipped cream frosting and strawberries, not even yellow. A few Japanese dishes include an omelet with rice, miso soup and dango. If you removed the FF pictures and some names, you would not even know that this was a Final Fantasy Theme Book in the slightest. Do your nerdy self favour and skip this book and buy Aimee Wood's unofficial legend of Zelda Cookbook. Sure, it does not have all the pictures, but is so much more creative, thought of and inspirational! When it comes to love, unlike this basic, sad excuse of a nerdy cookbook, you can tell a lot of love.
Love it!

Derived From Web

, Nov 25, 2021

I love this cookbook as a ffxiv player! Everything I made so far has been great so far. The only thing I wish this book had was more recipes, but I am hoping that a new cookbook will be made in the future!
An absolutely essential addition for any FF14 fan

Derived From Web

, Nov 18, 2021

I love this book ''. I love it! All the pictures are crisp and gorgeous, the recipes sound delicious and with easy to follow steps, and all the little story writing has so many wonderful nods and references to jokes and characters in the game, that I actually splurged for the spiral version, so that I don 't mess the hardcover spine while cooking. Thus, Chocobo Cake ( Chocobo Cake ) is cake.
Cute & Practical

Derived From Web

, Nov 18, 2021

Here are some very good basic recipes and some nice challenges for those who may be a bit higher in the culinary. The photos are beautiful and the artwork is super cute. There are some common ingredients that you may not have in your standard pantry for these recipes, such as beet sugar, but there is a handy dandy guide at the beginning of the book that explains all of them and some possible substitutes for a few.
Must have for all Eorzean Culinarians!!

Derived From Web

, Nov 17, 2021

The book features an assortment of recipes from many different regions in FFXIV. The recipes include an array of different levels of skill. Along with the recipes, there is also a cute story to go on an adventure with our Namazu friend and their Moogle Sidekick. Truly a great edition for any FFXIV fan!!! While I haven 't made anything out of the book, yet the recipes are easy to understand and would even be great for a non-FFXIV player. I can 't wait to use it to level up my culinary skills IRL. WASSHOI!! WASSHOI!!! !
Beautiful Book, Great Culinarian Guide!

Derived From Web

, Nov 16, 2021

I LOVE '' This book is such an enigma! It shows you how to make some of your favorite in-game recipes from Final Fantasy XIV Online. There are pictures for each recipe that allows you to decide with your eyes what recipes you want to cook. I can not wait to make a starlit dodo for Thanksgiving! Its going to be an Eorzean holiday this year and I can 't wait!
Very thoughtfully put together

Derived From Web

, Nov 16, 2021

The craftsmanship is excellent and a decent spread of difficulty for the recipes. Throughout the lore are beautiful tidbits of lore. Overall, this is a thoughtful addition to any kitchen, whether they are a master culinarian or their first venture into cooking. I recommend it highly.
Mostly Good

Derived From Web

, Nov 16, 2021

It is an enjoyable read, but there is an odd thing I noticed right away : the author renamed the Starlight cake the Chocobo cake. Just... why ''.