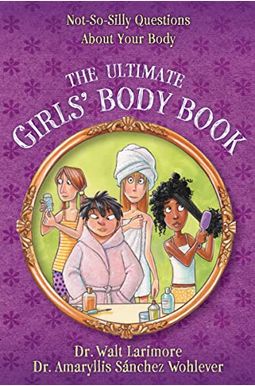  
The Ultimate Girls' Body Book: Not-So-Silly Questions About Your Body
Book Overview
Because Growing Up Shouldn't Be a Mystery
Girls' bodies do the craziest things They can kick soccer balls and spin perfect pirouettes, or they can trip up the stairs and break out in zits. As you grow and your body goes through some pretty wild changes, you might be wondering things like: Why don't I look like her? I have to use that? Is this normal? And, Why is this happening to me?
The Ultimate Body Book for Girls answers all those awkward questions you'd rather not ask your mom--at least out loud. Mixing fun with great advice, you'll learn about bras, boys, periods, pimples, and so much more. Most importantly, you'll learn that God made you exactly the way he wants you--no matter how weird growing up can be.
Frequently Asked Questions About The Ultimate Girls' Body Book: Not-So-Silly Questions About Your Body

Books like The Ultimate Girls' Body Book: Not-So-Silly Questions About Your Body
Book Reviews
(6)
Did you read The Ultimate Girls' Body Book: Not-So-Silly Questions About Your Body? Please provide your feedback and rating to help other readers.
MUST HAVE FOR PUBERTY TALKS!

Derived From Web

, Feb 8, 2022

My niece's parents are satisfied with the purchase. I decided to purchase a book for my niece because her parents were looking for something to supplement the talks about puberty and changes within the body that I had purchased for my son. Both families love the fact that the book is based on the bible and that it helps in explanation. The girls version of the book is longer than the boys, but still manageable for kids who are in this stage of their life. Excellent satisfaction!
Amazing book!

Derived From Web

, Feb 8, 2022

My niece is in fourth grade. This is a great book. I was glad I remembered it because I heard about it on focus on the family. It supports the answers with statistics and scripture. This is great for parents to read with their children.
Awful

Derived From Web

, Sep 24, 2021

I was hopeful because of the reviews I read. It is terrible. I let it go. I wanted a simple explanation of the changes in a girls body. I did not talk about how to get girls to like you, self touching, body shaming, gossiping, or anything else. It's the stuff that makes girls feel like they' re not good enough. I will download simple body facts for my daughter so she doesn't get the idea that all the BS has nothing to do with her actual body.
As a conservative Christian ... I still say, No.

Derived From Web

, Dec 12, 2019

The authors tried to give a Christ- centered resource that supports a biblical view as a counter worldly values that our kids seem to absorb by osmosis. Good grief! Setting your child up to feel shame and fear is what this primer is for. As a parent who believes deeply in God's plan for purity, I'm not afraid to talk about modesty and making choices that honor the girl God made my daughter to be. The emphasis on the beauty that God creates within is something I love. My daughter has a loving relationship with Jesus Christ and I want her life to please him, not because of shame or fear of what will happen if she breaks rules. I don't doubt that the authors' intentions are good, but as someone who cares a lot about my child's spiritual life and resilience, this book misses the forest for the trees.
So informative and helpful

Derived From Web

, Sep 12, 2019

My 9 year old couldn't get enough of the book. She didn't have to be embarrassed to ask me a lot of her questions. There are lots of helpful information for curious girls.
If you are not a Christian it's still good. There are many truths regardless of religious beliefs

Derived From Web

, Mar 1, 2018

The book is for conservative Christian parents of girls. It's still good if you aren't a Christian. There are many truths even if you don't have religious beliefs. It talks about being Abstinent because it's a sin and also dangerous because of STD's and broken hearts. It still has wisdom.