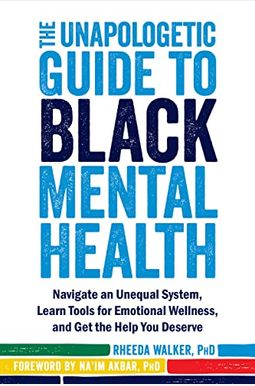 
 
The Unapologetic Guide to Black Mental Health: Navigate an Unequal System, Learn Tools for Emotional Wellness, and Get the Help You Deserve
Frequently bought together
Frequently Asked Questions About The Unapologetic Guide to Black Mental Health: Navigate an Unequal System, Learn Tools for Emotional Wellness, and Get the Help You Deserve
Book Reviews
(7)
Did you read The Unapologetic Guide to Black Mental Health: Navigate an Unequal System, Learn Tools for Emotional Wellness, and Get the Help You Deserve? Please provide your feedback and rating to help other readers.
If you aren't ready to be change or be well emotionally, keep scrolling this isn't for you.

Derived From Web

, Jul 29, 2020

I'm now chapter 2 on Chapter 2. I wish I could drop everything and continue, but I will take this journey at a casual pace to retain the information. We often talk about physical wellness, but what about our mental health? As I continue my fitness journey, I realize that my body is changing as I continue my fitness journey. I feel stronger physically and yet I still feel weak mentally ''. I thought I was over it - sexual abuse, physical abuse, racism, childhood traumas, etc. Recently I removed my cape and disconnected. I am constantly the one my family and friends run to when they need help, and when they need to deal with the baggage of others. Although it is only the beginning, I feel already inspired, hopeful, relevant, and relieved. I have given myself grace and now know that it is ok not to feel ok. What we do next is more important. Until we actually do something about it, things will not change, says Dr. Walker. This book HAS ME GAIN BACK MY SOLACE MY SOLACE!
Not For Me

Derived From Web

, Jul 17, 2020

This book seems to be written well, but as someone who has dealt with mental health, this book seems to be new content. I was looking for something to align my current knowledge with a black perspective. The book seems like a start for someone who doesn 't know much about mental health, but for me, I needed more.
Unapologetic!

Derived From Web

, Jun 16, 2020

This book is so well-written and thought-out. Dr. Walker wrote this book for BLACK PEOPLE so seamlessly, intertwined with complex cultural examples, and intertwined with common cultural examples. We become aware, we become educated, we are led towards being brought back to a place of PRIDE! So much black girl magic and black boy joy will come from this book and it does something for my SOUL that this is common reading when, just like she says, well intentioned, but misguided parents often raise colorblind '' children. It takes an emotional toll and personally and professionally this book is validating the experience and how to move forward without guilt or blame, but with knowledge and intention. Thank you Dr. Rheeda Walker for the wonderful gift of Rheeda Walker! #ForTheCulture #ForTheCulture
MUST READ!

Derived From Web

, Jun 9, 2020

The Unapologetic Guide to Mental Health is a powerful everyday manual for black mental health. It is for people like me who need encouragement and helpful tools to live life as a mother, wife, sister, auntie and friend. I use Dr. Walker's strategies when friends call with troubling issues or when I have a challenging day and need to check my "psychological fortitude ". This book is a must read! I highly recommend it for anyone who wants to self-improve and learn to recognize if a loved one needs more than prayer and a comforting ear. Thank you Dr. Walker for your insightful guide to black mental health.
No Apology Necessary

Derived From Web

, Jun 4, 2020

This book discusses the concept of psychological fortitude in detail. As an African American male, I identify with the need to evaluate how to evaluate the factors that affect my physical, mental and spiritual health. Ms Walker enlightens, encourages and instructs the reader to work towards attainable goals, although at times challenging to raise our awareness and measure our strength for feedback. The importance of professional help to provide a comprehensive path to success remains an option because we face limitations as an individual when we rely on self-help only.
She takes the vail off of mental illness

Derived From Web

, May 17, 2020

Dr. Walker has created a much needed and necessary mental health guide for our African American community. She takes the vail off of mental illness and provides practical guidance on how to identify when your "psychological fortitude " is low and what it takes to increase it.
Godsend for Black People & others!

Derived From Web

, May 9, 2020

The great words of Associate Professor Jemima Pierre describe this book perfectly : Walker demonstrates that black mental and physical health is connected to a long history of racial terror, while reminding us that black communities already have the cultural tools to achieve what she calls psychological fortitude, '' our shield of protection and well-being. The Unapologetic Guide to Black Mental Health is also bolstered by historical examples and folk wisdom that easily switches between the conversational intimacy of a girlfriend, the knowing wisdom of an auntie and the clinical experience of a professional. The elegant language of black mental health is easily interchanged between clinical examples and folk wisdom, popular culture references and African proverbs. Walker has written a cultural tour de force, a black cultural tour de force. This book is a Godsend for all, but especially for black people! Jemima Pierre, Associate Professor of African American Studies and Anthropology, UCLA.